Momi shares the uses of a nursing pillow beyond breastfeeding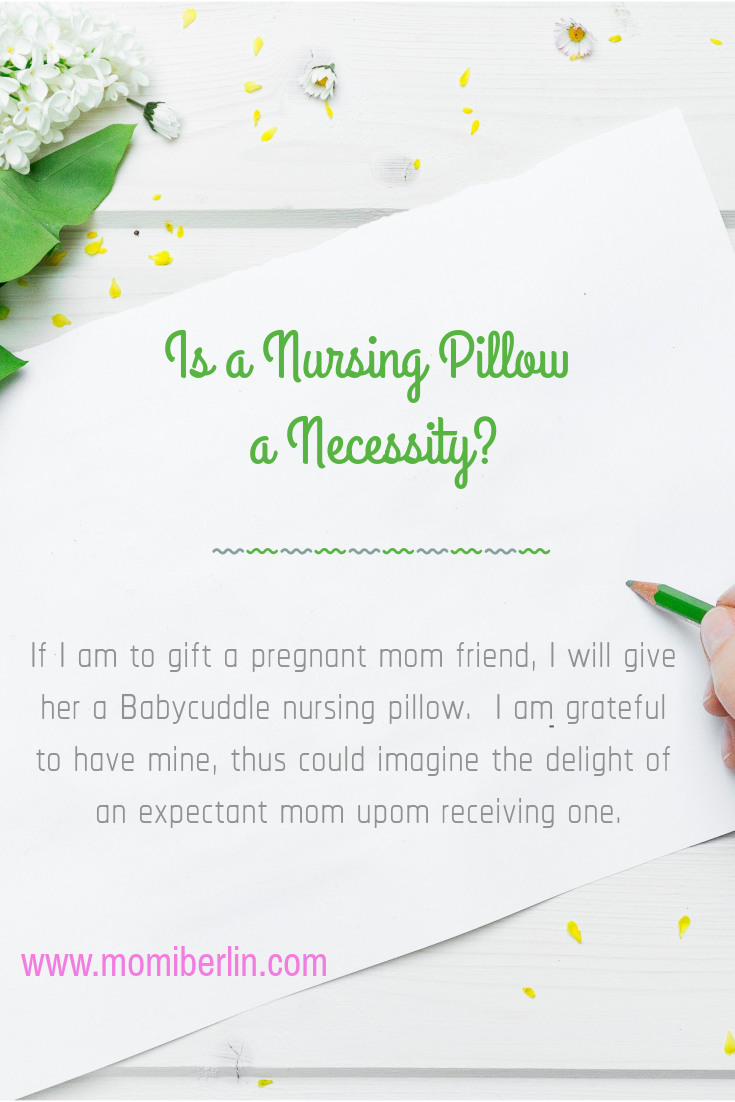 I got this question perhaps a dozen times already.  Many moms are having second thoughts buying a nursing pillow as after the breastfeeding stage, the pad might be useless already.
Well, we've got three nursing pillows.  Two came from the hospital where I gave birth.  The pad was part of the room package.  The other one was a gift from a dear friend.
Among the three pillows, I love the third one the most.  It's a Babycuddle nursing pillow.  More than a gift, I love it because its shape is different from the usual feeding pillows we know.  If you're a breastfeeding mother, you would understand your need and your baby.  And having a Babycuddle nursing pillow is one of them.  
A nursing pillow is an excellent way to support the baby while breastfeeding him.  With a pad on the mother's lap, she needs not keep her baby's weight.  More so, a nursing pillow helps a mom have a comfortable position, avoiding pains in the arms, shoulders, and neck.  
As our SumoSam ages, the more that we discover the many uses of a nursing pillow.  More than as a support for a lactating mom, the nursing pillow is useful in many other ways.
Safe nest for baby
When our SumoSam was able to roll over, he loves to rest with his tummy against the bed.  So I always use our Babycuddle to support him during tummy time.  
As he grows each day, he learns to sit down.  Again, our Babycuddle is his safe place to coo and kick in comfort.  It is his haven, giving him back support, as he plays with his toys or as we read stories.
A support pillow for mom
On our sleep, we still have our Babycuddle in bed.  I use it to help alleviate discomfort as it provides support for my spine.  Sometimes, I hug it with my legs, giving me the relaxing sleep I need.   
When I can't leave my SumoSam in bed, I use our nursing pillow as a laptop table.  It gives steady support for my notebook as I work for an hour or two.
Is nursing pillow a necessity
I must say, having a nursing pillow is a big help.  It is not a necessity for a lactating mom, but the comfort it gives can't be easily dismissed.  I have to admit nursing both our SumoSam and Yael can be difficult.  They are gaining weight and supporting them both as I tandem feed them is a challenge.  But with our Babycuddle, they can rest their head on the pillow as they breastfeed.  
It also works beyond breastfeeding.  I love to wrap my legs around it as I sleep, giving me a relaxing rest.  I can also use it as table lap, while any of my little ones can use it as they sit on the floor or bed.  The Babycuddle supports their back as they play, watch their favorite cartoon show, or as momi reads to them. 
If I am to gift a pregnant mom friend, I will give her a Babycuddle nursing pillow.  It provides excellent comfort to both the mom and her baby.  I am grateful to have mine, thus could imagine the delight of an expectant mom upon receiving one as well.  
Momi Berlin Directory
BabycuddlePH Website | Facebook | Instagram