Mommy Narratives:  Love in Action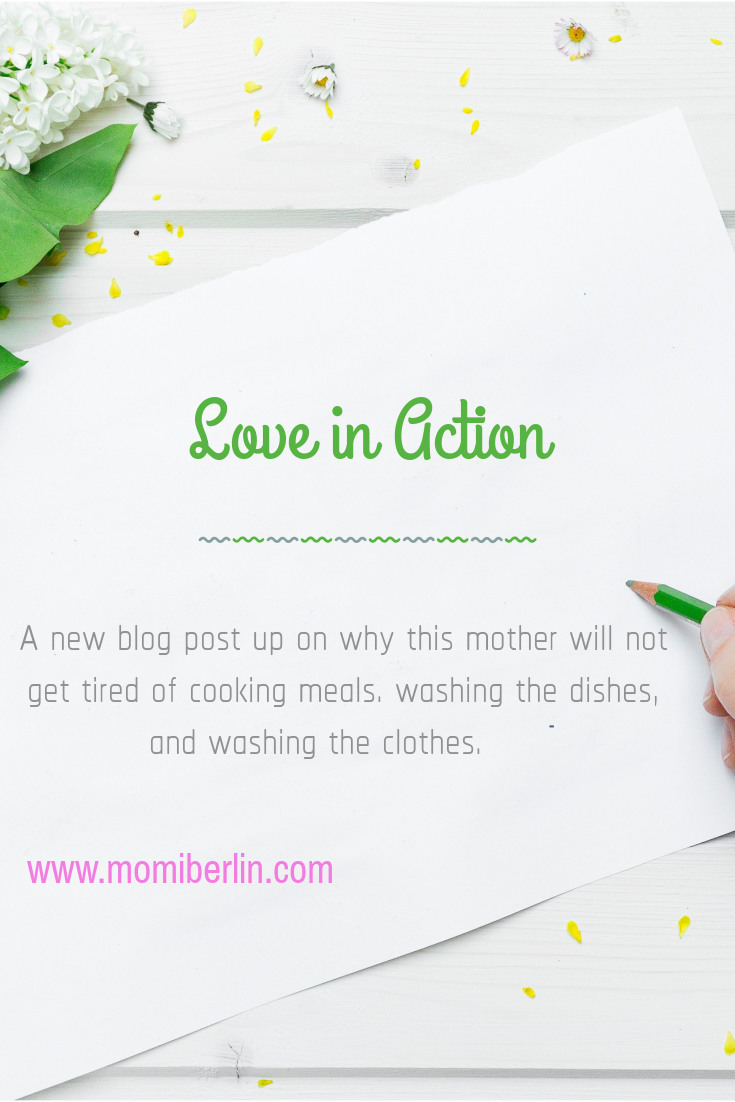 Love begins at home.  It is not how much we do, but how much love we put in that action. St. Teresa of Calcutta
Being a mother means more than giving birth to a child.  It is loving and taking care of that little soul until he grows up independent and responsible.  It is supporting his dreams and loving him unconditionally.  Most importantly, being a mom is teaching her youngster what love is. And it is done not only through words but also in action.  This mother believes, though, that constant prayer to the Lord for strength and guidance will help her do all these.  
Love is Serving
Being a mom to five boys can be a struggle.  It means five times the food to prepare, five times the plate to wash, and five times the clothes to clean.  But I see myself doing all these household chores, not because I don't have an option, but because they give me gratification.  Cooking for them means seeing them happily eating as if it was their last meal.  Washing the plates instead of asking them to do so means giving them more time to do things of their liking.  Doing the laundry means reminding myself the children are getting bigger every day. 
Love is Time
Time will come there are no longer boys to tell me I cooked the most delicious spaghetti in the whole world.  Time will happen there will no longer be dishes to wash because there are no more boys around the house.  And time will come those tiny clothes will be replaced by shirts and pants fit for real men and one by one, these boys will leave the small house.  
But until there is time to spend with them, I would instead cook, wash dishes, and clean clothes for them.  It wouldn't hurt as well if they help me from time to time.  I won't mind if they make an offer.  Because I know –
Love begins at home.  It is not how much we do, but how much love we put in that action.
St. Teresa of Calcutta
Love in Action
My boys may not be vocal about their appreciation to their parents.  But they show it through their actions.  The same way we, their parents, show them we truly care and love them.
Every evening before they hit the sack, any of my boys would volunteer to wash the dishes.  Sometimes, I let them do it, and I feel loved.  There are times I tell them "mama can do it so you may rest," and their caring smile says "I love you, mom."
Love is Action
I would repay his smile with a cry,  because those tears mean I am smiling with pride.  I've got boys who care for their aging mom and who knows how to show love in action.  
Momi Berlin Directory
Bubble Man Facebook
Sample products were provided by Bubble Man.  Opinions expressed here are my own.