We use disposable diapers 
A study we once read said that disposable diapers are the third largest consumer items in landfills. They represent about 30% of non-biodegradable waste. The top two are food containers and newspapers. It is for this reason that we tried cloth diapering. But we failed. With the many household chores and other commitments, we can't find the time to change diapers and wash them. As a result, we find cloth diapering a commitment we aren't ready to face just yet.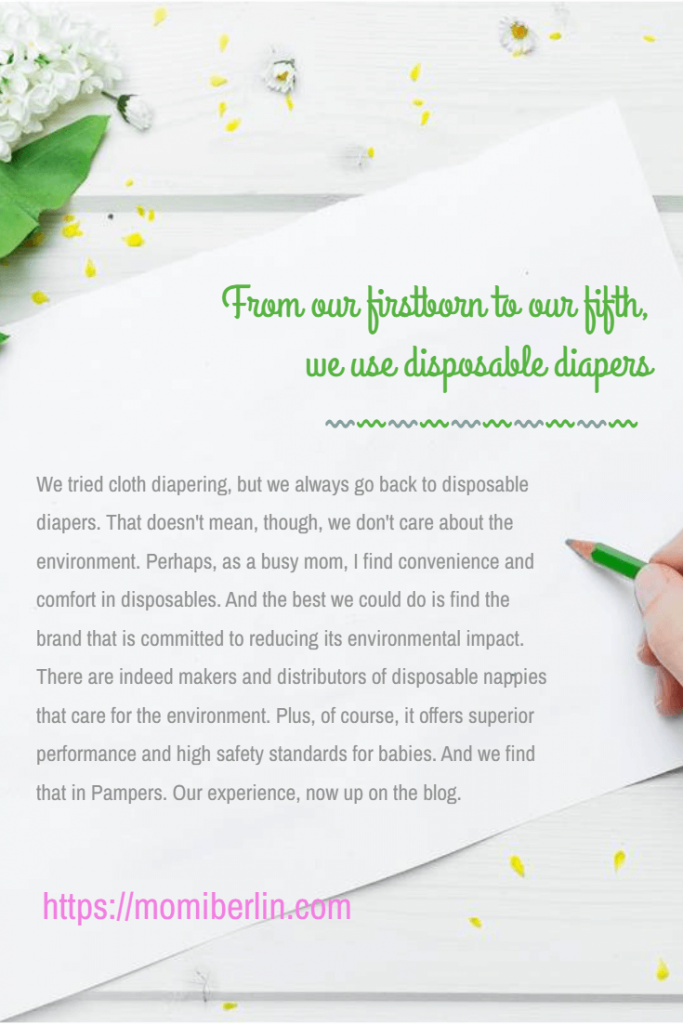 So with every baby and toddler, we always go back to disposable diapers. But that doesn't mean we don't care about the environment. Perhaps, as a busy mom, I find convenience and comfort in disposables. And the best we could do is find the brand that is committed to reducing its environmental impact. There are indeed makers and distributors of disposable nappies that care for the environment. Plus, of course, it offers superior performance and high safety standards for babies. And we find that in Pampers.
Many say disposable diapers cause diaper rash
We find Pampers not causing us diaper rash. As diapers are designed to absorb and retain body fluids, they are, however, nonwoven fabrics. Most are made of plastic. It is also for this reason that many claim babies suffer diaper rash. The prolonged exposure to dirty, chemical-laden diapers usually causes rashes on the baby's bottom.
High-quality diapers like Pampers, though, are genuinely absorbent, keeping the baby's skin dry even after multiple wettings. Such innovative pads also protect the baby's bottom, dismissing any chances of diaper rash or any irritant diaper dermatitis. In addition, the absorbent polymers in those disposable pads are what help take in and retain the pee.
Some infants develop diaper rash because of certain ingredients a diaper brand uses, like fragrances, dyes, adhesives, and rubber. Again, with modern technology and thorough laboratory testings, diaper brands can address such an issue. They use only the smartest and baby-friendly materials. With the brand we are using, we never experience diaper rash.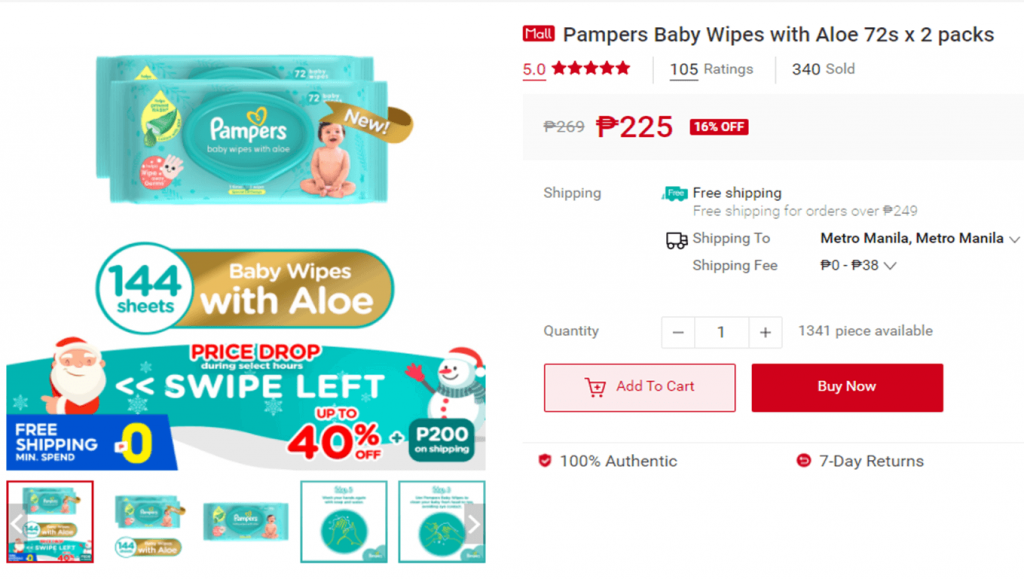 We also love Pampers' new upgrade. Its Pampers Baby Wipes with Aloe is another favorite product as it is gentle but effective to clean and protect even the most delicate of all skin types.
Many claims that disposable diapers are a huge expense
We get more value for money with Pampers.
There is no denying that disposable diapers eat so much of our monthly grocery expenses. The cost, though, varies on the brand we opt for and the package size.
When our Firstborn and Second Son used diapers, we opted for a diaper brand we bought from the market. We assumed significant savings even though we often change diapers and purchase bottom balm because of diaper rash. When we computed the actual cost, we found out that we made about six to eight changes a day using the cheaper brand. But with Pampers, we only did about three changes in a day.
Quality diapers like Pampers may come with higher price tags, but we save money when we invest in them. This is because we don't have to change pads as often.
They say disposable diapers are detrimental to the development of the baby's motor skills
We claim that it is the extra weight that creates bulk and causes lawlaw that hinders the little one to walk properly.
This is the same thought the GO naked study wants to share. The study says a baby walks best when naked.
The study doesn't suggest alone to let our kids go naked. Instead, it points out that a baby can walk with ease when naked as nothing may go between his legs that may cause him to stumble and fall. The same is valid with using a diaper that doesn't sag. With a diaper that fits perfectly, the little one can walk with ease and comfort.
It is essential then that we opt for a diaper that doesn't sag. A pad with high absorption quality guarantees less lawlaw, and fits snugly a baby's legs and crotch, which is fine enough to make a baby walk and move comfortably. In addition, the diaper retains and absorbs body fluids into the pad when properly adjusted.
We may say that with Pampers, our toddlers' pee and poo are evenly distributed; thus, the wetness doesn't concentrate on one part of the diaper only. As a result, no extra weight creates bulk and causes sagging or lawlaw between the baby's legs. And with less lawlaw diapers, this leads to better development of the baby's motor skills.
To date, we use Pampers Baby Dry Diaper Pants for our youngest. The diaper pants have easy-on and easy tear-off features. We can easily change diaper even when the baby is active. It also has an all-around stretchy waistband that moves with the baby for a more customized fit. This feature also helps prevent leakage. Love, too, that it is breathable that lets hot air outm and has baby lotion that acts as a protective barrier to help baby's skin remain moisturized.
Why We Use Pampers to Our 5 Boys
Though cloth diapering may be cheaper, healthier, more ecological, as they claim, we will always opt for Pampers. First, the brand has proven that it uses sustainably sourced materials to cause less effect on the environment. We have experienced Pampers' superior performance and care for our babies. Third, we get more value for our money as we spend less with less diaper change. And lastly, we love to see how our babies move around without being saddled by lawlaw diapers. They are free to explore independently. And that independence is what we would want them to feel and enjoy. We want our kids to become independent individuals because that freedom will remain with them for life.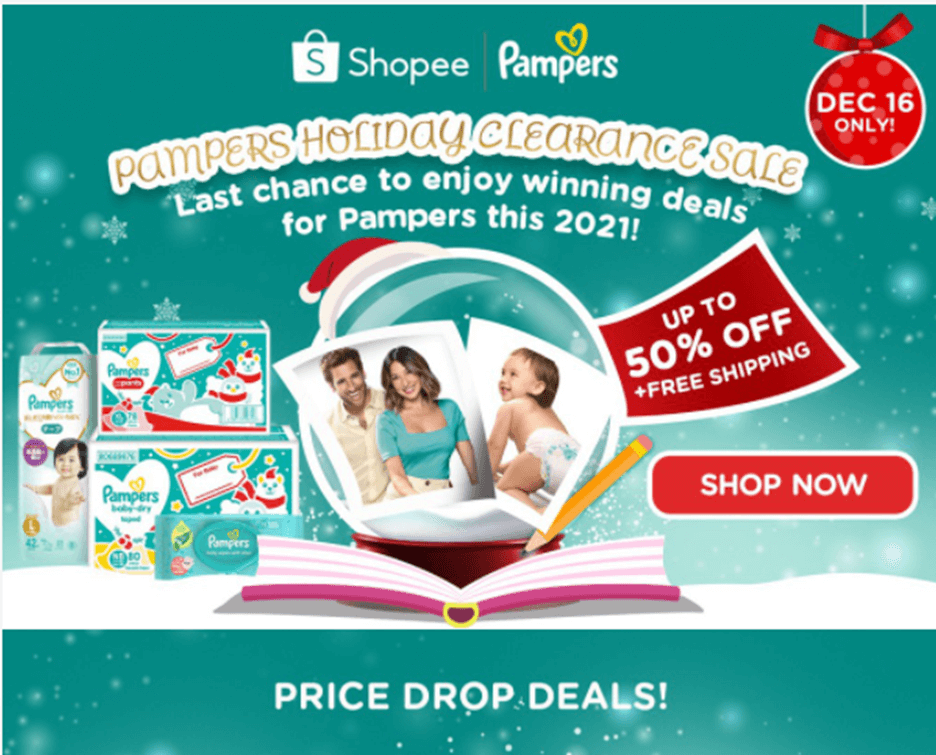 And ow, by the way, Pampers has an End of Year Clearance Sale at Shopee which is a perfect gift for parents to save more! Pampers also has faster delivery and exclusive offers for those residing in Visayas! Better check this out now! But first, download Shopee app from the Google Play Store or Apple App Store.