The best for your baby
The moment you see two lines in your pregnancy test, you probably jump for joy and feel a rush of happiness at the promise of your forthcoming parenthood. But, of course, many ideas and thoughts come into your mind. Among others are what gender your baby will have, the name you'd like to give, and the changes your body will experience. Most definitely, when to do some shopping for baby items will cross your mind.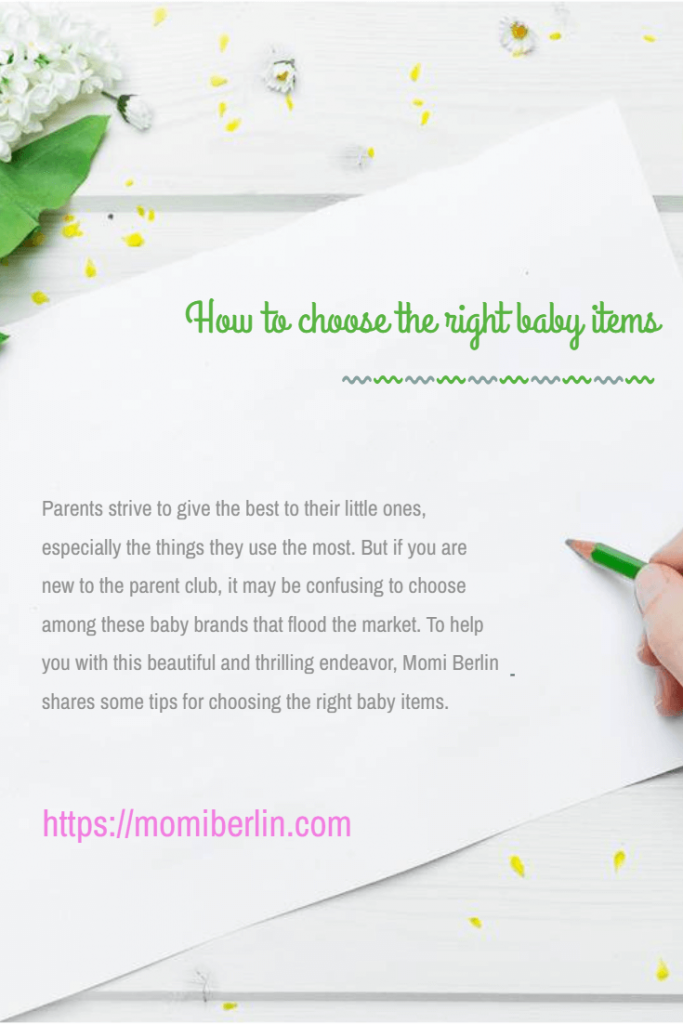 From experience, it is safe for expectant parents to start looking and buying baby items when they enter the second trimester. This is because the risk of a miscarriage is significantly less than in the first trimester. Parents' first few things for their pregnancy are not for the baby but for the mommy – maternity clothes. After getting mom comfortable with her clothes, parents will now deal with the necessary essential items needed for the baby.
Parents strive to give the best to their little ones, especially the things they use the most. But if you are new to the parent club, it might be confusing to choose the perfect baby items that flood the market. To help you with this beautiful and thrilling endeavor, here are some tips for choosing the right baby items.
Read Reviews
Thanks to the internet, you can now connect to experienced, reliable parents and childcare experts on blogs and forums. They can give personal opinions, thoughts, and recommendations about virtually anything related to parenting and child care. You can also check product reviews on online shops like Shopee and use them to make your purchasing decision. Of course, not every item works best for every individual, so it is essential to remember that your perception and opinions should still weigh the most.
For instance, when looking for an antibacterial laundry wash, we read every single review of almost all laundry soaps we saw on the internet. And from our research, we found the brand Kleenfant as the most suitable for our needs. We share the same aim to provide a quality baby product that is affordable yet the safest it could be. Likewise, Kleenfant is not only for our baby but for adults, too. It is pediatrician and dermatologically approved, as well. And best of all, the wipes hold an FDA Certification.
From the reviews we have read, Kleenfant Antibacterial Laundry Wash provides the most natural and safest detergent that cares for our babies. This prevents rashes and irritation to their most sensitive skin. The wash also effectively removes milk stains and dirt while providing gentleness on mommy's hands.
Talk To Your Family Physician
What's more comforting than getting necessary information from professionals, and in this case, your physician? Before buying any baby products, it is good to ask your doctor's opinion. Doctors will advise you based on their medical training, practice, and experience. They have probably experienced and encountered a lot of products that their patients use; therefore, their view is undeniably essential. So before buying products like soap, lotion, shampoo, baby wipes, or diapers, it is best to ask them about it as they are more aware of the material and chemicals in the product that can potentially harm your baby.
We are lucky to have the most accommodating pediatrician. We can always consult with her about anything baby-related and that includes the right choice for our baby. She even recommended using unscented baby products for our newborn. Thus, we opted for the Kleenfant Unscented Baby Wipes when we checked out for baby wipes. Kleenfant wipes are made with extensive safety standards, which restrict a range of potentially harmful ingredients.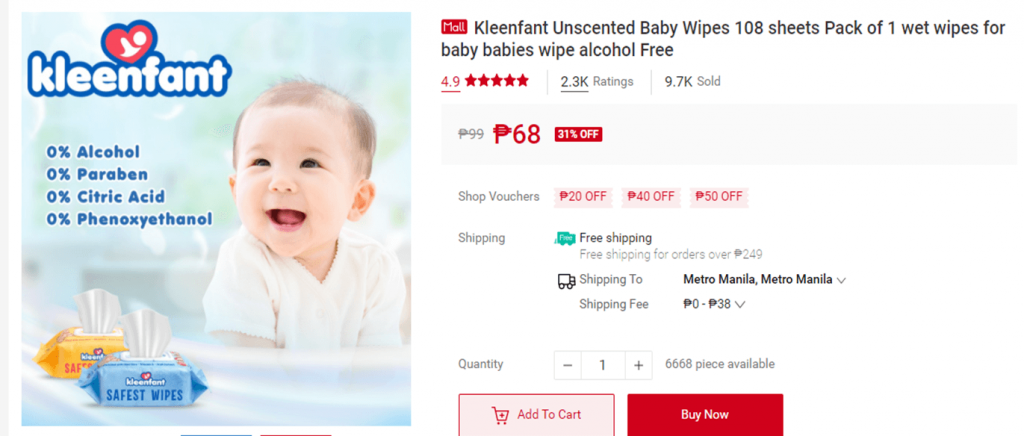 Control Your Impulse Buying
Like an excited parent, you are probably susceptible to impulse buying. After all, those baby products are too cute! It is best then to ask yourself – do you need them; are they a necessity? Before making big purchases, we suggest holding a baby shower and creating a gift registry. You can forecast what items you will receive and need to stock up on yourself with this. Of course, anything you can feel comfortable going on a spree is probably essential, such as diapers and wipes. But be sure the brand of diapers you prefer will not cause any skin rashes to your baby.
Don't get us wrong! Not every item you will put in your gift registry has to be an absolute necessity. There's nothing wrong with getting your child a cute onesie or asking for a unique gift at your baby shower, just don't go overboard.
Understand Your Concerns
What are your basic standards about the kind of baby items you will buy? Is it the price? The brand? Or the chemicals and possible toxins in the items? Suppose you are concerned about the chemicals and toxins that are potentially present in the details and may pose a risk to your baby. In that case, we highly suggest doing your research and taking the necessary actions based on your findings. Brand and manufacturers of baby items are required to show the materials and chemicals used in the production of the product, and you can easily spot the substances you want to avoid on the label.
This is what we love best about Kleenfant Extra Care Fabric Softener. The label says the product is specially made with loving natural ingredients proving it safe and gentle for our little one's delicate skin. And we have confirmed it a hundred times. The product indeed makes our baby's blanket and beddings real soft that it's obvious our little one enjoys the soft, comfortable feeling of the fabrics.
Choose By Design
There is a reason some items are acceptable to use for babies, while others are specifically designed for babies. Babies have delicate and sensitive skin, not to mention an underdeveloped immune system, making them susceptible to diseases, allergies, and skin ailments. Therefore, it is essential to choose the acceptable product for the baby to use and is designed primarily for babies. They are made and manufactured with the baby in mind, and you can ensure that they are mild and free from harmful chemicals. These items are usually made with organic substances and free from parabens or carcinogenic material.
We always want the best for our babies. After all, they are the most precious gift we are committed to taking care of. Choosing the right baby products and giving them the best is every parent's instinct and commitment.