It's a Happy Christmas at SM Supermalls!
SM Supermalls brings back the excitement in every visit, joy in every sight, and a magical connection in every experience that will make each Pinoy's Christmas happier and brighter. And when we visited the SM North EDSA recently, SM Supermalls truly makes it serious when they said everyone is about to experience a magical Christmas!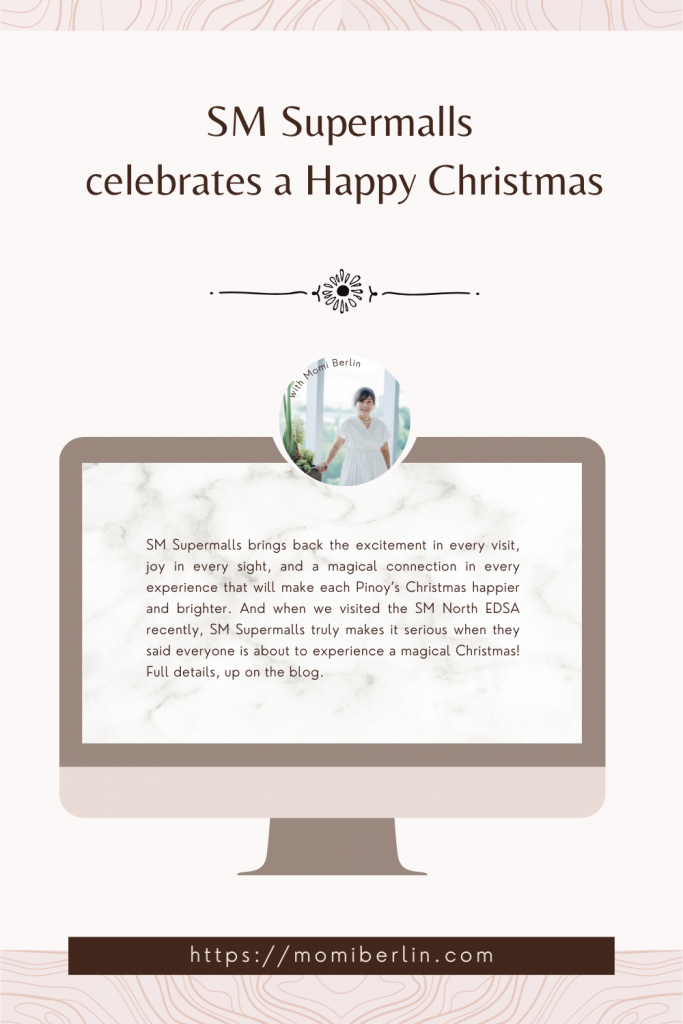 Magical Northern Holiday at SM North EDSA
Last October 21, SM North EDSA lit up its 60-foot giant Christmas tree, much to the delight of spectators and shoppers. The lighting of the Christmas tree also signals the start of the holiday celebration at the mall. Multi-sensory display of Aurora trails and adorable reinbears surround the gigantic tree. The joyous celebration will continue until January 8, 2023. 
Aside from the holiday Aurora playpark feel at SM North Edsa, SM Supermalls has lined up exciting and festive activities just for you and your loved ones! 
Christmas Tree lighting activities in your favorite SM mall!
Apart from SM North Edsa, other premier SM malls also lit up their 60-foot Christmas trees to share hope, joy, and love with every SM shopper. SM Aura Premier, SM Mall of Asia, and The Podium had their lighting of dazzling trees last October 22. A day after that was SM Southmall and SM Cagayan de Oro Downtown Premier's turn. S Maison also had its Christmas tree lighting on October 25.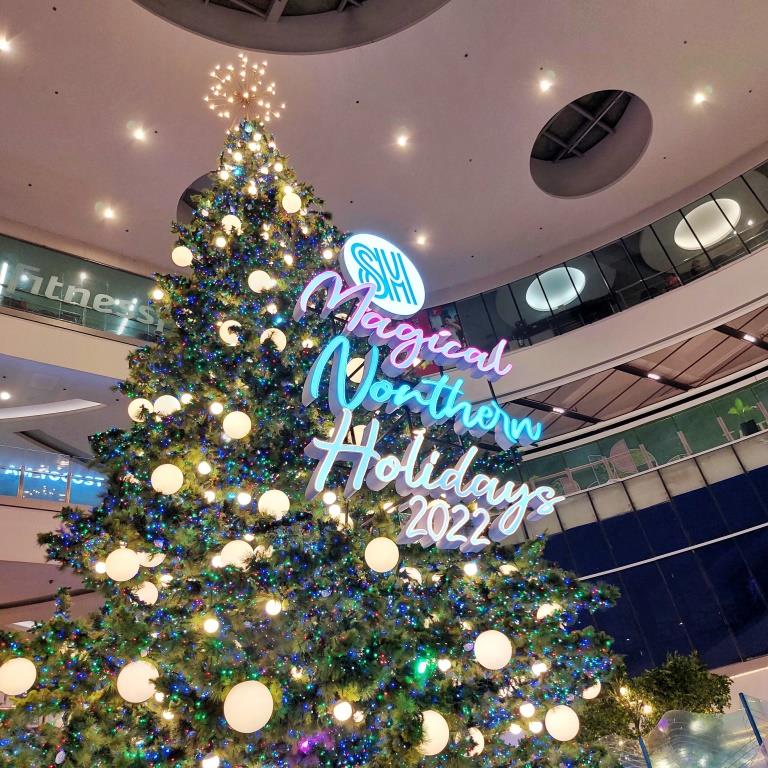 Santa-approved Christmas Playpark
Each visit to your favorite SM mall opens to a new world of Christmas with towering centerpieces, functional spaces, and sprawling activities at the Christmas Playpark. You may explore the Christmas markets and play areas, and watch out for Santa appearances, character meet and greets, and other surprises! Another exciting attraction is the multisensory experience at the playpark's light and sound shows. The festivities wouldn't be complete without holiday treats, festive food, and a lot more scents and feels that will embrace you in holiday warmth and ambiance.
Sparkling lights to brighten up your holidays
Of course, Christmas won't be lively without lights. Be in awe as you pass by hallways decked with twinkling lights, illuminated tunnels, beaming driveways, and lit parking spaces as they glow at their best. 
Dining out al fresco style at the Super Spots decked with lights
SM Supermalls has also created outdoor attractions for that picture-perfect, memorable shopping, dining, and leisure activities for the whole family. You can also enjoy special treats, promos, and exclusive deals from your favorite restaurants and food merchants at the SM mall near you!
Turn Christmas AReality at SM
Don't miss out on a phygital Christmas experience as SM incorporates the festive season with Augmented Reality. In SM Megamall, four AR filters have been made available, including Santa Claus, Reindeer, Snowman, and Sparkle. Just scan the QR code at the SM mall near you and see the Christmas centerpiece and magical spots come alive!
Check out the Happiness Stations
SM installed various happiness stations where you can create lasting memories with family and friends. Spot the giant bears with lights at Bears of Joy corner, the happiness photo wall, the Christmas tree decors with your family photos, or the huge TV screen where you can watch your recently filmed Tiktok or IG video at your favorite mall.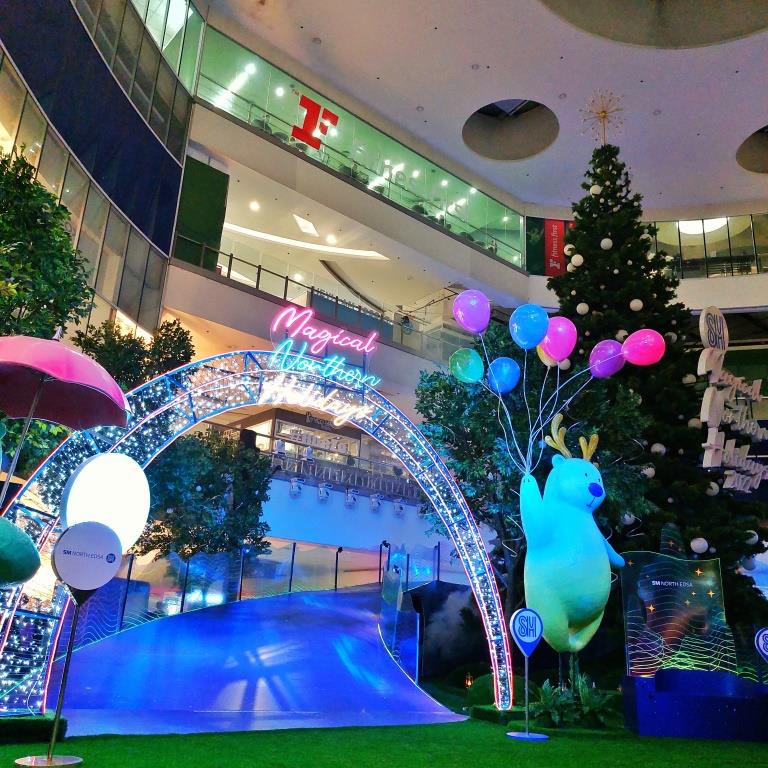 Make your furbabies feel the happiness and love
Christmas is for the whole family, including furbabies! Make them happy and feel loved by joining the Holiday Paw Play Dates and Costume PAWty. You can also flex them at the Christmas photo challenge and win amazing prizes, or shop for them at the Christmas markets. Also, SM Supermalls will be partnering again with organizations for a pet adoption drive so you can help the little ones find a home in time for the holiday.
Unlock a bigger, better, and brighter virtual Christmas Village
SM will reopen its virtual Christmas Village to bring an exciting, engaging, and rewarding holiday experience to every Filipino. Check out https://gosm.link/ChristmasVillage2022 as it goes live from October 28 to January 5 for an awesome augmented reality shopping, dining, and leisure experience. Create your own avatar, e-meet fellow shoppers and SM ambassadors, and enjoy bonding time with your family and friends while playing fun games at the immersive virtual Christmas zones made for you.
Create circles of happiness by buying products for cause-oriented programs 
Since it's the season of giving, you can support cause-oriented advocacies of individuals and organizations by purchasing products that provide opportunities and livelihood to marginalized sectors. For this year's 100 Days campaign, SM partnered with bag designer Zarah Juan, Spark PH, the Girl Scouts of the Philippines (GSP), the Association of Foot and Mouth Artists of the Philippines, and the Quezon City LGU for its Vote to Tote initiative.
"This Christmas, we are sending a message of happiness to every Filipino. With every activity we have for them, we hope to inspire everyone to spread sparks of happiness in their homes and communities as we celebrate this year's holiday festivities," said Steven T. Tan, president of SM Supermalls.
A new light of experiences will bring happiness and kindness to every Filipino as SM Supermalls create more magical memories and opportunities to touch other people's lives this holiday season.
Momi Belin
SM Supermalls Website | Facebook | Instagram