S&R PISO SALE runs this Halloween weekend
Promo launched exclusively via MetroMart from Oct 28-31, 2022
The S&R PISO SALE, exclusively via MetroMart returns this Halloween weekend on October 28-31, 2022. Select items are at ₱1.00 when you order and get it delivered via MetroMart across select branches of S&R.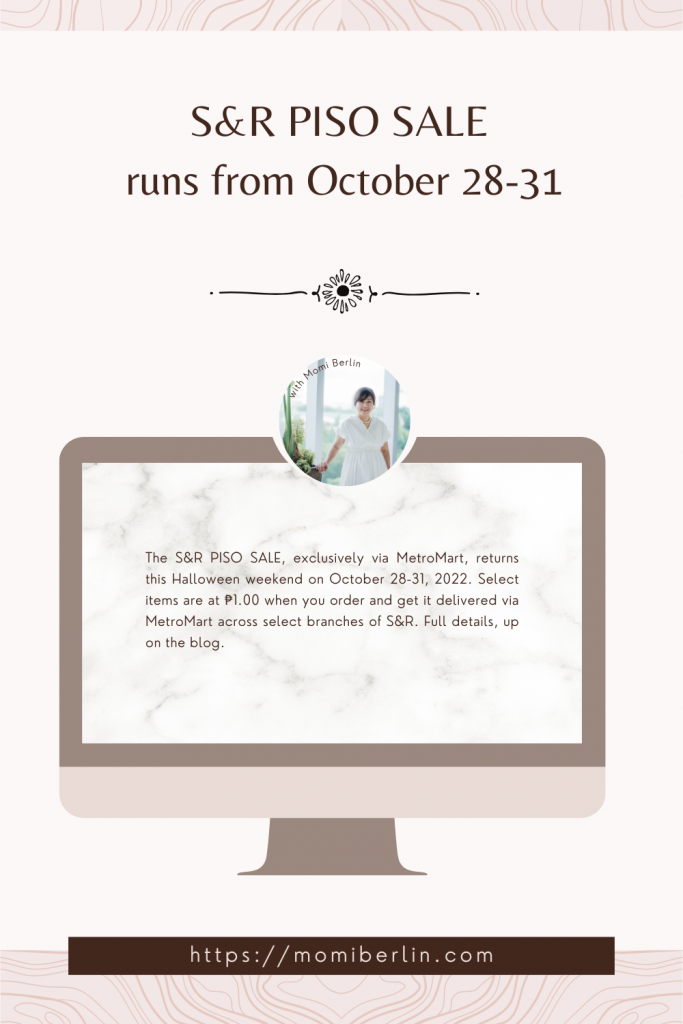 The S&R PISO SALE promo has various items available for a limited time per day. Details below: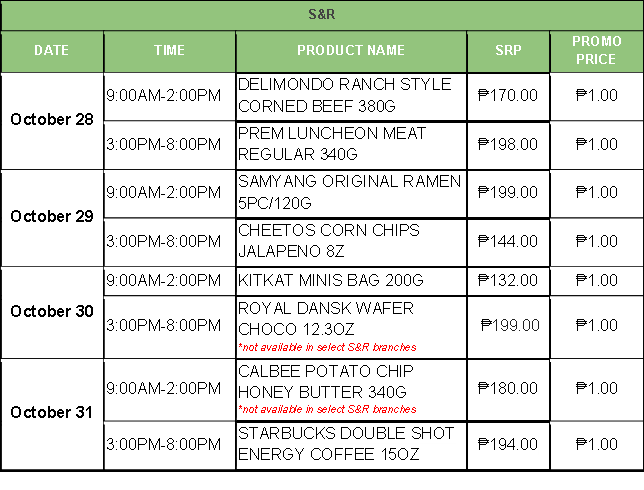 *Sale items are subject to availability across S&R branches. 
All MetroMart customers can avail of this promo, with or without an S&R membership card.
Stefano Fazzini, CEO and co-founder of MetroMart, said that MetroMart enjoyed giving treats and no tricks through their successive PISO SALE events. Heading towards Christmas, MetroMart organizes more sales and promo events. This is something their customers should watch out for.
The S&R Piso Sale promo applies to New and Existing Users of MetroMart. A minimum spend of ₱2,000 is required to avail of the 1-peso sale items. Only completed checkout of orders within the sale period can avail of the discounted items.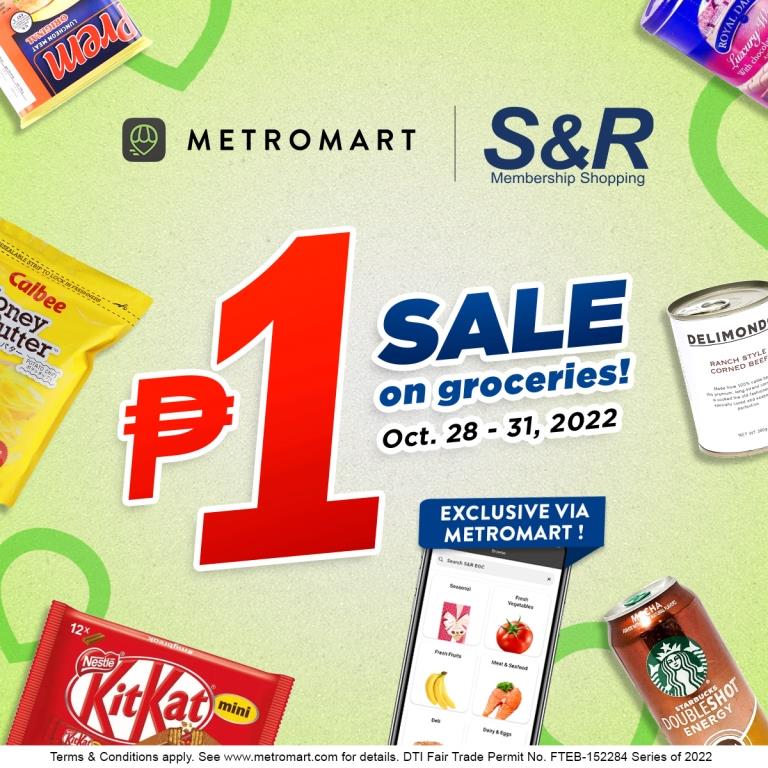 Continuing its run every Wednesday this October and November 2022 is Shopwise's Wise Wednesdays. Customers can avail of various discounts and freebies for their orders.
● Get discounts up to 70% off on premium items like cookware, food storage solutions, and even home internet products.
● Use code: FREEDELSW to avail FREE Delivery on grocery orders with a minimum spend of ₱1,500.
● Use code: SW300 to get ₱300 off on orders with a minimum spend of ₱6,000.
● Customers may also get a FREE Large Glass Dispenser with a minimum purchase of ₱10,000.
Here's a treat for the spooky season! Use code: HALLOWEEN to get ₱200 off an order with a minimum spend of ₱2,500. This promo is valid for ALL Users, for one-time use, and applicable across all stores and supermarkets, from October 25 to November 2, 2022.
Continuing MetroMart's successive PISO SALES of its leading partner supermarkets and specialty stores, customers can be on the lookout for even more sale events this fourth quarter of 2022, heading towards the holidays. Following the Shopwise and Landmark PISO SALE is the return of the S&R PISO SALE. Slated for November is another 1-peso promo, the Marketplace PISO SALE, exclusively via MetroMart.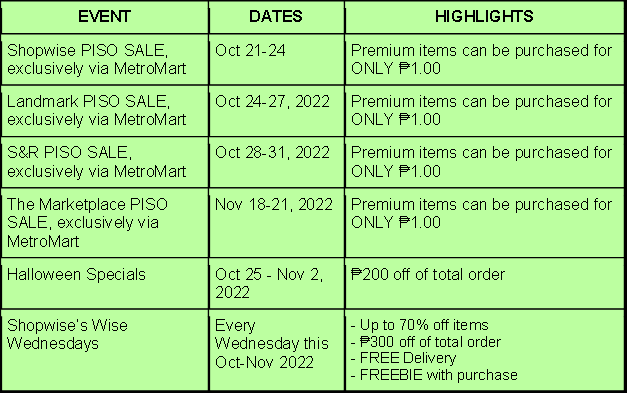 All of these promos are available throughout the Philippines, wherever MetroMart has expanded its serviceable locations. The PISO SALE is available in participating branches of S&R via the MetroMart app and website, all over Metro Manila and key locations throughout the Philippines, including Cebu, Cavite, Davao, Tagaytay, Baguio, Bicol, Pangasinan and Iloilo. The Shopwise Wise Wednesdays promos can be availed in all participating branches of Shopwise.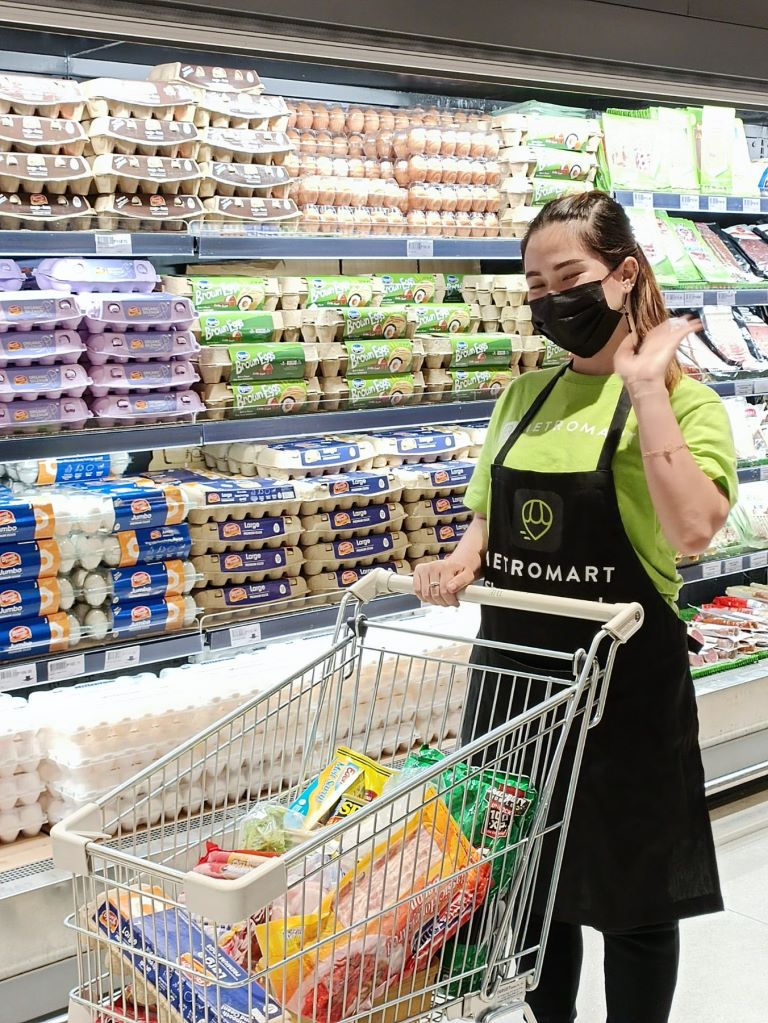 MetroMart is the #1 online grocery delivery service in the Philippines. Its grocery partners include S&R (with or no membership card required), Robinsons Supermarket, Landmark, The Marketplace, Shopwise, All Day Supermarket, Merrymart, Super8 Grocery Warehouse, Ever Supermarket, UltraMega Supermarket, and over 500+ specialty store retailers like Pet Express, Baby Company, Toy Kingdom, Toys"R"Us, National Book Store, Office Warehouse, Southstar Drug, and AllDay Rx. Customers can order from their favorite stores on the MetroMart app and have it delivered to their door in 2 hours! For more updates on MetroMart, like and follow us on Facebook and Instagram at @metromartph. Order groceries online or download the app via https://bit.ly/DownloadNowMM