How to keep a relationship alive after having a baby
Having a baby and raising him can be overwhelming. Add to the lack of sleep, the demands of your little guy could trigger you to go berserk.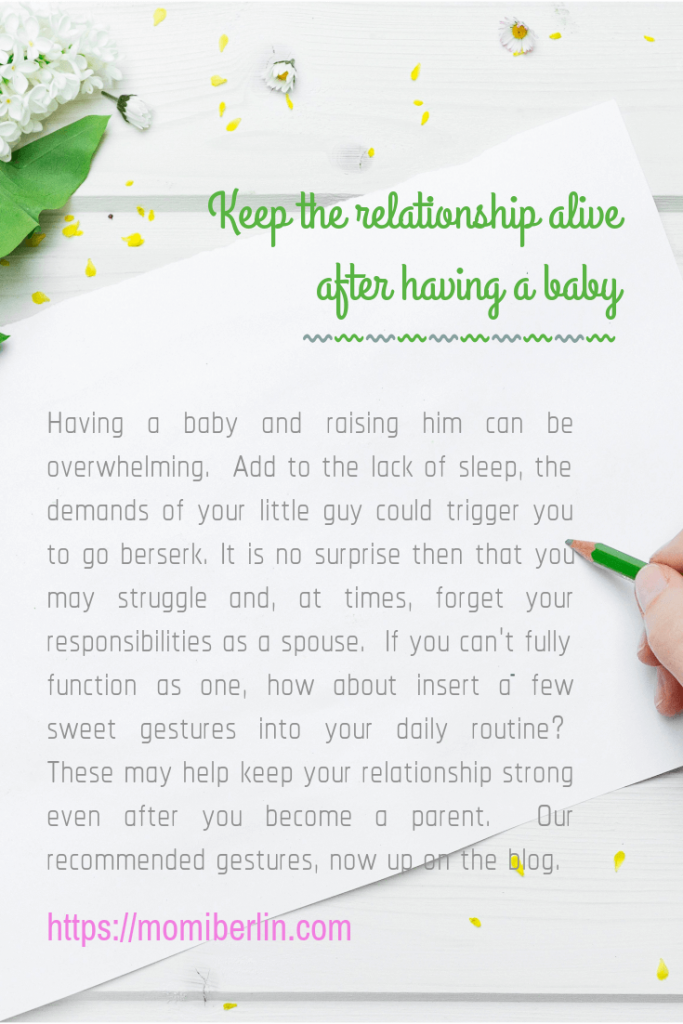 It is no surprise then that you may struggle and, at times, forget your responsibilities as a spouse. If you can't fully function as one, how about insert a few of these simple, sweet gestures into your daily routine? These may help keep your relationship strong even after you become a parent.
Act with warmth
You could tolerate your baby's tantrums and cries. You lullaby him back to sleep and even sing to him. But when your partner snaps at you, you suddenly burst with anger. If you could act with warmth towards your little one, how about extending the same kindness and understanding to your spouse? Indeed that simple act of tenderness would be reciprocated with the same compassion.
Avoid direct criticism
There are instances you would feel so exhausted and fed up to the point of breaking out. Express your frustration calmly and avoid direct criticism. It is better to be specific about your concern and not leave your partner clueless about what frustrates you. Lines like "I am feeling so much pressure. I would appreciate it if you take care of the baby today as I catch on more sleep" is better than "You are so insensitive! All you do is sleep and do not even bother to stand up whenever the baby cries at night!"
Be a spouse
You were a spouse first before being a parent. You love to cuddle up close to your partner every bedtime before. You are still a wife or husband, only that you've got a little one to tend to. But it doesn't give you the excuse not to function as one. Being a parent can be overwhelming, but life would be worth living if you also give in to your indulgence of seeking romance and act as a needy partner.
Be a lover
The same goes with being a lover and not a parent. Stop the nagging and be more like a lover, just like you were before being a spouse. If you find your husband, for instance, not acting like a man, then encourage him to stand as one by treating him like a man. Give the respect he needs and never look down on him.
Be generous with a compliment
It won't hurt your ego if you compliment your partner once in a while. Everyone loves compliments, especially if given by someone very dear to us. You may commend your husband as a snappy dresser. Or how about being vocal to your wife on how delicious the chicken casserole was.
Complete each other
Now that you have a tiny human with you, it is wise to work together as a team. Ditch the scoreboard on who works more. Instead of competing, complete each other. Remember, if one loses, both of you lose. Be each other's wingman, cheerleader, and biggest fan.
Hold hands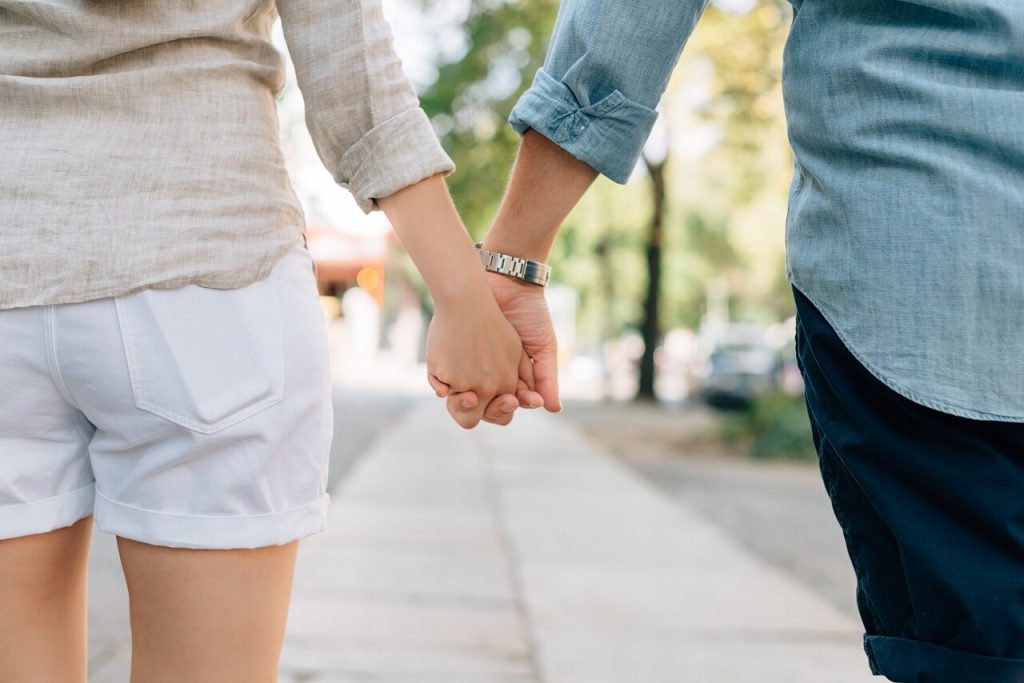 You used to hold hands a lot. But with a baby in tow, sometimes your hands are busy pushing that stroller or carrying the baby. Still, no one hinders you from linking those arms or holding the other hand. Keep that sweet gesture as a practice. That simple act alone will make you feel happier and more loved.
Make Love
Having a child does not mean you already graduated making love with your spouse. Intimacy is vital to any marriage, and sex is what unites a couple in ways beyond physical. More than the physical connection, lovemaking opens the door of hope, love, and faith.
Make time
Funny that you still have that time to tend to your garden despite your busy schedule and even sit for about 30 minutes to watch a favorite tv program. You make time for each household chores because you deem them necessary. If you could spare minutes or hours for each task, you can also have the time for a real romantic encounter. You used to love dating, so why not make and find time to date each other. It may take two to three hours of your time each month or bimonthly to be husband and wife.
Give gifts or surprises
It won't hurt the budget if you surprise your spouse with gifts, from time to time One timeless gift, for instance, is a piece of stunning jewelry that would surely make your loved one feel appreciated. For example, the pieces at J's Diamond are a gift of love with a timeless sparkle. J's Diamond has a wide array of 18K gold engagement rings, bracelets, earrings, necklaces, wedding rings, and GIA diamonds that exude tasteful style and elegance.
To immortalize once more the moment of love and bliss, J's Diamond invites you to the virtual launch of its fourth flagship store at the Ground Level of Ayala Malls Trinoma on July 10, 2021. The new boutique exhibits a classy, contemporary vibe, designed to represent the extraordinary craftsmanship of J's Diamond, truly world-class on its own.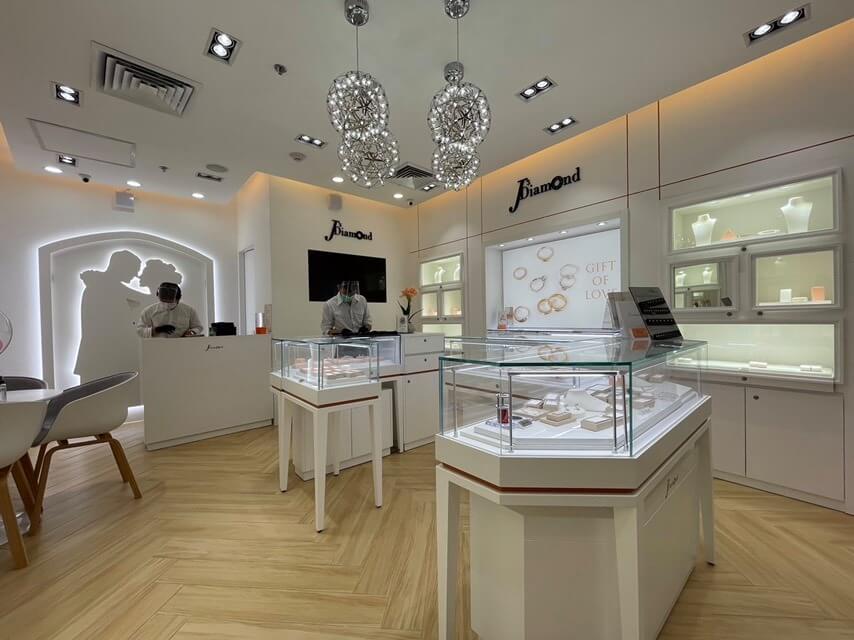 Say I love you more
Mornings can be dragging or busy; either you're still in bed trying to catch more sleep because the baby wailed all night, or you're up early to prepare breakfast. Suppose your husband leaves for work, how about sending him a real lip lock. Follow it with "I am more in love with you" line. You wouldn't imagine how that simple act would bring so much inspiration for your man to work hard.
Seize the moment
Even if you're watching some television program at home, express your appreciation to your partner. Cuddle up or hold hands. Or how about play footsie? It is in those quiet moments that you feel relaxed with the baby in bed so take full advantage of life's opportunities whenever they present themselves. It is only but seldom that the baby is quiet after all.
Never give up
Remember how you encourage your child to never give up on catching his dreams. The same goes with your marriage. For a marriage to survive, you need to give, learn, and grow. It is about choosing each other again and believing in the love that started it all. Never give up on trials and problems. Refuse to think that insurmountable situations are permanent.
Keep the relationship alive after having a baby
They say that the happiest children come from a home where their parents act with and speak about love. Be a model to your children that despite the pressure of managing a family, the spark love brings is still alive.
Marriage is a commitment. To keep the fire alive, allow even the simplest opportunity to fall in love with your spouse over and over again. After all, you both decided to live and build a family together not because of your desire to have children alone. You married one another because you share and believe in the same love.
Momi Berlin Directory
J's Diamond Website | Facebook | Instagram