Pink isn't just for girls.
We got a complete set of Baby Care Plus+ Pink baby products from Tupperware Brands last week.  At first, my 11-year-old son laughed at the idea of our 19-month-boy using the product.  The packaging is pink and "it is obviously for a girl," was his initial comment.
I tried the baby bath to our little one.  Then I dabbed some powder on his tummy and massaged him to sleep using the baby lotion.  I just cannot resist the mild fresh baby scent the product leaves on my son's skin.
When I went back to my working table to finish an article, I heard my Big Bunso commented the bathroom smells like a baby after his quick trip inside.  He went upstairs to change clothes, and when he came near me, he whispered, "Even the boys' room smells like a baby, too!"
Then I smiled.  Time to blog and share to other mommies that Tupperware Brands' latest Baby Care Plus+ Pink is truly a heaven sent.  Even my big boys love the scent it leaves.  And for this mom, I love the fact that it maintains my son's velvety smooth skin.  Even his hair and scalp do not dry up.
Let me share why I love this newest Tupperware Brands line under the Baby Care Plus+ category.
Baby Care Plus Pink review
Baby Care Plus+ Baby Shampoo
With just a small amount, this shampoo produces a rich lather as it lightly conditions and cleanses my son's hair and scalp.  Usually, when my boy is not used to the product, his scalp becomes dry and produces white flakes.  We have been using it for four days now, and I may say the product does not irritate my baby's skin.  I checked its active ingredients and found that it has Cetiol Conditioners which creates that velvety sensation in every application.  This component is usually used in other skincare products as it is ideal for individuals who wish to pamper themselves.  The baby shampoo also has a mild pH-balanced formula, is dermatologist-tested and hypoallergenic.
Baby Care Plus+ Bath Bath
I instantly fell in love with this product.  Without much exaggeration, it indeed provides a luxurious, soft and mild skin feel.  And the active ingredient that made such effect is the product's Lamesoft Skin Protector component.  When I read the label, it says there that the Lamesoft Skin Protector further "forms a natural barrier around baby's skin to protect while cleansing, giving baby softer, smoother skin."
Baby Care Plus+ Baby Powder
I usually do not apply baby powder to my son.  But with the weather we are experiencing now, I use baby powder to keep my little man dry and free from sweat.  Then I read in one baby magazine that putting a small amount of powder on the sheets would give a relaxed and peaceful sleep.  It is because, during summer days, the bed releases heat and warmth.  And the powder on the sheets would keep it cool.  Indeed this trick gives my son a peaceful slumber he very well deserves.  But what perhaps differentiate Baby Care Plus+ Baby Powder from all other powder is its Allantoin active ingredient.  Allantoin has a moisturizing effect and properties that help create smooth, healthy skin.
Baby Care Plus+ Baby Lotion
I always apply lotion on my baby.  I love the soft feel it leaves on his skin.  With the Baby Care Plus+ Baby Lotion, I have noticed that hours after his bath, my son's skin is still smooth. It is because the product has 24-hour locked-in moisturizers that keep moisture and Vitamin E intact to make baby's skin feeling velvety smooth and soft all day.
Baby Care Plus+ Baby Cologne
I admit.  I use this Baby Cologne.  I just love its charmingly innocent smell on me.  The fragrance combines citrus and floral notes that both comfort and calm me.  I also dab a few on my son's arms and legs as I just can't resist the cologne's warmth freshness and intimacy it creates.
Baby Care Plus+ Pink giveaway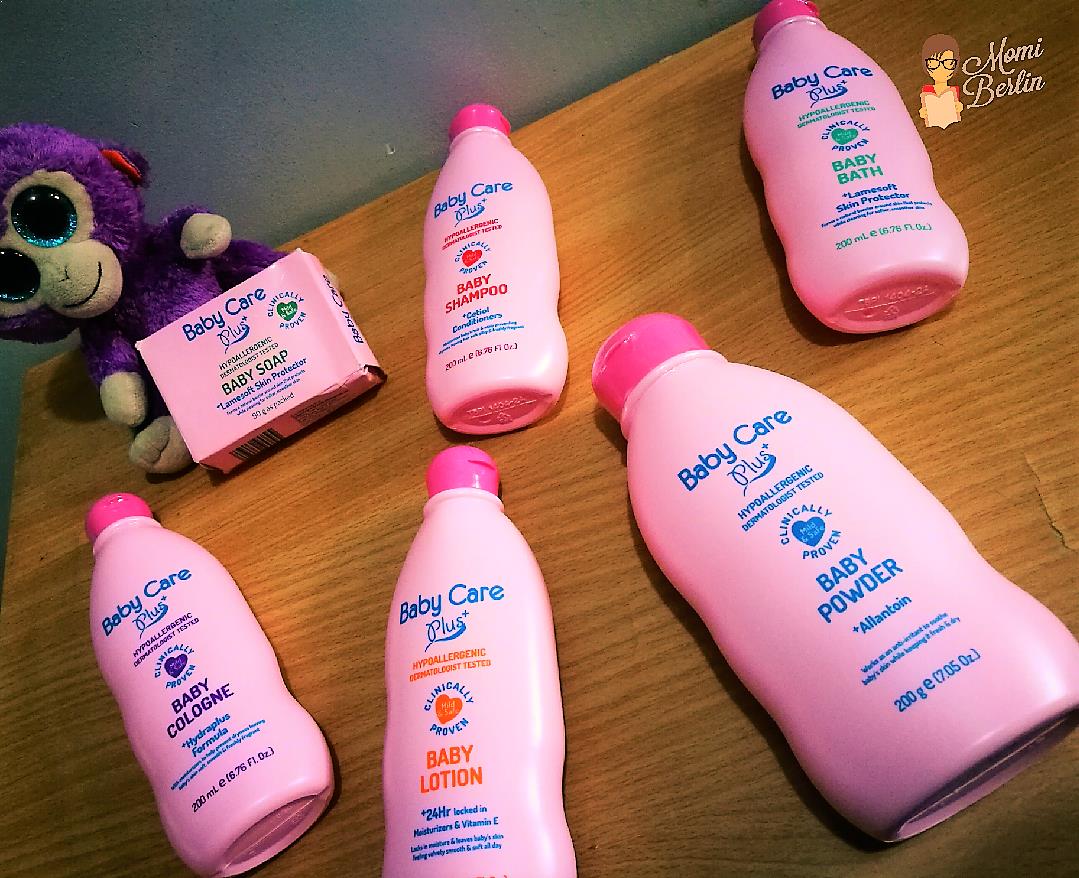 Now, the good news is, Tupperware Brands is sponsoring a giveaway!  One Momi Berlin reader would receive a complete set of the Baby Care Plus+ Pink.  This will run today until May 11, 2017, and the winner will be chosen via random.org.   The announcement of the winner is through Momi Berlin Facebook page on May 15, 2017, and will also get a notification through a Facebook message on the same day.
Good luck and we encourage you to join this giveaway.  The complete set of Baby Care Plus+ Pink is a joyful baby product for sharing by kids and their moms.  Even boys would certainly fall in love with its mild, fresh baby scent in citrus and floral notes.
Momi Berlin Directory
Tupperware Brands Website | Facebook | Instagram | Twitter |
Note:  Winner will pick up the prize at the nearest Tupperware Brands branch within her area.