Boho Home Décor: How to Pull It Off
Decorating your own home is never easy, no matter how big it is and how many rooms there are. Most people who tackle this project usually do it in a hurry without paying enough attention to details, so lots of modern houses look like a mess. Combining several decorating styles into one and throwing everything you know and love into a mix is not a sensible idea, which is why picking a particular type and sticking to it is a far better alternative. Luckily, you can choose lots of decorating styles, and Boho among the most effective ones. So, if you too want to introduce some Boho vibes into your home as well, we have here a few ideas you may want to consider.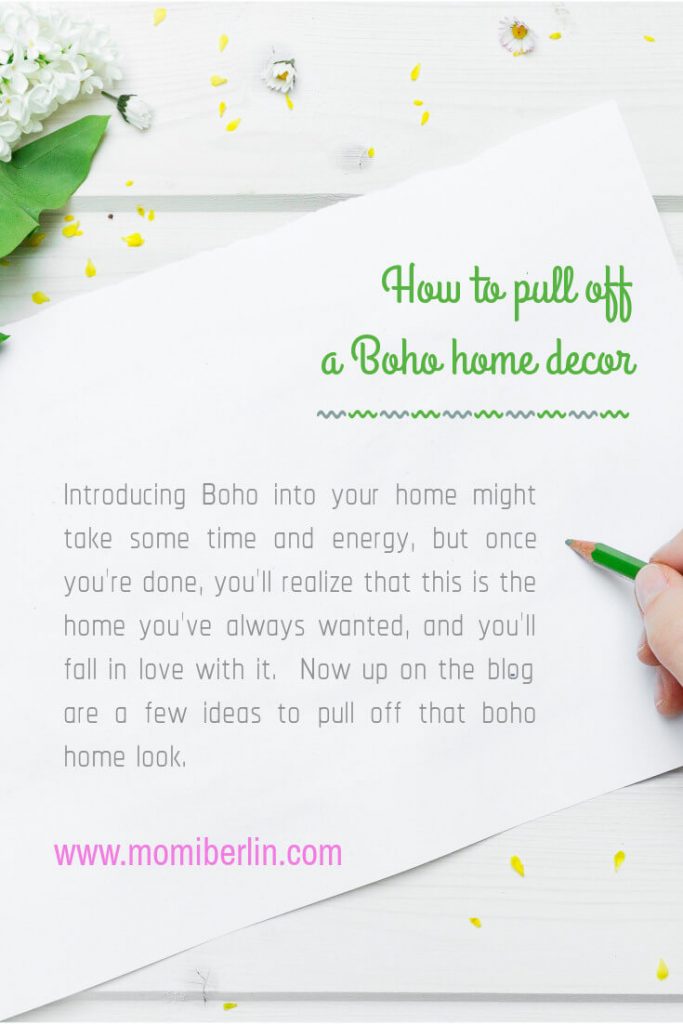 Understand the philosophy
To make the most of a particular decorating style – any decorating style, for that matter – you need to explore it for a while and understand why it's so special. What makes it unique, what are some of its basics, why are people using it, and is it going to work for you as well? There are quite a few factors you should keep in mind when it comes to Boho, from the history of this style to its 21st-century potential.
The story behind this decorating style is complex and layered, but there are just two things you need to understand. First, it's all about thinking outside the box and being ready to make bold moves and unusual choices that work for you only. Instead of agreeing to everything all those world-famous designers recommend, you need to find your inner style and follow it to the end. Remember, too, that you can pull this off even if you have zero decorating experience. Following a few simple rules and being open to crazy ideas is all you need to turn your home into a Boho-inspired place every person in your family is going to love.
Start with the colors
The easiest way to introduce the Boho style into your home is through a smart choice of colors. Picking the right colors might not be that easy, but once you do that, you'll be able to introduce them into every corner of your home – literally! And that will help you set the tone for your interior design and help you work out all the other details that have to agree with the colors you've selected.
The only problem with Boho-friendly colors is that there are no set colors that fit this category. All color choices and patterns can work, as long as you pick the right set of tones, to begin with. Earthy tones should be the first idea to consider because all those shades of green, brown, orange, yellow, and grey could help you make your home look amazing. Once you pick these colors and use them for your walls, for instance, or your rugs, you can start introducing other tones as well, combining them with your primary color choice.
Work on your floors
When decorating their homes, most people pay zero attention to the floors, focusing their attention on the walls, gadgets, and kitchen design. While all those aspects are just as important, you shouldn't forget that the floors define your inner space and make it coherent. This is particularly true if your home features an open concept because this is where your Boho-style can look the best.
Making your floors fit into this design might sound complicated, but it doesn't have to be. You need to make your floors visually appealing and warm, especially if we're talking about hardwood floors, tiles, concrete, or laminate. If you want to level up a bit without much effort, introduce a few rugs as well, and you'll help your floors look warm, cozy, and comfortable, especially if you pick a rug that professionals made. For example, opting for a rug from the Miss Amara HK collection might do the trick and set the right tone for your interior design décor. What's even better is that these rugs will look amazing in every part of your home, so you can even rotate them and check out how they work in different areas.
Use the right lighting
This is something that plays a huge role in a Boho-inspired home, so don't forget to explore new ways to illuminate your interior space. Instead of going for simple solutions that can be seen in every other house in your neighborhood, try to be creative and start looking for crazy ideas that might work. Of course, your lighting has to be practical and visually appealing, so be prepared to do some research first.
Again, the best thing about this style is that you can freestyle your way through this process and still develop great design choices. Visit the local flea market and look for old chandeliers you can fix, repaint, and turn into the centerpiece of your living room. You may also take some visits to your local store and find string lights you can turn into the primary lighting source in your bedroom. These ideas aren't just practical, but also look artistic and beautiful, and that's the point of this entire style.
Add a library
Not every homeowner loves reading, but if you're one of those people, this is a step you're going to want to take. Designing a library in your home is one of the simplest and most effective ways to make your abode appear impressive and add a dose of elegance. This is particularly true if you're a fan of Boho style.
Boho-inspired libraries and reading nooks are easy to design. Just find the perfect spot – a corner in your bedroom, your balcony, or the extra bedroom you don't use anyways – and put up some shelves. Decorate them with the aforementioned string lights that will make this entire space look more romantic, and bring in all the books in your collection. In the end, add a comfy chair and a small coffee table – and start reading!
Explore your DIY skills
Some interior styles aren't as open to different decorating options as Boho, so if you choose to go this way, don't be afraid to get crafty as well. You don't have to be the most skillful or imaginative person in the world; it only takes a little creativity and boldness to display your creations.
There are lots of Boho décor pieces you can create on your own, from a headboard and a shabby-looking mirror to your new chandelier and a macramé chair. Finally, you can renovate your entire home yourself and make it extra Boho all the way, but make sure to calculate your renovation costs and leave some extra money in your budget for a few finishing touches that will impress your guests.
Introducing Boho into your home might take some time and energy, but once you're done, you'll realize that this is the home you've always wanted, and you'll fall in love with it once again!