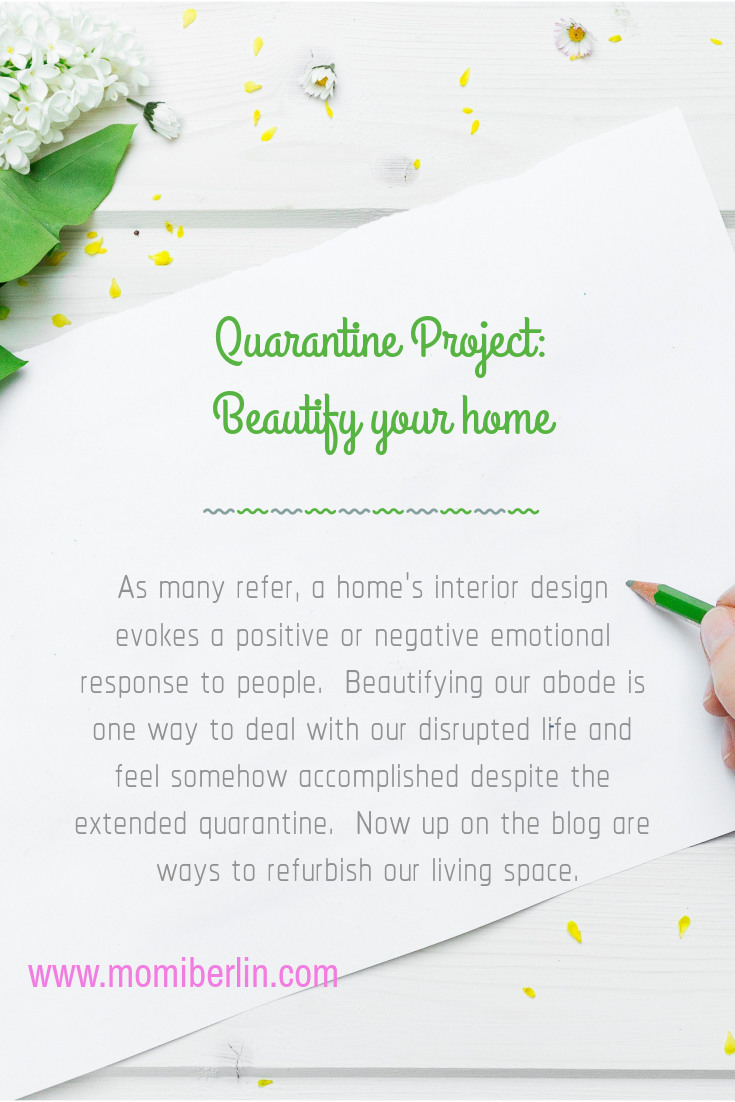 Many of us would agree.  We wake up to a new morning and realize we are only reliving the same day over and over.  That is the extended community quarantine life.  If we do not do something out of the usual, we will indeed feel so unproductive. 
Quarantine Project
With the luxury of time in our hands, perhaps now is the most appropriate set up to go back to unfinished home projects, take new hobbies, or learn new skills. For some, a little creativity and ingenuity may apply, while for others, these things may come naturally.  
Allow us to share with you a few things we do to keep us productive and, at the same time, create a beautiful abode.  With a little color, added texture, and a bit of personality, let us beautifully transform our living space without much of a hassle. 
Texture a ceiling
The ceiling can create a dramatic visual impact in any living space. Good thing that as we browse through Shopee, we found 3D Wall Panel Decor Ceiling Tiles Wallpaper.  Such a ceiling tile offers an easy peel-and-stick application.  Various designs are also available, which make it easy for homeowners to find the right style for their house. Each model, from the most intricate to the simplest one, gives any room its distinctly modern feel.   
More than improving the overall look of the room, these 3D ceiling tiles provide an additional layer of insulation.  With its styrofoam feature, such kind of wallpaper helps keep the room cool in summer and warm in cold days.  They also provide additional warmth and coziness with minimal maintenance.  They also are great to conceal unsightly water stain on the ceiling.   
Add character to the wall
Color gives both a visual and psychological effect that may alter our mood and emotion.  And coloring our wall with our preferred shade communicates our personality.  Now, it is easy to transform our room into the look we have always wanted. With self-adhesive wallpaper, we can add drama to our plain walls.  Installation involves peeling off the back and carefully applying the material onto the wall.  
As we browse through Shopee, a variety of design and color options are available. From geometric designs to floral patterns and popular cartoon characters, these wallpaper designs can quickly bring sparkle to our dull room.
Allow walls to talk
Wall decals are a popular option to transform a small or vast space into a trendy and stylish one.  Likewise, they are a creative but direct way to communicate our thoughts and connect with our family members.  There are custom die-cut vinyl letter designs full of powerful words to inspire and motivate us.  There is also a wide range of wall arts with themes from fairy tales perfect for nursery or modern art for the kitchen. Such designs are an ideal backdrop to create the theme for the rooms. 
Beautify Your Home
As they say, interior design and psychology go hand-in-hand. We may always feel tired when we enter our room, for instance, because of the gloomy color of the walls.  The good news is, we now have that time in the world to opt for that happy place.  We can decorate our living space the way we have always imagined it.  And with the many online shopping platforms like Shopee, we need not leave the house to get our home decorating essentials this quarantine.  For one, Shopee Mart's 5-5 sale makes online shopping safer, more comfortable, and more budget-friendly.  More than home styling, Shopee Mart's 5-5 sale also features Health and Personal Care, Food and Beverage, and Babies and Kids.  
From groceries to personal care products, Shopee Mart has an endless listing of everyday essentials. And they are available for as low as P5 with free shipping at P0 minimum spend!  This incredible online sale, by the way, is available on May 5 only, so it is wise to visit https://shopee.ph/5-5 now. In addition to the featured categories, top brands like Abbot, Enfagrow, Nestle, P&G, Unilever, and Wyeth will give discounts of up to 50% off. To make it even easy for us, best to download the Shopee app for free via the App Store or Google Play.
Quarantine Project
So again, [tweetshareinline tweet="don't be caught in a time loop" username="SPk3(ad*e(5d4@pEwem@tnlADFb9ZZc8:1:1″].  As there is nothing wrong with spending time on social media and Netflix, too, life may become brighter and productive if we do something beyond that. If we constantly play to our weaknesses – and that is to slumber all day – our talent and energy go to waste.  It takes willpower and discipline to move.  It may also entail removing constant interruptions and distractions such as phone, internet, and bed. 
Another way to beat the boredom of quarantine life is to plan and implement small projects. We may access ourselves and look into our inner creativity as a way to cope with this new-found time at home.  To jumpstart, we look at things we are interested in.  If we love interior design, for instance, we might consider redecorating our home.  
Home decorations and refurbishing may help awaken that gloomy spirit, for one.  As many refer, a home's interior design evokes a positive or negative emotional response in people. So might as well make beautifying our abode a way to deal with our now disrupted urban life.