[tweetshare tweet="Nothing is ever really lost to us as long as we remember it. ― Lucy Maud Montgomery, The Story Girl" username="IfZgcz8ZKo14VSCu3y8ejhrBGaCG*R!N:1:0″]
My first job was as an Advertising and Promotions Assistant in a recording company.  It was a fun post, having to deal with a lot of entertainment people and media personalities.  
As someone who just had her first job, I love it most when after a shoot or show, we would go out for a few fellowships.  I enjoyed eating and trying news diners within Metro Manila and sometimes, out of town.  
Two of our artists, though, preferred pares and every time we would dine in, we always go to their favorite GoodAh!!! I was not totally impressed because at 20 years old, all I wanted then were fancy restaurants with hard to pronounce food on the menu.
I left the company after a year of stay and every time I would bump into former officemates, they would relate that they still eat at GoodAh!!! when with the two artists.  
[tweetshare tweet="Pleasure is the flower that passes; remembrance, the lasting perfume. Jean de Boufflers" username="IfZgcz8ZKo14VSCu3y8ejhrBGaCG*R!N:1:0″]
Fast forward to 20 years, I entered GoodAh!!!'s eighth branch in Granada, Valencia, Quezon City.  The look was a total upgrade of the old GoodAh!!! I used to frequent before.  
I later learned that there was a revamp which included face-lift of the other branches.  The newest branch which is in Granada, for instance, is spacious in modern facade highlighted by red accents.  The inside is in a minimalist design, basically focusing on the necessary factors the restaurant would want to highlight- the G! logo.  Witty statement chairs like "Para sa laging online" are just so perfect "for the gram," along with food items that are a feast for the eyes.  There are also function rooms for intimate family or corporate feasts.  
[tweetshare tweet="Memories may fade as the years go by but they won't age a day. Michelle C. Ustaszeski  " username="IfZgcz8ZKo14VSCu3y8ejhrBGaCG*R!N:1:0″]
One by one, the food attendants serve the food to us.  And as we feast on each dish, I sense a happy smile of yesterday.  The familiar taste of that steaming bowl of goto makes me remember the many lunches and dinners we had at GoodAh!!! The place may have its face-lift but the good old taste of its food which has become part of the Filipino pop culture remains the same.
Yes, GoodAh!!!'s food never changed.  Its pagkaing good for every-all can definitely still feed a big batch. 
And I remember that it was GoodAh!!!  that introduced the now ubiquitous "…silog" food in almost every Filipino diner and even to the Filipino vocabulary.  I order for my then favorite tapsilog, and the savory, lip-smacking meatiness of the tapa remains the same.  A plate still consists of sinangag, itlog, and atchara.  
I hardly remember the other food being served 20 years ago as I was always contented with either goto or tapsilog. Now, we are served with other Filipino comfort food favorites such as Crispy Pata, Fried Chicken, and Pork Binagoongan.
The deep-fried until golden and crisp look of the Crispy Pata is just so beautiful to look at.   And true enough, its crunchy on the outside and moist on the inside meat is more than skin-deep, it is sinfully delicious! 
GoodAh!!!'s Fried Chicken is the kind of ulam my boys would never tire eating all day.  The Pork Binagoonan, on the other hand, is a discovery and a new favorite. I never thought I would love its somehow salty and slightly tangy flavor.  The pork is so crunchy and the bagoong's sweet and spicy taste would tempt you to eat two or even three cups of rice with it.  The same with the Kare-Kare which is best paired with plain white rice.
I tried to eat both the Pork Binagoongan and Kare-Kare without rice but then I gave in.  These two are best enjoyed with the one thing that's always present on the Filipino table: rice!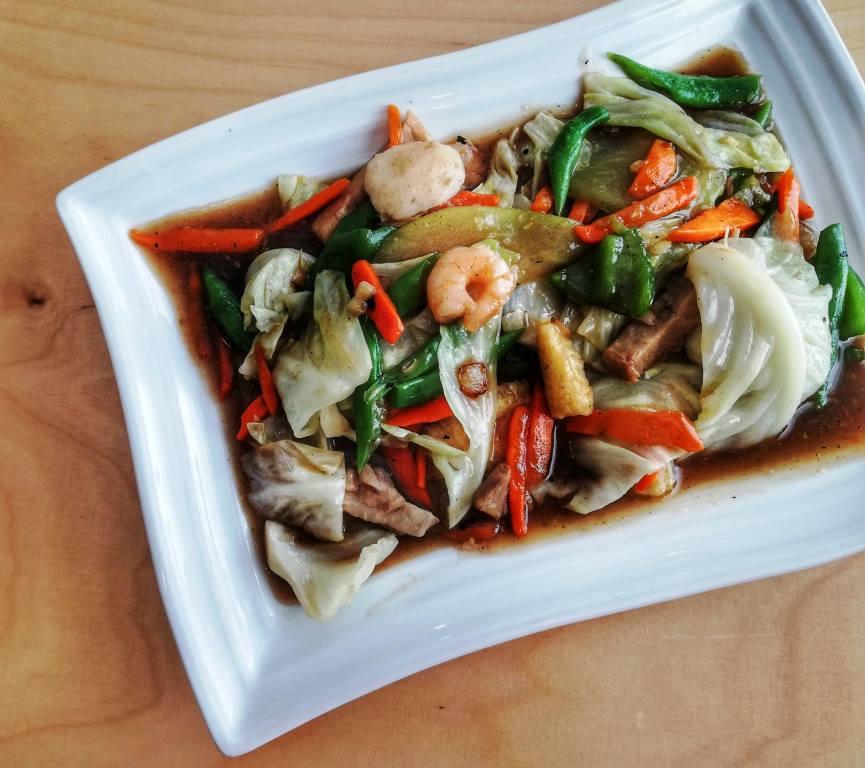 I also love GoodAh!!!'s Chopsuey.   This vegetable-heavy viand with pork strips and shrimp is one filling ulam by itself.  I wouldn't be exaggerating if I tell you I could finish a plateful, but without rice. It is that delicious. The vegetables are fresh and crisp.  
Other food on the menu that are equally sumptuous are Binukadkad na Tilapia, Chicken Barbecue, Pinakbet, and Sizzling Sisig Overload.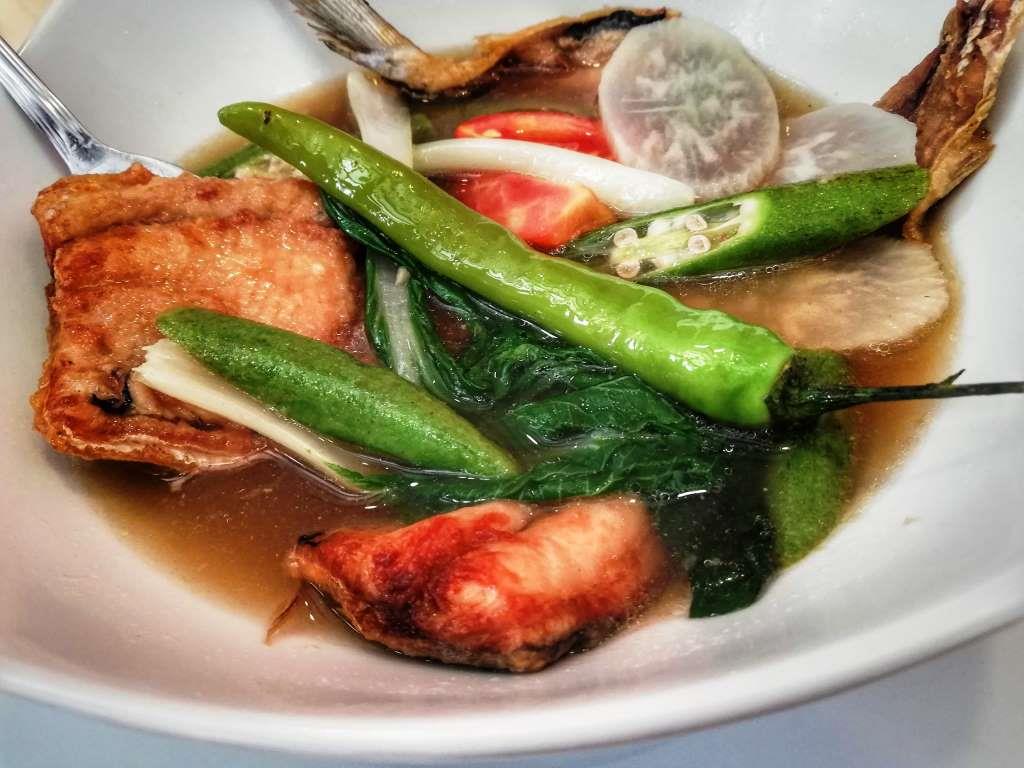 I don't just know why people consume coffee after a filling meal.  Perhaps to counter the sleepiness effect that they feel after consuming a large number of carbohydrates. But whatever reason they have, Goodah!!! has a freshly brewed French Press Coffee to perfectly cap off the day.  But as for me, I would always prefer something sweet and cold like Mais con Yelo or Mango con Yelo or maybe Halo-Halo.
[tweetshare tweet="You may not think you have a good memory, but you remember what's important to you.- Rick Warren" username="IfZgcz8ZKo14VSCu3y8ejhrBGaCG*R!N:1:0″]
When it opened in the '80s, GoodAh!!! became a solidly patronized restaurant.  Its pares, goto, and tapsilog may be enough for many to keep coming back just like the two Filipino artists we managed before.  And now that I am their age, I perfectly understand the wanting for GoodAh!!! despite the many other dining options around. This all-Filipino fast-food chain has been serving good comfort food.  And though we may be fans of other foreign cuisines, our heart will forever be loyal to our local flavors which GoodAh!!! has perfected through its more than 30 years of experience in the food industry.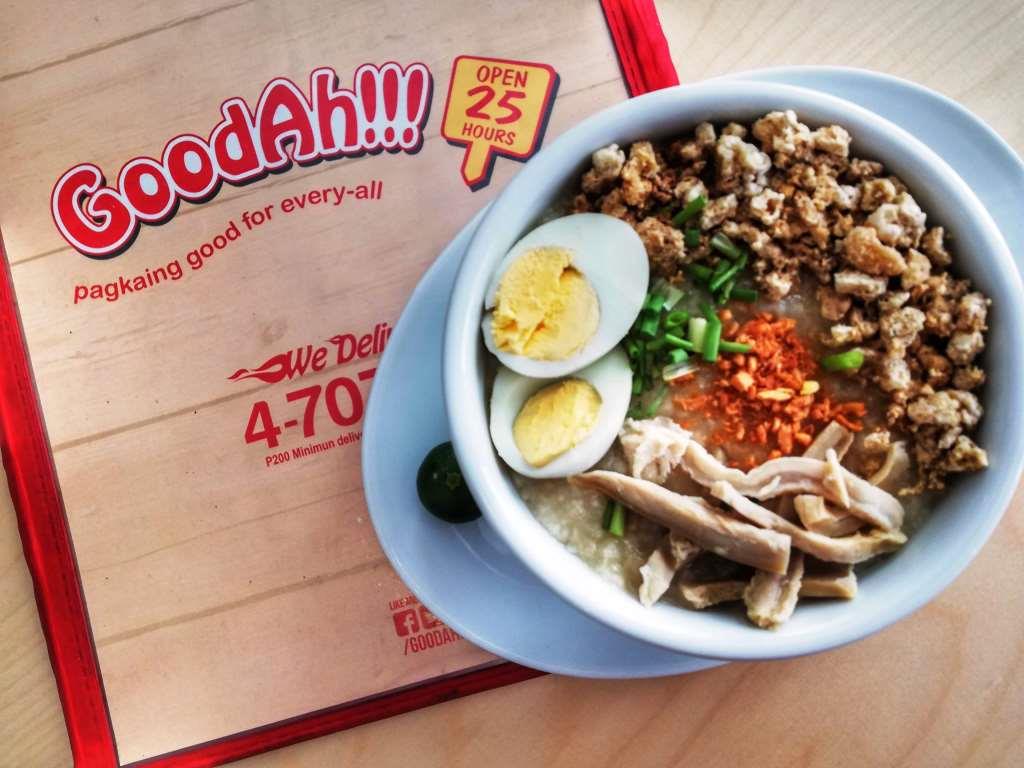 Want some GoodAh!!!? Order online through Foodpanda or Zomato.  You can also dial delivery hotline 4-707070 for all GoodAh!!! branches or (0955) 588-5295  for GoodAh!!! Granada branch.
And if you just present this coupon at GoodAh!!! Granada branch, you instantly get 10% discount on your purchase.  You may print this, screenshot, or just show to any GoodAh!!! food attendant.
Momi Berlin Directory
GoodAh!!! Facebook | Instagram | Twitter