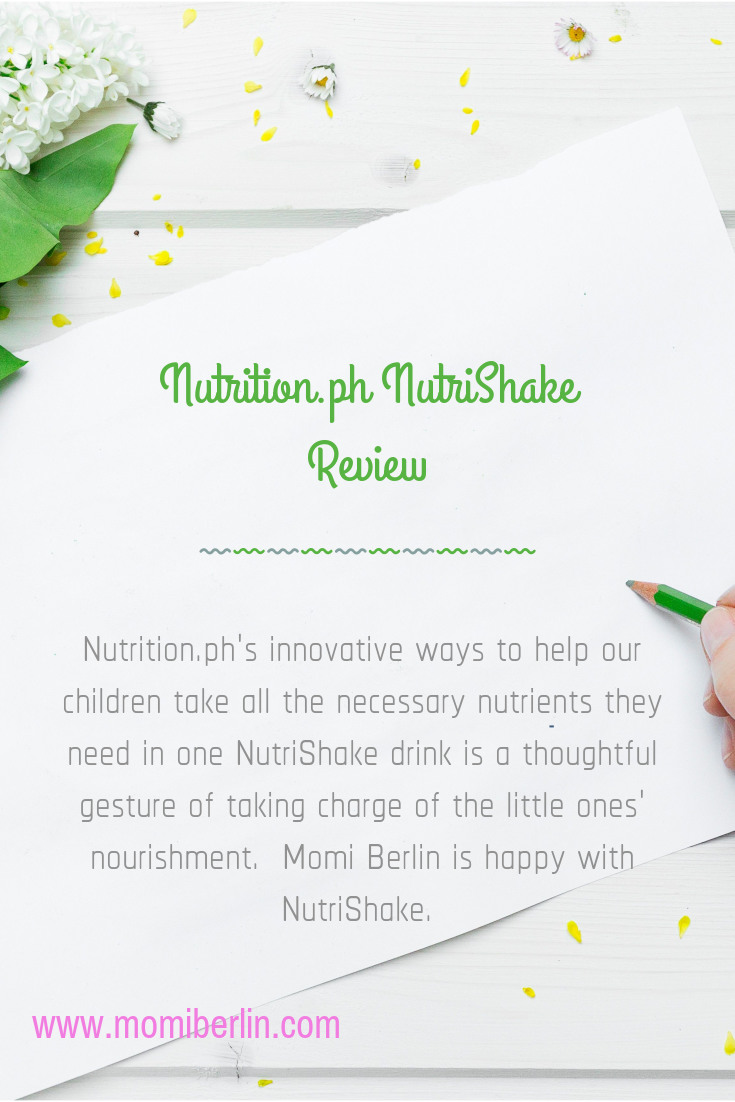 As parents, there is no doubt that we want the best for our children. That includes them realizing their strengths and dreams. Hence, as much as we can, we give to our kids what they need to help them develop to their full potential.
Nutrients from food
Many say it starts with the food they take. And to make sure our boys maintain their health and energy, we serve them a variety of food that gives the nutrients they need. As these nutrients – carbohydrates, fat, protein, minerals, and vitamins – are easily found on the food they eat, sometimes, they still miss some. The truth is, they have their food choices already leading them to miss some essential nutrients their body needs.
Nutrients from NutriShake
Now here's why I so love this latest discovery.
For a month now, our nearly four-year-old boy is taking NutriShake for kids. It promises to bridge the nutritional gap with its 30 essential vitamins, minerals, and micronutrients. All these are necessary to keep his growing body at its healthiest, and also help boost energy and mental performance. The shake is fortified with cell-protecting antioxidants, whole bean soy, and the "brain-building" nutrients DHA, PS and PC. And one shake a day is all it takes to have all these.
What makes me love it is the fact that NutriShake is in the form of a drink. Nutrition.ph developed this shake to make it easy for parents to get their kids to take vitamins every single day. My toddler, for one, hates syrup and pills, unless they are chocolate-flavored. Now with NutriShake, he gets to take his vitamins and at the same time enjoys his morning shake. It becomes an easy and delicious experience then.
Nutrients in every glass
At first, though, he doesn't like the taste. I tried it, too, to understand where he is coming from. The taste isn't milky enough but more of soya beans.
Since we got one big container to finish, I always make my son his morning shake. I mix three scoops of Nutrishake to a glass of water then a piece of chopped fruit. He loves his shake with banana and also with mango. The other day, we tried it with avocado and he also loves the taste.
My son loves anything with a straw. There was a phase – when he was two years old – he didn't like to eat anything, so I pureed everything for him. I made fruit shakes just so he gets something to nourish his body. That perhaps makes him love fruit shake that much. Thus, it isn't a struggle to give him his daily dose of vitamins in a shake form.
30 essential nutrients in a jar
A 450g big container, which can make about 15 shakes, costs around ₱1,600.00. Again, with the 30 essential nutrients, it gives to my child each drink, NutriShake is a worthy investment. Though this drink is ideal for children ages four to 12, adults like us can also take it. I tried it twice with oats and cereals and it's like an energy boost meal for me already.
I appreciate Nutrition.ph's effort in thinking of innovative ways to help our children take all the necessary nutrients they need in one NutriShake drink.  They understand the struggle of some parents insisting their little ones to take their vitamins. Now with NutriShake, the struggle is a thing of the past.  But more than that, it is the thought of bridging the nutritional gap with its 30 essential vitamins, minerals, and micronutrients – all necessary to keep our children's growing body at its healthiest, plus help boost energy and mental performance.
By the way, Nutrition.ph has a Money Back Guarantee.  They believe in their product so much that they offer a 30-day no-questions-asked buyback guarantee.  If your kids don't love NutriShake, they will refund your purchase price.  Does that piqued your interest?  Call them now.
Momi Berlin Directory
Nutrition.ph NutriShake Website | Facebook | Instagram