Momi Reviews Euky Bear Steam Vaporiser and Inhalant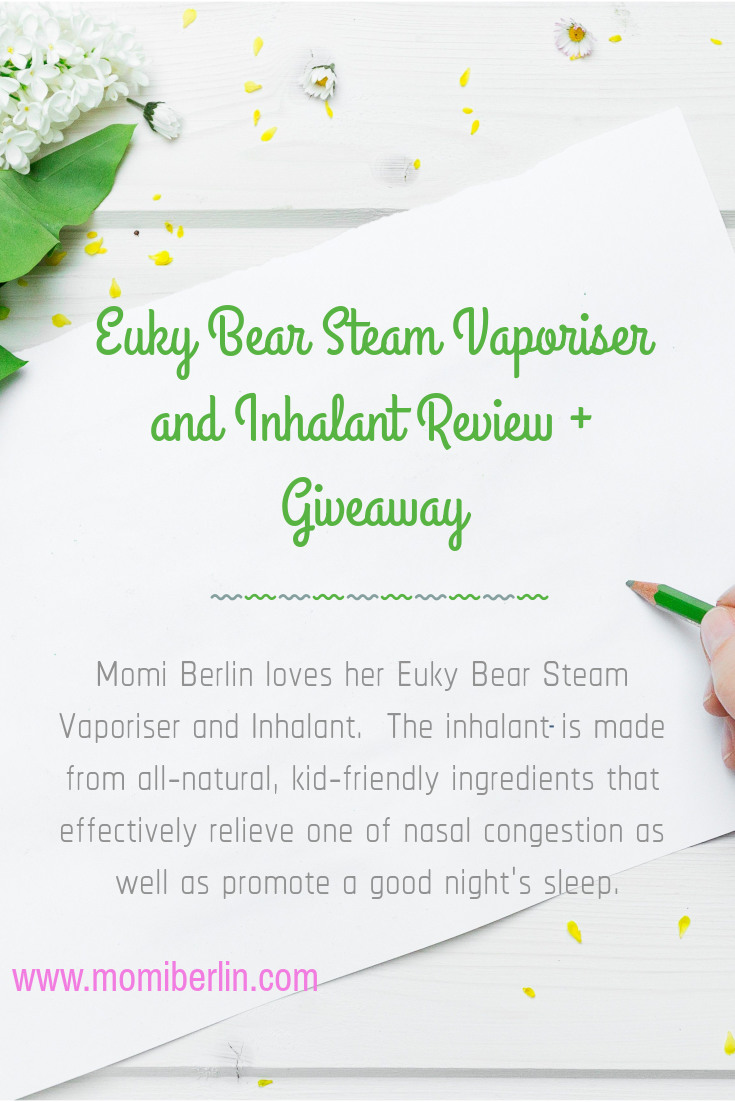 Empathy.  I love this word.  The same character I always would want my kids to show to each other and even to friends and strangers.  
With empathy, I always believe the world would be a better place to live in.  Everyone thinks first of other fellow individuals before acting.  He places himself in the situation of others, thus works with compassion, understanding, and goodwill. 
I value this character so much that I always think highly of individuals who have a high level of empathy for others.  Same with businesses that operate not only to make money but give services that genuinely answer the needs of their market.  They deliver solution.
Euky Bear Products as Natural Health Solutions 
One favorite solution I always turn to whenever I have a headache is the Euky Bear Eucalyptus Chest Rub.  It is also effective on insect bites, muscle pain, and colds. Another product my boys and I love so much is the Euky Bear Steam Vaporiser. It effectively relieves one of nasal and lung congestion.  It has a safe, cool-touch water chamber specially designed for the inhalant.  With two capfuls of Euky Bear Inhalant and one Euky Bear Cleaning Tablet mixed with water, the vaporiser creates warm steam.  I have read from health books that steam therapy is one effective way to relieve one of nasal congestion as well as give an individual a good night's sleep.
Likewise, the scent of the eucalyptus increases brain wave activity and counters physical and mental fatigue.  Thus aside from curing muscle pain and body ache, eucalyptus also effectively helps one with his breathing problems.
Euky Bear Products from Koofty Enterprise
The Euky Bear Steam Vaporiser steams silently, too, not producing any single noise that may disturb sleep or nap. The vaporiser creates warm steam that kills bacteria, unlike cool mist humidifiers which might expel contaminated water droplets. Best of all, its water chamber is made of an unbreakable material that makes it safe for children. Further, its heating system is enclosed, which dismisses any chances of accidental electrocution. 
Koofty Enterprise distributes both the Euky Bearub Eucalyptus Chest Rub and Steam Vaporiser. And I salute businesses like Koofty for bringing here in the Philippines products and brands that carry natural health solutions that parents can trust. With the Euky Bear products, the steam vaporiser, in particular, one is relieved of nasal congestion brought by colds and flu. It has a strong, effective, and long-lasting aromatic medicinal vapours. The vapours it creates, though, do not sore the eyes nor hurt the lungs and nose. On the contrary, the scent it releases relaxes the body and mind.
Not surprising that the Euky Bear Steam Vaporiser is Australia's My Child Excellence Awards Winner for the Favorite Baby Sleep Aid category last 2013.  And for a week that we've been using the steam vaporiser, my two little ones genuinely enjoy a restful sleep.  I, too, love the scent it leaves in our room as the inhalant contains a natural blend of eucalyptus, rosemary, and menthol essential oils.
Euky Bear Inhalant Giveaway
As a mother, I know most moms' concern about natural health solution.  And in this time that flu, colds, and fever seem so easy to catch, steam therapy is one way to give comfort and relieve one of congestion.  Steam therapy also raises the humidity to healthier levels and makes one's breathing more comfortable.  With that, Koofty Enterprise is giving away a bottle each of Euky Bear Inhalant (100ml priced at PhP495) to two Momi Berlin followers.  Even without the steam vaporiser, one can achieve successful steam therapy.  Just carefully fill a heat-proof bowl or basin with steaming hot water and place on a stable surface like a table.  Add one ml of inhalant for every 250 mL of water used.  In a sitting position, lean over the steaming bowl and inhale the vapours.  It helps when one covers his head with a towel while inhaling the steam.
I swear by the efficiency of the Euky Bear Steam Vaporiser and the inhalant.  Our SumoSam who was suffering from slight fever and colds felt better the first time we did the steam therapy.  For a week now, we sleep with the steam vaporiser on, and it not only gives such comforting eucalyptus smell in our room but more so helps my boys enjoy a truly relaxing sleep.  And I wish you experience that as well.  Don't forget to join our giveaway.
One Facebook winner
1.  Like and Follow Koofty on Facebook
2.  Like and Follow Momi Berlin on Facebook
3. Share this post and tag at least two friends. Use the hashtag #KooftyEnterpriseXMomiBerlin
4.  Comment here why you need the Euky Bear Inhalant.  Do not forget to include the FB name you used to share this post.
One Instagram Winner
1.  Follow Koofty on Instagram
2.  Follow Momi Berlin on Instagram
3. Comment on Momi Berlin's Euky Bear Steam Vaporiser post two names of your friends (tag them, please) 
4.  Comment here why you need the Euky Bear Inhalant. Do not forget to include the IG name you used.
You can both join the FB and IG giveaway.  The more times you tagged friends, the many chances you can be picked through random.org.  This giveaway will run from October 1 to October 12, 12mn.  All Momi Berlin followers (the Philippines, nationwide) are eligible to join. The announcement of winners will be on October 15 via Momi Berlin's Facebook page and also on the IG post.  Koofty Enterprise will ship the Euky Bear Inhalant to the two winners.
Good luck and we wish you the best of health.  Euky Bear products, by the way, are available through the Lazada online store.  You may also check them out on Facebook and Instagram.