Momi Shares Essential Pointers to Writing an Impressive Nursing Essay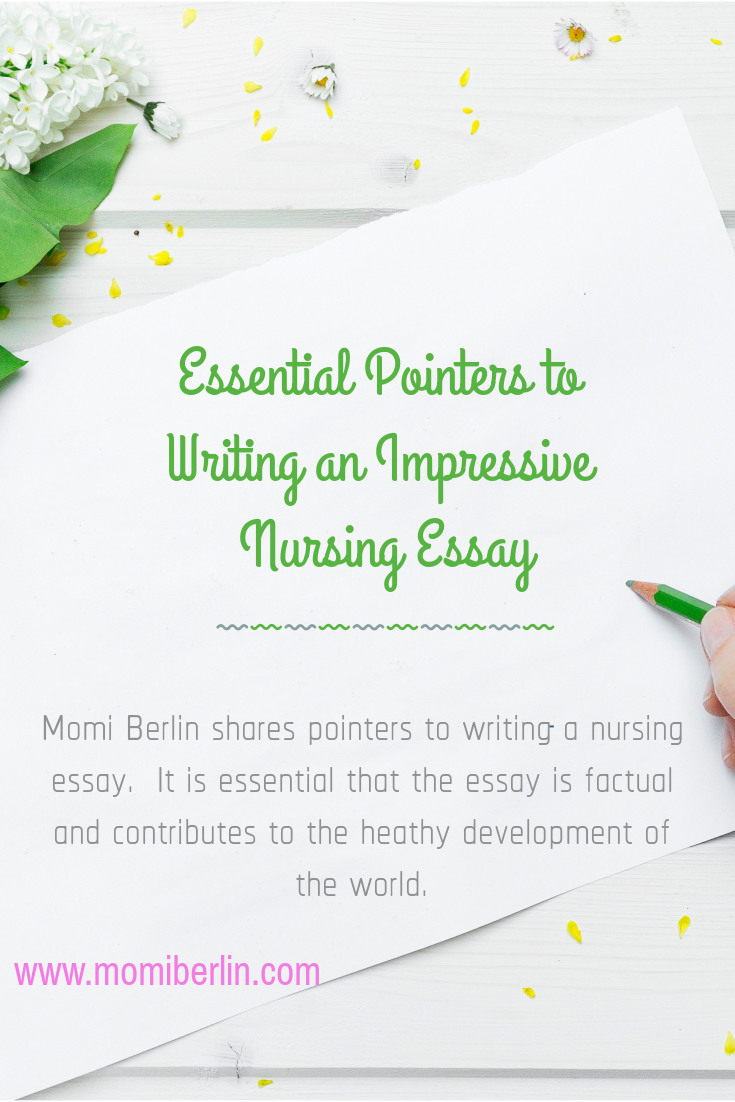 Nursing is a practical profession, thus writing an essay about it is more about the experience.  Most likely, it will take you about 20% of your time writing a nursing essay.  This is because before you start writing, you will need a lot of time laying the groundwork with thorough research. To some students, essay writing skills come as a natural endowment while for others, it is a skill learned over time
We have focused here the must-have skills for producing an excellent nursing essay.
Make a Plan
With planning, writing a nursing essay becomes more inspiring and comfortable.  After all, the nursing course perse requires thorough organization. You should have a draft of your paper before commencing your writing.
Do Thorough Research
Read deeply about the subject matter before you start writing. This doesn't mean scrummaging all books you lay your hands on from cover to cover. However, the more you read, the more you understand about the subject. Make short notes as you proceed and highlight the necessary information on printouts and photocopies. You can also use online databases to search for the relevant articles touching on your topic. Such informative databases include MEDLINE. Reading journals is also among the ways to know of the present truth on the subject.
Organize the Structure
All nursing essays should have a simple structure consisting of the introduction, main body, and conclusion. The Introduction shows how you plan to tackle the question. The main body is a logical progression of well-thought arguments, and the end wraps up your findings. Each case should aim to answer the question directly.
Avoid Unbacked Claims
An example is, "High blood pressure kills millions worldwide." While this may be true, remember you aren't a high blood pressure expert yet. To remove this ambiguity from your statement, you ought to back it up with facts and figures. For instance, you ought to say, "High blood pressure kills about 300 million people worldwide," (Professor HBP, 2015) depending on the referencing style of your campus.
Address the Learning Outcome
As you explain how you've met each of these in your essay, it will be hard for your university professor to fail you yet you've demonstrated how you met your goals. Always look at your end goal. What is it that you need to produce?
Double Check Grammar, Spelling, Style, and Punctuation
As you immerse yourself in the technical jargon of essay writing, don't overlook the simple stuff. Your grammar should be impeccable. The sentences should be clear and concise. The copy should have short paragraphs, and each item should focus on a different point. Add section headings to improve the readability of your essay.  Section headings also help clarify your message.
When preparing for submission, ensure you meet the departmental formatting requirements. This typically entails the Times New Roman font, size 12 with 1.5 line or double spacing. The margins also shouldn't be more than 2cm. If the formatting style is haphazard, you will look unprofessional.
Acknowledge Reference Materials
If you want to appear "more educated," then you might need to consider adding flavor to your reference. You can achieve this using reference software such as Mendeley, EndNote or RefWorks. These referencing software make the task easier. Remember to limit your referencing to the past five years whenever possible.
Borrow from Published Papers
The best can only learn from the best. Check the published documents. How do they present the paper? How are they structured? Your essay shouldn't be too different from the published papers. Emulate the style that best appeals to you from the published articles.
Use Tutors
Don't kill yourself without a sense of direction. Use your tutors. That's what they are there for. They can look at your drafts and see where you've erred and lead you in the right course. Ask your colleagues to read your essay too. Their fresh eyes may help you immensely to spot mistakes in your copy.
Put importance to Punctuality
A late piece is a worthless essay. Don't leave your stuff until the last minute. You need time to polish on your piece continually. Working consistently gives you ample time to improve your copy to perfection.
No to Plagiarism
Your lecturer's smart. They know more than you think. Avoid plagiarism like the plague. Give a fresh approach to your essay. Don't add to the same thing to the already existing pile of scholarly articles. Plagiarism gives the impression that you are passing other people's arguments as your own.
Acknowledge Referencing
When citing the works of other authors, use brackets around the publication date. When appropriate, you can use the brackets around the author's name for example, (Dave, James & John, 2010).
When quoting directly from the author, put quotation marks around the small excerpt then the name of the author, publication date and page number in brackets afterward.
Essential Pointers to Writing an Impressive Nursing Essay
Hope, these nursing tips are helpful to you as you move forward with unfaltering steps in your nursing journey. These useful bits of information are the primary goals for contributing to the healthy development of the world.
You can always check out amazing customized papers from professional nursing essay writing service provided by CustomWritings.
Till next time!