MOMI TIPS on 15-minute Bonding Ideas with the Kids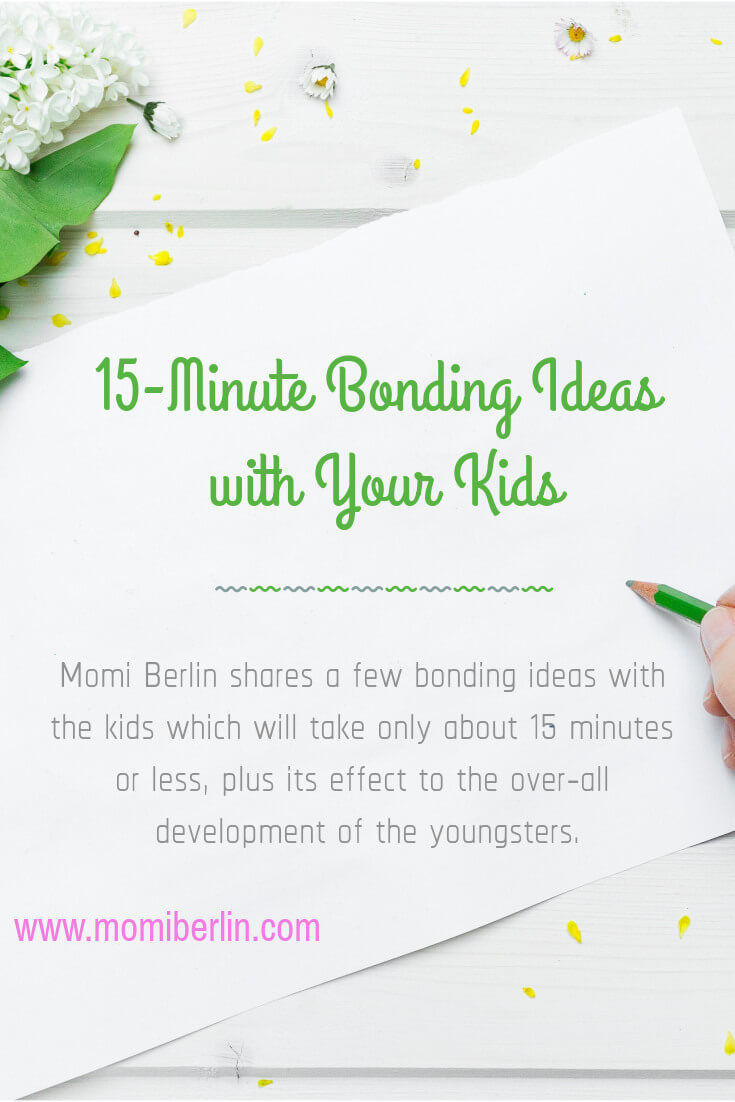 I am a stay-at-home mom, and many would assume I've got plenty of 15 minutes for everything.  Reality is, I always end up running against time and retiring for the day too tired to even have dinner.  But when I look back to the day I had, the house was a mess, the laundry was close to a mountain of dirty clothes, and the bed was still unmade. 
Time is essential
For a mom who balances work and household chores plus family, time is essential. Every minute counts because it is in her nature to see everything in order.  As she does her tasks, she feels a sense of fulfillment.  Perhaps, her love language is service.  But when it comes to her children, she can always accommodate, adjust, and even leave everything.  She can still squeeze even a 15-minute break for her little one or perhaps a dozen 15 minutes until she lost count of the time. 
Especially this time that we can't leave the house because of the unpredictable weather, we often spend our time at home.  It is just surprising that there are a lot of home activities a mom and her kid can do in 15 minutes.  And often, it is that very time that becomes a quality bonding moment that all the more strengthens the relationship between them.  Momi Berlin shares a few of her quality time ideas with her little ones.
Storytelling Time
This is perhaps one activity we consistently do.  15 minutes is all it takes to visit a different world and meet new characters through the pages of a book.  My two boys love it best when I change my voice to mimic the role of the hero or the villain.  
We do this especially before bedtime.  We read one book only in one sitting as my boys would easily be distracted and sometimes bored with long stories.   But they love it best when there are great images that accompany our story reading.  Sometimes, we end up not reading but identifying the pictures. 
Massage Time
After the two boys' bath, this mother massages their body.  I love putting lotion on them just like how they love the feeling of my palm slowly gliding through their belly, arms, and legs.  I usually do the "I love you" massage.  It takes us about 15 minutes because I would always end up kissing their armpit, feet, belly button, and anywhere their little hands can't cover. 
Snack Preparation
I often tell my friends that my boys have extraordinary power.  They would seem to wake up, too, every time I leave the bed. Especially in the morning when I prepare school food for their three older brothers, my little ones will join me in the kitchen.  
As I prepare sandwiches, for instance, my toddler would begin to munch on the cheese or the ham or the egg.  The little one-year-old will also reach for the ingredients and often, we end up with a messy kitchen countertop.  I would sometimes feel frustrated but then, end up thanking God for the moment.  This mother loves hearing their giggles and seeing their naughty smiles.  I know such an opportunity will not last as a few years from now, they will not even care about waking up early to join me in the food preparation.  They will be tweens then teenagers who will have their way to make fun. 
Sing Together
Our three-year-old loves to sing nursery rhymes. Every time he sings, our little one-year-old joins the fun.  So we always have a sing and dance moment anytime anywhere.  
We will sing "Itsy Bitsy Spider," "Twinkle Twinkle Little Star," and "Old McDonald" nonstop.  They also love to hug their mom in between the singing and dancing.  
Help with the Chores
Even putting all the toys or folded clothes in the cabinet is a fun chore when with my little ones.  Sometimes, I end up folding the same shirt thrice because the little one would keep on grabbing it.  But I learned to laugh and be in love with the whole idea.  I like how playful they can be and how energetic they are.  They seem not to get tired of messing around.  But I love best the smile they give to me.  It's the smile of sincere happiness and gratitude.  There is no fear in their eyes but the joy of being accepted and understood. 
No Missed Chance
The special bonding we have with our kids are sometimes cut short when they get sick.  Thus, it is also vital that especially this season when the youngsters are vulnerable to a cough, colds, and fever, we have our trusted brand with us. 
Just like how a quick 15-minute bonding time with kids can do wonders with a mom-child relationship, Paracetamol (Calpol) also offers fast and efficient fever relief in 15 minutes.  Its suspension formula starts to work on fever in 15 minutes (at 15m/kg dosing). This helps moms like me to recover the lost time and missed chance to spend time with their kids who just had fever.  I love it too that Paracetamol (Calpol) is gentle on any child's tummy.  
I appreciate how the makers of Calpol considered that 15-minute fever relief to dismiss any missed time with the little ones.  Though in reality, us moms give more than 15 minutes of our time for our kids. Just like yesterday, I wasn't able to wash the dishes and do the laundry on time because again, I spent my first 15 minutes with my boys until it extended and I lost count anymore.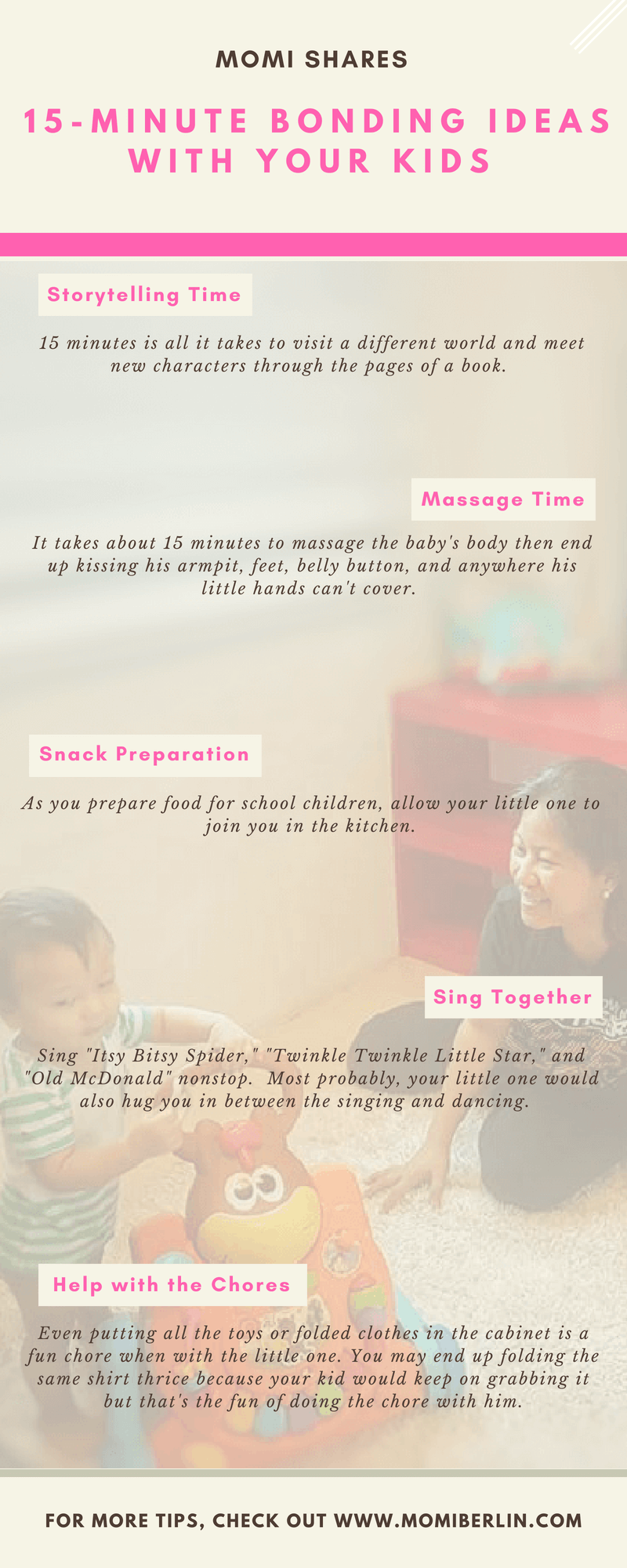 Momi Berlin Directory