Momi discovers PUR baby products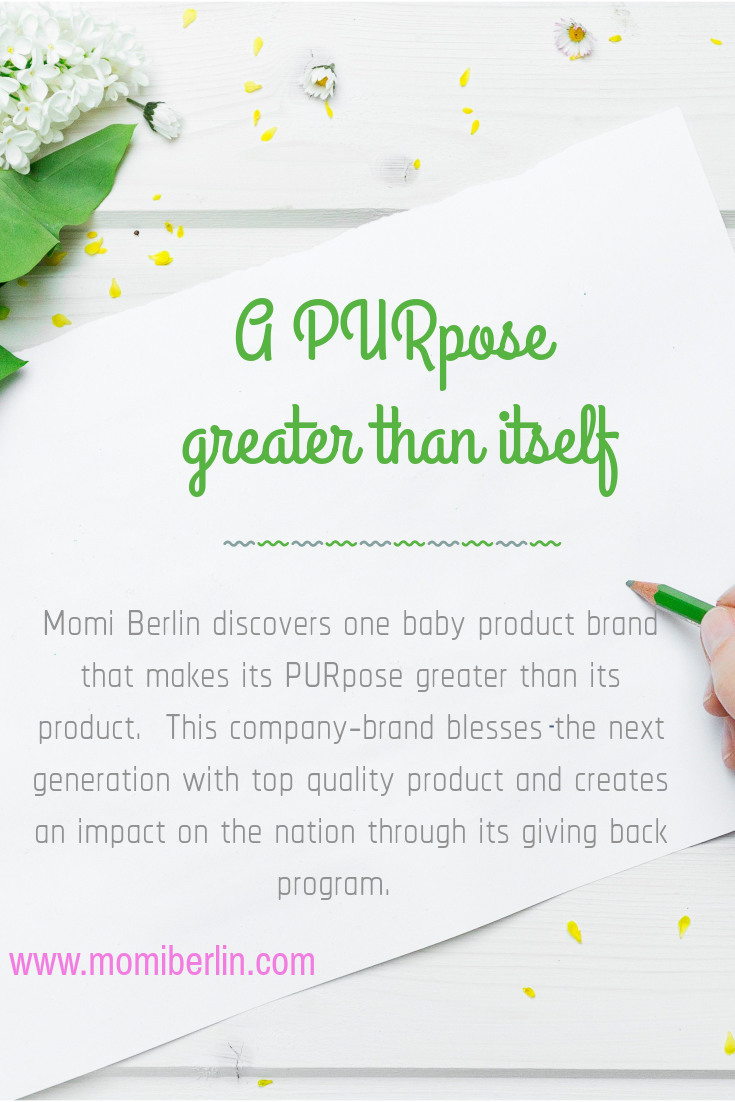 [tweetshare tweet="Happiness doesn't result from what we get, but from what we give. Ben Carson " username="IfZgcz8ZKo14VSCu3y8ejhrBGaCG*R!N:1:0″]
Many businesses open because they want to earn.  Business isn't business in the first place if it doesn't aim for profit.  More so, an entrepreneur invests capital to gain benefit at a specific time. But as profitable growth is essential for the vitality of the business, it is not bad as well to share.  This especially holds true if the company is earning a stable income. Giving back, after all, can be considered a part of any business' core values especially if its purpose is all around the legacy of service.  
I learned of a business that works around this kind of legacy.  They give back by sharing a certain percentage of their profit to the society.  More so, they offer quality baby products that create a significant impact on both the parents and their babies.  
They have just landed in the Philippines, and their products are available in leading department stores nationwide.  They are called PUR Philippines.
PUR Philippines Launch 
At their launch, I would want to ask the owner how does the service-based kind of thinking impacts the company's financial standing.  But before I could ask, I observe around and from there got the answer to my question.  Through their service-based vision, they also attract the same kind of personnel. Mingling with them for about three hours, I learned that their employees' mindset is focused on service, too.  They have such strong, passionate work ethics that is genuinely service-oriented.  Their people are their ambassadors working around the value of compassion, discipline, and excellence. They greeted their guests with a genuine smile and made sure everyone is comfortable. 
Since their mission is creating a legacy beyond profit, they not only attract personnel but customers as well who trust their brand.  The trust, I believe, comes from the products that speak for themselves –  giving total pampering,  understanding, and reliability.   
Pampering
PUR pays attention to the quality and design of their products.  They help parents raise their children with much comfort as possible. 
We've got to try PUR feeding bottle.  There are times that I need to do some errands and I leave our youngest with his brothers.  I will hand express and leave a few expressed milk in the freezer.  They will thaw then heat my milk and give it to our SumoSam. 
The bottle has a broader teat with advanced pro-flo technology.  This feature resembles the mother's nipple making it easier to alternate between breastfeeding and bottle feeding. The air valve system at the base of the teat enables uninterrupted flow of liquid while the baby sucks, reducing the chance of causing colic.    
Understanding
Every product that PUR develops is done with great insight.  The company has collaborated with experienced parents to deliver the best products to suit their babies. 
One example of another perfect PUR product is the pacifier.  
We don't encourage the use of a pacifier at home.  All our four babies didn't enjoy using one.  But when we got a pacifier from PUR, I tried it with our fifth and surprisingly, he loves it.  I do not know if it has to do with the patient characteristic of our fifth or the pacifier itself.  But as I observe our baby, he enjoys the pacifier, most probably giving him satisfaction to chew on something.  He is teething as well; thus the pacifier must be helping my child's mind off any teething pain.   
Reliability
PUR puts all their products through rigorous tests to certify that they function correctly and that they are safe for parents and their children.
All PUR products are made from BPA free material, making them safe for baby use.  The feeding bottle we've got functions perfectly with its contour shape for an excellent grip.  This helps our less than one-year-old boy to firmly hold his bottle. 
A purpose greater than itself
I believe the owners of PUR Philippines brought the brand to the country to introduce one quality innovation to help parents be better parents to their little ones.  
But its service makes its purpose greater than its products.  They are blessing the next generation with a top quality brand and creating an impact on the nation through its giving back program.  
Very evident that beyond the profit they get from their business,  their true happiness comes from what they can give.
May this company be blessed and rewarded in a thousand folds.
Momi Berlin Directory
PUR Philippines Facebook