MOMI TIPS on decorating a child's room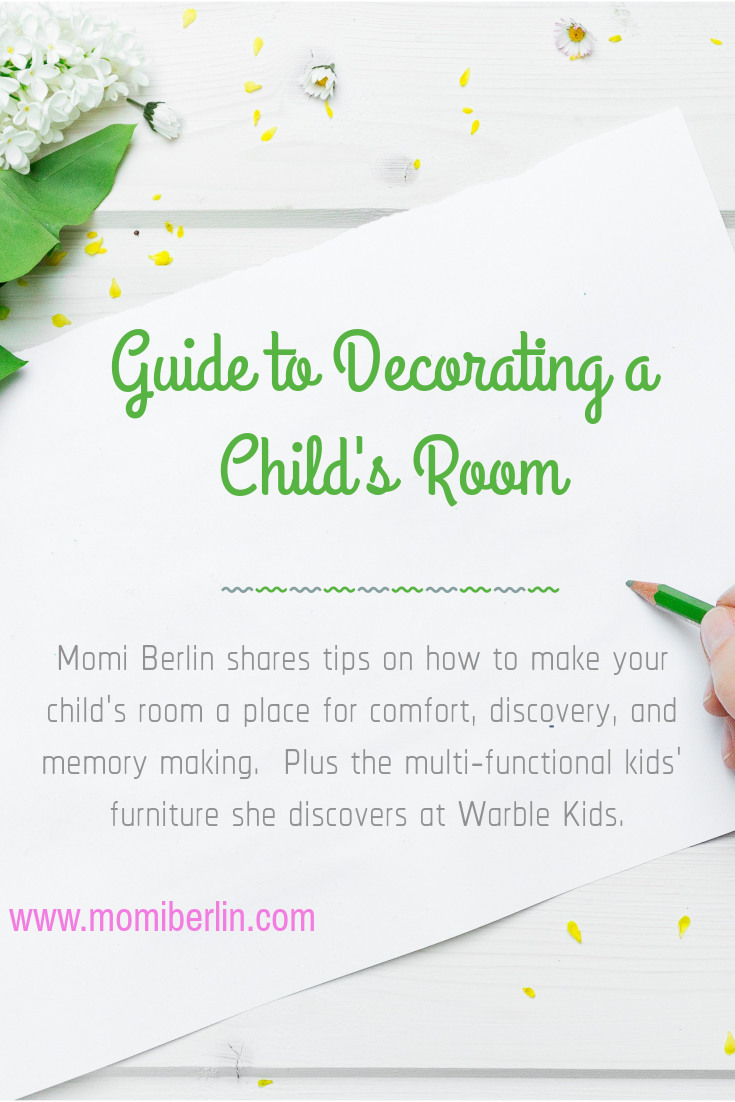 We only have a small living space.  We've managed to maintain a minimalist lifestyle for years, just perfect for the small area we have.  Then three years ago, I gave birth to our fourth child and a year after that to our fifth.
In three years, we were able to accumulate lots of new baby stuff.  We also added a new chest drawer for the two toddlers and even bought a makeshift toy cabinet.  We likewise brought back our almost 10-year-old toy cabinet and inside each plastic pull out cabinet drawer are decade-old toys of our teenage boys.
Our once tidy abode becomes all cluttered and noisy.  Toys are just everywhere, and every table, chair, and cabinet has its special drawing and markings.  Some pieces of furniture are severely damaged and need replacement.  But since we have three boys all attending high school and two toddlers yet to complete their vaccination, we always put off buying a new appliance and even furniture to a later time.
MOMI DISCOVERS Warble's multi-functional furniture
Just recently, this mother visited the newly opened Warble Kids at the Shangri-la Plaza East Wing in Mandaluyong City.  It is the newest concept store in town that would drive you to refurbish your tiny space and add some of their collection into your house.  I, for one, would want those modern, small-space-friendly kiddie furniture for my two boys.  All the pieces double as storage.  They are elegant to look at and can be easily stashed in a corner when not in use.  Indeed, they are just perfect for small spaces like ours.
If you are imagining buying one is a waste of money, I would like to think otherwise.  The furniture styles are made of solid pinewood which is both stylish and light to carry.  Each piece is clean-lined in a chic natural wood finish which goes well in most contemporary homes.  I also like the idea that the convertible chair, for instance, may be used as a coffee table when the kids all grow up.  Ms. Karen Pacia of Momtessori PH, shared during her talk at the launch of the Warble Kids opening,  that her little princess uses the convertible chair as a seat, a table or even as a stool to reach for things.
Warble Kids also showcases Fold Away mats which are smartly designed to grow with any child.  These bumper mats are safe, unique, and transformable.  They are easy to clean and baby safe.  They can be used as a play mat, a bumper mat, a baby cot or even a play yard!  Because they are so versatile and multi-functional, one can use them anywhere his imagination brings him.  I would want a set for my two boys, too, who are just so active.  Only that reality bites – these mats are quite expensive. However, given the quality and versatility, they are a good investment.  Celebrity mom Iya Villania attests how her Primo loves the Fold Away mats.
decorating a child's room
Staying at the Warble Kids store for a few hours made me imagine how I would want our room to look.  I have been contemplating on refurbishing our bedroom and little by little the boys' room and then the living room.  Perhaps if I could only use a portion of our savings for the home renovation, here are a few ideas to make our bedroom a place for comfort, discovery, and memory making.
Something to Snuggle With
Good thing I've invested in a lot of duvets when I was still working fulltime.  These duvets are our bed cover which provide warmth and comfort.  They also make the bed look soft and comfortable, inviting my boys to spend more time on it and sleep.
I don't like stuffed animals on the bed.  They make our sleeping space smaller, but it seems that my two children love to hug, hold, and snuggle them.  So I welcome in those plush toys in our bed.
It wouldn't hurt as well if I install a few Fold Away Bumper Mats by the bed's foot to make sure any of my two boys would land perfectly safe on the floor.
Something To Read
I am just so proud of my three boys who all love to read novels, magazines, and non-fiction books.  Books nurture children's imagination.  They also feed their mind with discoveries and knowledge.   Thus, I would like the decade-old storybooks and new ones easily accessible to my toddlers.  We have our bookshelf by their father's workstation, and I want one installed in our bedroom.  I saw a cute bookshelf at the Warble Kids which also doubles as a divider and a lovely accent piece.  With books readily available where the kids stay most of the time, I believe it will help them develop the love for books and be lifelong readers.
Something Handmade and Artsy
When we started our family, we rented a small space near the children's school.  It was also the time that the three boys love to doodle and color anything. So we framed all their art pieces and hung them on our bedroom wall.  We also have a few by the living room. I know the kids feel well-appreciated seeing their masterpieces on our walls. With our two toddlers, I also plan to have that kind of wall again.  With the kids' drawing on the bedroom wall, the room will look delightful and the kids will be proud of their talent. 
If you are contemplating on refurbishing your children's room, I hope you will find the tips here handy and useful.  Do not have second thoughts investing in multi-functional furniture, they not only save space but will grow with you through the years.  
Momi Berlin Directory
Warble Kids Instagram