MOMI TIPS:  Create More Space in Your House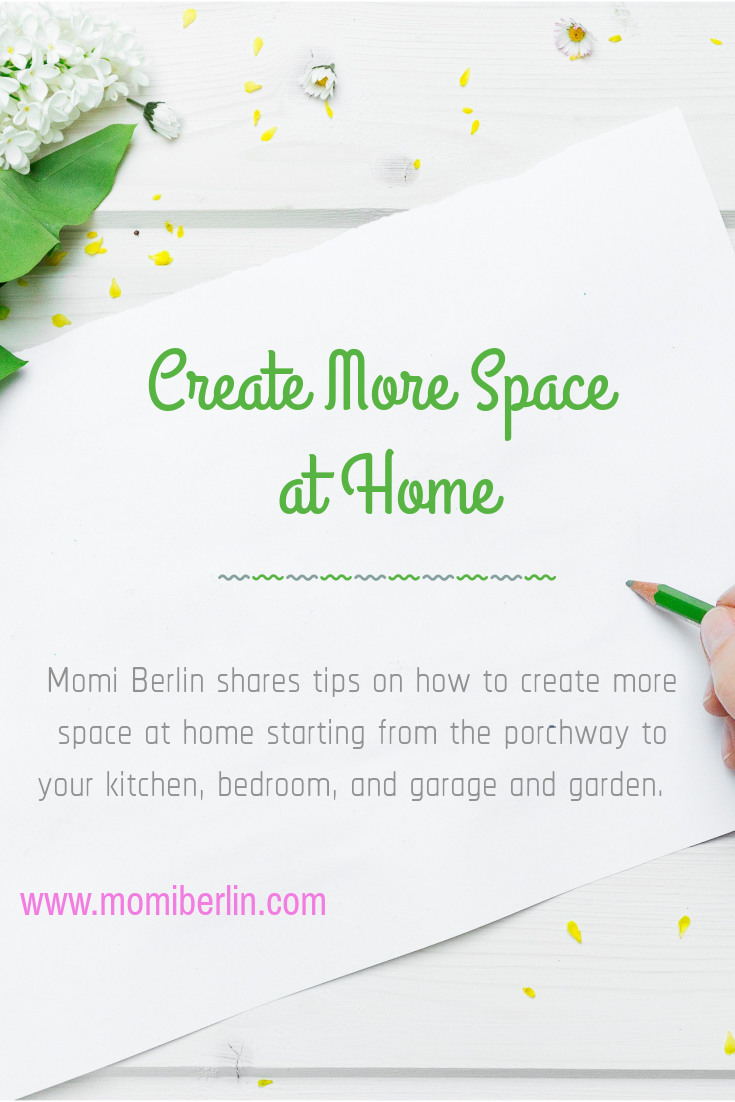 Anyone who has his own home will quite often say he needs more space. This doesn't necessarily mean he wants to have another bedroom or a larger kitchen.  He merely wants to create more space than the usual that he has.   With a big area, more than the extra space for storage, he will undoubtedly feel a little lighter and free to move.   If you wish to give your home more space, here are a few ideas to help you.
Open Your Entrance
One of the areas that can quickly become cluttered is your porchway or the entrance to your home. Not only is this the place where you would usually leave your coats and shoes, but it also has to deal with umbrellas, boots, and scarfs.  This usual stuff makes the area appear cluttered.  
How about adding some shelves to the walls of the porchway.  Hide in there little things like the dog lead, gloves or other objects that you don't use every day. You can also add more hooks to the walls for bags and coats.  Another idea is to add a stool or bench by the porchway.  That way, kids can sit down while they take their coats and shoes, allowing other family members to get in and out of the house.
Make Your Kitchen Organized
The kitchen is probably one of the busiest rooms in your house. Not only is it the place where all the meals are prepared, but it also has to deal with the family coming in and out for snacks and to wash up. Because the kitchen can be one busy place, ensure that is organized as much as possible. 
One way to organize the kitchen is to add drawers to keep small items like cutlery, silverware, and saucers and cups.  You may also put labels on them to help family members look for the things they need. Consider using a company like Bonsai Finance to help you buy additional storage for your kitchen; it needs to be able to hold all your current things plus have extra room for other appliances. 
Sitting Areas
The areas where you stay the most are often the messiest and the ones full of clutter. Oddly, they are also the places where you require the most space; hence you need to find a happy balance between ample space and your things. As with all rooms, start by decluttering the area to get rid of any old paperwork or furniture that you no longer need. That will give you the space to work on. If you are going to add more furniture to the room, think about choosing something that has built-in storage feature. It will make it easier to keep the place bright, while still having the storage to keep your items handy.
Children's Rooms
Your kid's bedrooms are probably one of the messiest of all the rooms in your house. For one, the children may not be too conscious about cleanliness.  Or most likely, there is indeed too many stuff to deal with.  The usual route of decluttering the room might not always help to make enough space for all of their things so you might need to think of clever ways to deal with the problem. One way is to buy a bed that has some drawers or hidden compartments in it. You can store in there the things that they don't always use.  Soft toys, for instance, can be placed in a small net or hammock fixed to the ceiling; just make way for the kids to easily reach for them should they want to play with their stuffed toys.  
Make Use of the Garage
If you are only using your garage for keeping junk or things that you no longer use, then it's time to clear them all and make use of the space to store essential but in-season items.  For example, you can use your garage as a storage area for household equipment like carpet shampooer or lawnmower. These things don't need to be in the house, so storing them in the garage will free up valuable space. To maximize your space in the garage, you can also add some ceiling racks for things like Christmas decorations, luggage, and seasonal equipment.
Create an Outdoor Space
If you don't have a garage, then the next best thing is to create some additional space such as a shed that you can use to store items away from the house. The outdoor area can also be used for other purposes such as a playroom for the kids or a guest room. It can eliminate the need for you to expand the house, plus, it gives you more space inside your own living space.
Creating more space in your home is something that is easy to do. With a little planning and some organizing, you can make your house look and feel bigger.  So how about starting to free up some space now?