MOMI TIP: How to write confidently and edit fast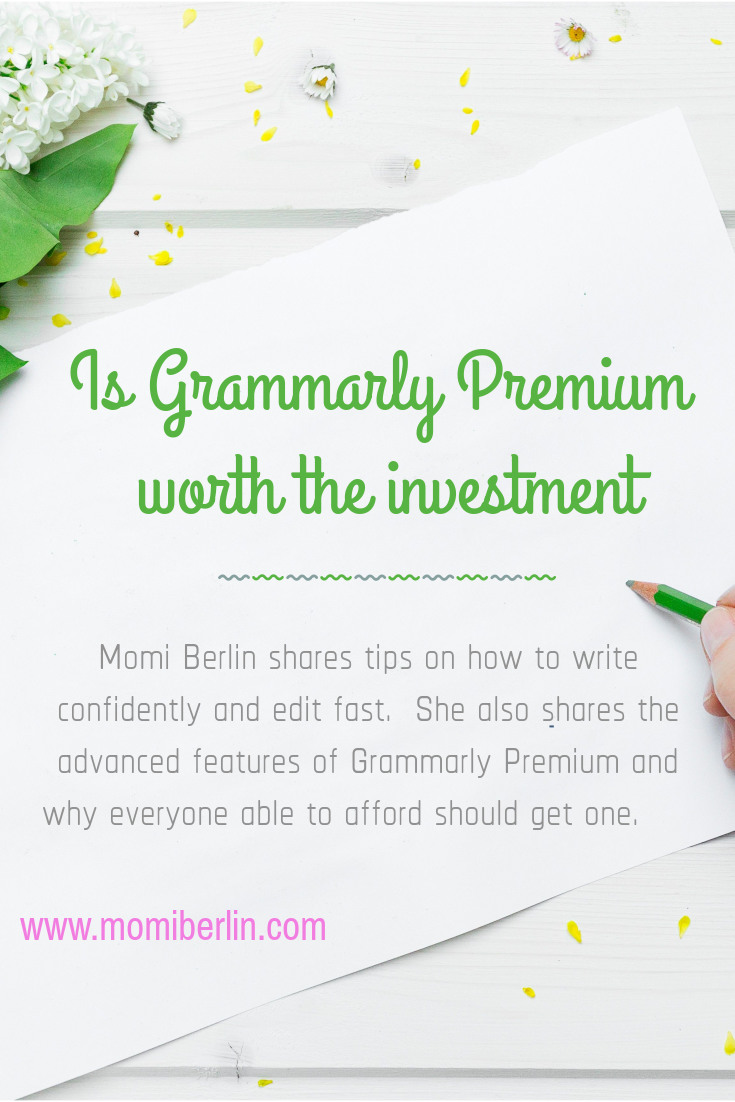 Are you confident with the book report you've submitted to your English teacher?  Or are you happy with the article you wrote for an online magazine?
Sometimes, even how beautiful our ideas are, we find it hard to put them into words   It is because we tend to be conscious of our grammar, spelling, and sentence structure.  Even the wrong use of punctuation sometimes changes the meaning of a sentence.  Add to that; it takes time and practice to learn the fundamentals of grammar.
Online Writing Assistant
I have discovered a reliable online writing assistant to make copies error-free and easy to read. Grammarly.com checks spellings, punctuation marks, sentence structure, and voices used.

One has the option to use the Basic Mode or opt to subscribe for a Premium Account. The first option is free while the latter is for a fee because of its advanced grammar correction tool.  More than just a spell checker and grammar corrector, it works more like a writing assistant that helps one enhance the quality of his article.
For every correction, Grammarly Premium will not leave the user thinking.   It suggests choices and perhaps the most appropriate word replacement to improve the sharpness of writing. It also advises how to rephrase group of words to create a clear and strong message.  The premium version also displays additional writing insights which further helps the user improve his writing.
Plagiarism Detector
Another convenience  Grammarly Premium gives is its plagiarism detector which allows one to check if he unwittingly borrowed someone else's words and claimed them as his.
Premium Grammar Checker
I was lucky to try Grammarly Premium for about six months as a prize from a blogging contest. From experience, I find Grammarly Premium useful that must be included in one's toolbox.  Its precise work to find and solve grammar issues makes editing quick and easy.
I work as a content specialist for an SEO company, and our boss requires that all articles submitted must have a Grammarly score of not lower than 90.  All copies submitted must also pass the Plagiarism test. The set of digital eyes working on my article makes spelling, punctuation, and grammar check faster. This helps me save time and attend to household chores and babysitting.   Passing the Plagiarism test also boost my confidence as a responsible content provider.
Often, with a toddler and a baby to look after, I can't stay in front of the laptop for hours.  I need to feed my kids and put them to sleep; thus during those times, I use my mobile phone to create copies.   I installed the Grammarly for Android. I find it just as reliable as the  Grammarly Chrome plugin I installed on my laptop.
Allow me to share with you why I love Grammarly Premium.
Writing Goals
At the start, Grammarly Premium allows a user to set his writing goals based on
Intent:   inform, describe, convince, tell a story
Audience:  general, knowledgeable, expert
Style:   formal, informal
Emotion:  mild, strong
Domain: academic, business, technical, casual
With a clear goal to pursue, Grammarly can customize and give specific proposals based on the writer's aim.
Advanced Proofreading Features
One can write directly in Grammarly then copy and paste the work into a Google Document.  Sadly, in my experience, I was doing an article while breastfeeding my baby.  My son accidentally landed his tiny hand on the laptop keyboard. In an instant, everything was erased, and I didn't know how to revert it.  I ended up rewriting the entire article, too grateful that somehow I could remember the essential ideas. From then on, I type my work in Google Docs then extract my writing for proofreading, grammar checking, and plagiarism checking.
In just a few seconds, Grammarly underlines misspelled words, repetitive words,  and even passive words.  Another advanced feature of the premium version is the vocabulary enhancement suggestion.  I particularly appreciate it when Grammarly points out those confused prepositions.  After several tries, I realized I often misused prepositions and even wrongly end some of my sentences with prepositions.
Grammarly can also detect lengthy sentences and has suggestions to edit them down.
Is Grammarly Premium Worth the Investment
After my free Grammarly Premium expired, I went back to using the basic features of this online grammar checker.  I miss how it points out each grammar mistake and how to enhance it.  There is also no more suggestions for vocabulary replacement and wordy sentences.  Though using the premium version for half a year greatly helped me tune up my writing, I believe a subscription to it is still essential.   Its detailed information about each grammar enhancement is too valuable to miss.
Add to that, the Grammarly Chrome plugin helps me double check email messages before sending to clients.  I could also check my social media posts before clicking the post button.  This saves me from embarrassing email and social media posts.
Should you get Grammarly Premium?
If you have a modest budget, installing the free Grammarly Chrome Plugin is just fine.
But if you write for a living, would want to be more confident with your work, and somehow can spare a budget,  subscribing for Grammarly Premium is a wise decision.  Its set of digital eyes to proofread your article works so fast that gives you more time to write a new copy or be with your family or even run a few errands.    More than an online grammar checker, it is a true writing assistant that gives clarity and conciseness to every written work. I believe that is the premium that goes with the payment.  And that is the premium I am enjoying now.  
Momi Berlin is not affiliated with Grammarly.com. Opinions here are her own.