If it's stupid and it works, it isn't stupid.
Says a quote I once read and took note of. And I'm just jubilant I tried this home remedy.
I have a very sensitive skin. I first had pimples when I was at first year high school and it continued until my third year . I just hate most of my pictures then. It also made me the shy-type girl in school.
On and off, I would have pimples. Again, it greatly affected my confidence. I have tried so many acne products and went through a lot of facial services and most of them were failures.
Last Christmas, my ever generous mom gifted me with a set of VMV make up. Got a new liquid foundation and a pressed power. She also gave me my favorite lipstick shade. I couldn't be happier.
Then the inevitable happened. A day after using the foundation and pressed powder, I got pimples- again. I cannot use the medicated soap prescribed by my derma as I am breastfeeding my little one. So I bought a tea tree soap believing it would clear my skin. I've used a tea tree soap years before (during the start of my career as a corporate communications person). And that time, perhaps the antibacterial properties of tea tree oil indeed helped kill bacteria that cause pimples that I rarely had pimple breakout. Unfortunately when I used a tea tree soap last January, my pimples got bigger and they seemed to form strange patterns. They formed a straight line starting from my jaw bone to my chin.
This happened to me many times and it's happening to me again.
Then I chance upon "a proven pimple remedy" daw.  I tried it. Perhaps out of desperation.  I could not leave the house  that easily to visit my derma  as I need to consider too many things (OC nanay duties).  Plus,  we have the ingredients readily available in our kitchen so why not try it.
I tried the solution for only two minutes for fear that it might cause more harm than cure. The next morning, I felt the pimples along my jaw line starting to dry up. I waited for two days before I use the solution again as the instruction strictly said the application should be twice or thrice in a week.
On my second try, I let the solution stay on my face for about ten minutes before rinsing it. I felt a tighter and smoother face after. And I was easily impressed. I repeated the application the next day and the next day again. I even left a few solution mix on a big zit overnight. And  I regret having done that. It caused redness.  But then again, I couldn't be happier with the over all result of this home remedy.
No need for Murad… Or Obagi… Or Clinic Manila… Or a professional acne-treating product.
Say hello to– baking soda mixed with very little water.
Further reading on baking soda, helps me understand that:
 Baking soda helps remove the excess oil of the skin which may lead to blackheads and breakouts. It also has mild anti-inflammatory and antiseptic properties, which help to reduce the size of pimples.
When mixed with water, baking soda forms a fine, gritty paste which helps to clean and exfoliate the skin, removing oil, dirt and dead skin cells.
It is a good idea to test out the baking soda treatment on a small patch of skin before applying it all over the face. If you experience any negative side effects, do not continue.
Even if you do not experience any negative side effects, you should avoid using baking soda too regularly. Over time, the baking soda can upset the pH balance of your skin, potentially leading to bacteria growth and more pimples.
Baking soda should be used on the skin no more than twice per week.
Will I continue this new pimple home remedy discovery? Yes, I will. And I am positive that in no time, I will be pimple-free again and swear will never use other cosmetic products.  Might be boring but I will just stick to my accustomed "facial lifestyle".
By the way, I use this baking soda mixture twice a week. Before bedtime, I massage my face with Human Nature Sunflower Beauty Oil with hopes that it will lighten the pimple marks.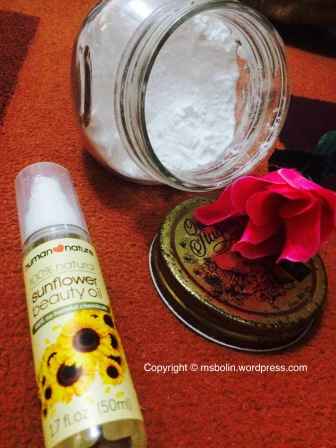 It did!
Though they are still aplenty, my face somehow lightens. And I am just so happy!  I need not visit my dermatologist.  This works for me and this might not for others as we all have different skin types.  But one thing is certain, I can now save the money I intend for my dermatologist to buy my little munchkin some new clothes. He is getting bigger everyday and he needs new pants.  Ihihi.
How about you, have you been to a similar situation or have you tried simple home remedy?  Would love to hear from you.