Coughs and colds spread easily.  I remember my then five-month old baby had cough last month.  He got it from his other brother.  His cough kept bugging him especially at night.  Then I imagined myself coughing.  I cough because I would want to be relieved from the irritating tickling sensation at the back of my throat.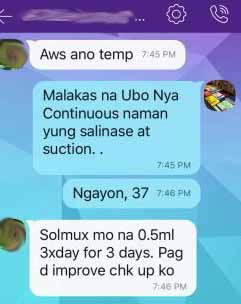 This might be what my baby felt on those days.  And he needed  to spit out that  phlegm.  My pediatrician recommended that we use Solmux, which is more commonly known as Carbocisteine, a mucolytic to help make it easier to cough up phlegm. I got a bottle from our medicine cabinet (my ever generous pediatrician would give me samples of medicines and vitamins for our use) and let my son take it for three days.  On the third day, he returned to being bubbly.  He got better.
For my other older son, I gave him Pambatang Solmux.
And I am just happy that we have a very approachable pediatrician who could readily answer my calls or text.  And I am all the more happy that we have Solmux to provide relief for my boys' cough.
Pambatang Solmux is indeed a partner to moms like me in becoming the best mother to my boys.   It is the only medicine with both bacterial and viral expel action which helps kill and expel viruses and bacteria that cause cough with phlegm. It is like hitting two birds with one stone.  Not only is the cause of cough dealt with, the symptoms are also addressed properly.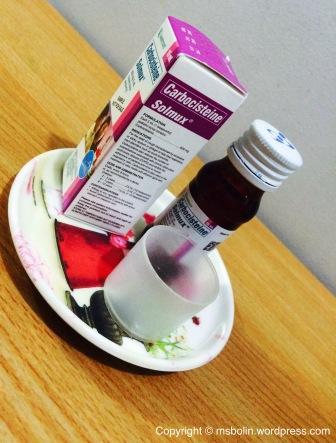 Reading the package insert (the piece of paper that comes inside the medicine box), I have learned that only Pambatang Solmux contains 200mg of medicine per 5ml.  Other carbocisteine medicines  only contain 100mg of medicine per 5ml. This means my boy  has to take in less medicine. Every bottle of Pambatang Solmux is also made using the TasteRiteTM technology.  This is a unique taste-masking system developed specifically for liquid dosage forms to improve the taste of the medicine.   This makes it less difficult for a mom like me to ask her son to take his medication.
My oldest is already 13 years old.  And every time he catches cold which would end up having cough, I always give him Pambatang Solmux.  Subok ko na talaga, noon pa. So with his other brothers, hindi pwedeng pwede na.  Dapat sigurado!  I also give them Pambatang Solmux to push out those phlegm.  Only Pambatang Solmux  has bacteria and virus expel action, thus, the bacteria and virus which are the usual causes of cough are expelled properly.
Pambatang Solmux comes in 60ml and 120 ml bottles and is safe for kids aged two to 12.  It is manufactured by Unilab, a trusted healthcare company and makers of other household brands like Biogesic, Ceelin, Neozep and Enervon. To know more about Pambatang Solmux and other Unilab products, get in touch via info@unilab.com.ph or its Customer Care Hotline 858-1000 local 8088.  Or one may always  visit www.unilab.com.ph and www.youtube.com/user/unilabph,   like www.facebook.com/unilab or follow www.twitter.com/unilab_ph and instagram.com/Unilab.
About Unilab
Unilab has continuously provided Filipinos with trusted and quality healthcare products and services for the past 70 years. Being a Filipino company, it prides itself for knowing what is best for the Filipinos' healthcare needs.
 Unilab's "Trusted Quality Healthcare" is more than just a tagline. It is what makes Unilab different from all other health and wellness companies. It is the company's corporate promise to all Filipinos to provide quality healthcare products and services that promote and enrich life. 
 Unilab  sees to it that every step it takes ensures that the promise is kept. Its commitment is to produce only quality products and services that are affordable and accessible to all, so that every Filipino is cared for the way he should be.