HUAWEI Kids helps bring our kid's creativity
Huawei launched HUAWEI WATCH KIDS 4 Pro and HUAWEI MatePad T 8 Kids Edition, must-have smart toys for children and digital assistants for parents.
We are on the lookout for a kid-approved gadget for our little one. He starts his homeschool program this year, and we have seen his eagerness to learn. As of now, he uses his brother's gadget when the latter didn't use the unit. Often, our little one waits patiently for his turn.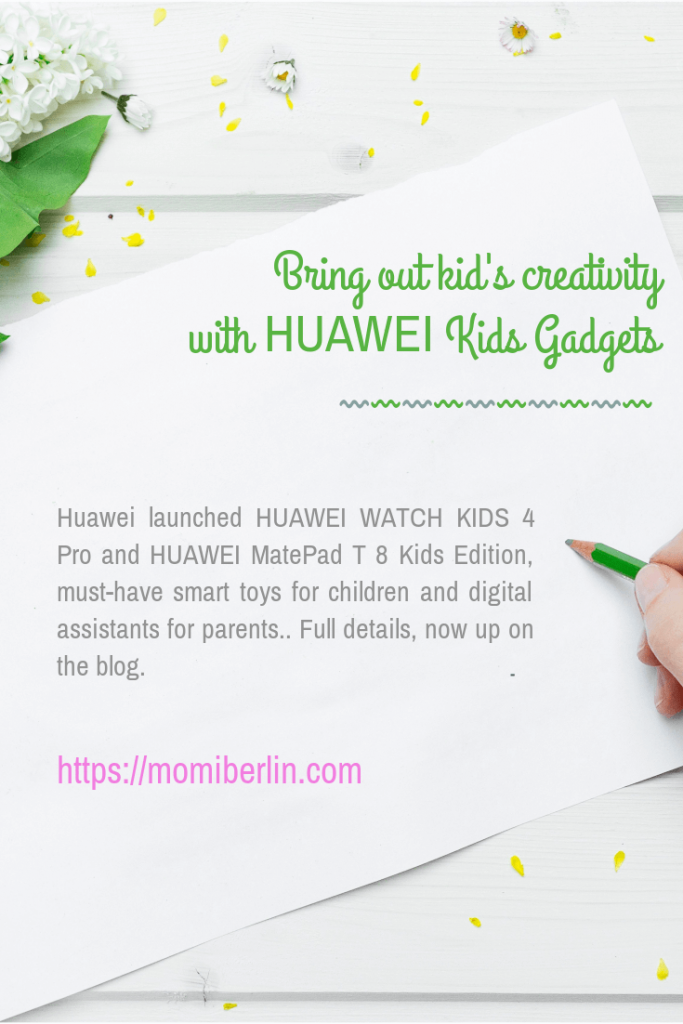 Seeing our little one's thirst for knowledge pushes this mother to look for that perfect gadget for him. Timely that Huawei's Consumer BG enters the Philippines' kids smart device market. And here's the good news: it is bringing two highly competitive but safe gadgets for Filipino families – the HUAWEI WATCH KIDS 4 Pro and HUAWEI MatePad T 8 Kids Edition.
the demand for a kid-friendly device
As we rely heavily on electronic devices and digital channels in our day-to-day living, children, too, are influenced to use technology for entertainment and learning. And with the pandemic limiting the children's access to the outside world, gadgets become their ally for distance learning.
Checking the market, the variety of available gadgets for kids is extremely low despite its high demand. Usually, youngsters use their parent's units, creating some concerns for the latter in granting access to devices. Huawei understood these issues.  
Huawei did research development to come up with solutions and recently launched MatePad T 8 Kids Edition. This tablet explicitly answers the need to provide a safe and healthy digital experience for kids. As Country Head Huawei CBG Philippines George Li said, "Huawei oversees the current challenge of the digitalized world and commits to bringing innovation in every development of Huawei products that are smart and problem-solving. We're proud to introduce the HUAWEI MatePad T 8 Kids Edition and HUAWEI Watch Kids 4 Pro to bring fun and education wrapped in a safe and adorable device and will be a perfect companion for parents and their children. "
HUAWEI MatePad T 8 Kids Edition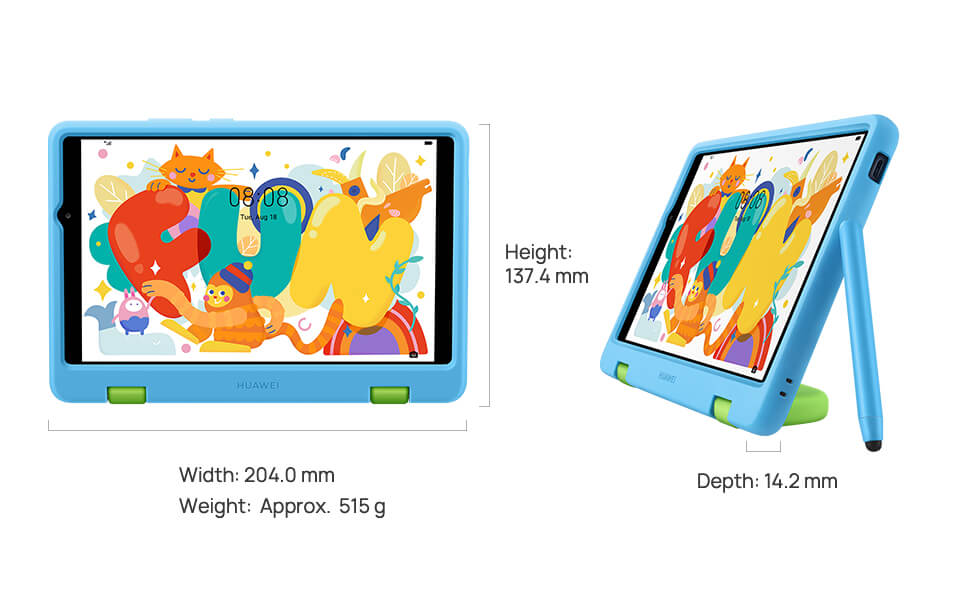 the ultimate safe and eye protection tablet
Designed with children's education and healthy development in mind, the Huawei MatePad T 8 Kids Edition is every youngster's ultimate safe and eye protection tablet. The unit is an 8-inch variant and includes a genuinely adorable and environmentally safe silicone Kids Case. Love, too, that this blue shell has equally cute green grips that perfectly fit those tiny hands. The tablet also features curved backs, giving kids a soft and rounded grip. Not to forget that each unit comes with a bright blue stylus pen to match any child's inquisitive mind. The stylus pen, too, offers a more interactive experience for kids, enabling them to draw better pictures on the tablet and enjoy themselves to the fullest while savoring touchscreen games. Parents need not worry as both the Kids Case and the stylus pen meet the European Standards on the Safety of Toys. The two add ons also pass the Hazardous Substances in Electrical and Electronic Equipment (RoHS), giving parents peace of mind that the unit and its accessories are genuinely safe for kids. 
rich educational content
Best of all, the HUAWEI MatePad T 8 Kids Edition comes pre-installed with tons of educational content. This makes it the perfect tablet partner for children as they grow. 
Huawei partners with Azoomee and BabyBus, two leading educational developers creating apps for children. Each purchase of the HUAWEI MatePad T 8 Kids Edition comes with a free one-year membership to Azoomee and a free three-month membership to Baby Panda World. Azoomee and BabyBus constantly update their contents, allowing children to keep learning and have fun while doing it!
Parents, too, can manage time spent and apps used, allowing them to set multiple designated time limit intervals throughout the day. For example, guardians can set a maximum of 30 minutes of playtime only after school. They can also apply different settings for school days and weekends, bringing the perfect balance between study and play. There is also the Kid's Profile feature wherein parents can access their children's usage records. This way, parents can log their children's usage time and see what apps their children frequently use. 
the built-in color adjustment module
Another thing we love about the HUAWEI MatePad T 8 Kids Edition is the built-in color adjustment module that intelligently adjusts the content on display. With the help of an ambient light sensor, the tablet enables multi-layered eye protection for our child's eyes.
smart Huawei tablet
The HUAWEI MatePad T 8 Kids Edition, by the way, is the latest addition to the HUAWEI MatePad T Series, which is specifically designed for youngsters aged 3-8. 
Did you know that Huawei tablets have a built-in gravity sensor to determine whether the user is lying flat? This prompts to encourage children to adjust their posture accordingly. The unit can also detect when the tablet is shaking or when the kids are moving from one place to another. This will prompt the users to use the tablet in a stable state, reminding them to develop better eye habits. To add, the tablet automatically adjusts the brightness, color temperature, contrast, saturation, sharpness, grayscale, and other parameters on the display whenever the eBook mode is enabled. This offers a quality reading experience that closely resembles that of reading a physical book. The Bumpy Road Alerts, Posture Alerts, eBook mode, and more can all be toggled on and off in Kids Corner.
Price 
HUAWEI MatePad T8 Kids Edition retails at PHP 8,999. For its initial sale offer starting September 24 until October 1, 2021 via the online Huawei Store, freebies worth Php 8,996 pesos are bundled with each HUAWEI MatePad T 8 Kids Edition:
● Pen (SRP 499)
● Cover (SRP 999)
● Baby Panda (SRP 759)
● Lamp (SRP 2499)
● Baby Bus App 3 month VIP (SRP 450)
● Azoomee APP 12 month VIP (SRP 3790)
HUAWEI WATCH KIDS 4 Pro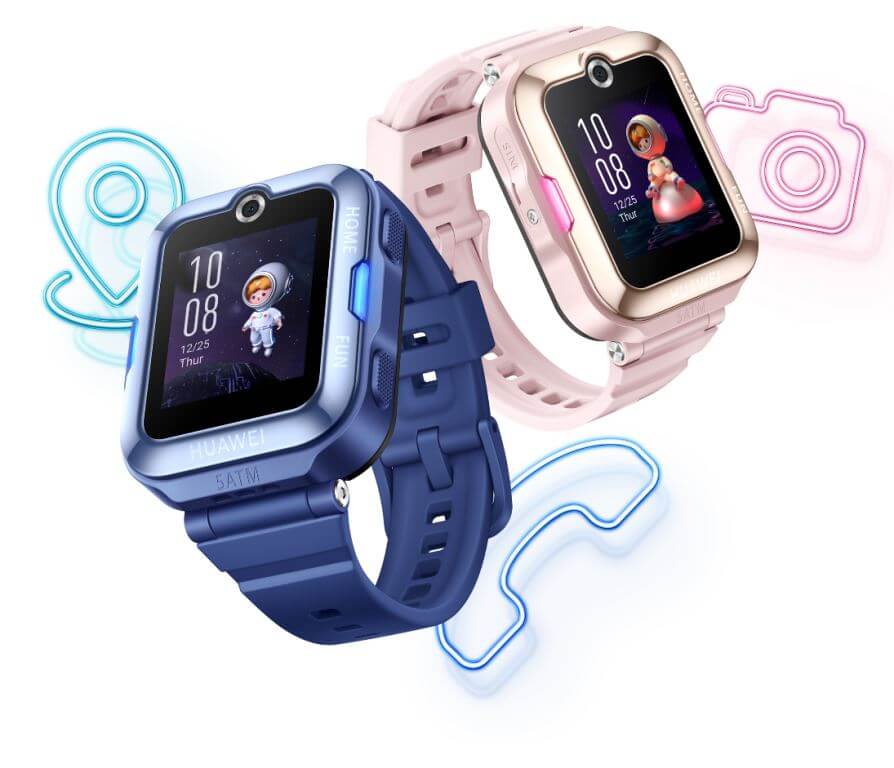 The HUAWEI WATCH KIDS 4 Pro, on the other hand, aims to be a unique watch that will accompany children to keep them safe, healthy, and help them enjoy exploring the world. It features a vibrant and fluid design and integrates premium materials and technology to offer youngsters a fun learning experience.  
HUAWEI WATCH KIDS 4 Pro features
HUAWEI WATCH KIDS 4 Pro includes features like Huawei's own self-developed network positioning services intelligently obtain the optimal location accuracy. With its GPS, Beidou, GLONASS, A-GPS, WLAN positioning, base station positioning, indoor positioning, accelerometer-assisted positioning, and SOS camera-assisted positioning, HUAWEI WATCH KIDS 4 Pro can accurately record location every 120 seconds. Parents or guardians can receive notifications when the kids leave or enter the Safe Zone.
At the same time, the privacy framework of HUAWEI WATCH KIDS 4 Pro is designed with reference to the EU General Data Protection Regulation (GDPR), enabling strict data encryption and privacy protection for kids.
In addition, with the 5MP front camera, the HUAWEI WATCH KIDS 4 Pro supports HD video calls using HUAWEI MeeTime[1]. Users can make HD video or voice calls on the HUAWEI WATCH KIDS 4 Pro with contacts that own Huawei devices, such as phones, visions, and tablets.
HUAWEI WATCH KIDS 4 Pro is equipped with a 5ATM water-resistant design[2]. Remarkably, the buttons have a waterproof enclosure design. This passed the strict waterproof tests and is water-resistant up to 50 meters. Each unit also provides a counting feature and one-min activity challenge for skipping rope, free skipping rope, and sit-ups. To add, the smartwatch tracks users' steps and provides a ranking to challenge kids in their exercise journey. 
Availability
The HUAWEI WATCH KIDS 4 Pro's availability will be announced soon.
Momi Berlin Directory
Huawei Consumer BG webite
[1] HUAWEI MeeTime is available in selected countries or regions.
[2]3 HUAWEI WATCH KIDS 4 Pro meets the requirements of ISO 22810:2010 and 5ATM, and the waterproof is up to 50 meters. It can withstand shallow water activities such as swimming pools or seaside swimming. It is not suitable for scuba diving, diving, hot showers, hot springs, saunas, and other wading or deep-water activities under high-speed water flow. After using it in seawater, it is recommended to rinse with clean water, wipe dry, and use the drainage feature.