36 Lucky October Celebrants for Golden Grain's 36th Year
To celebrate its 36th year, Golden Grains Philippines invites fellow October birthday celebrants to join in the fun and get a chance to snag their favorite rice variants for free. The same products that have made Golden Grains beloved through the years will be given away to 36 lucky October celebrants this month!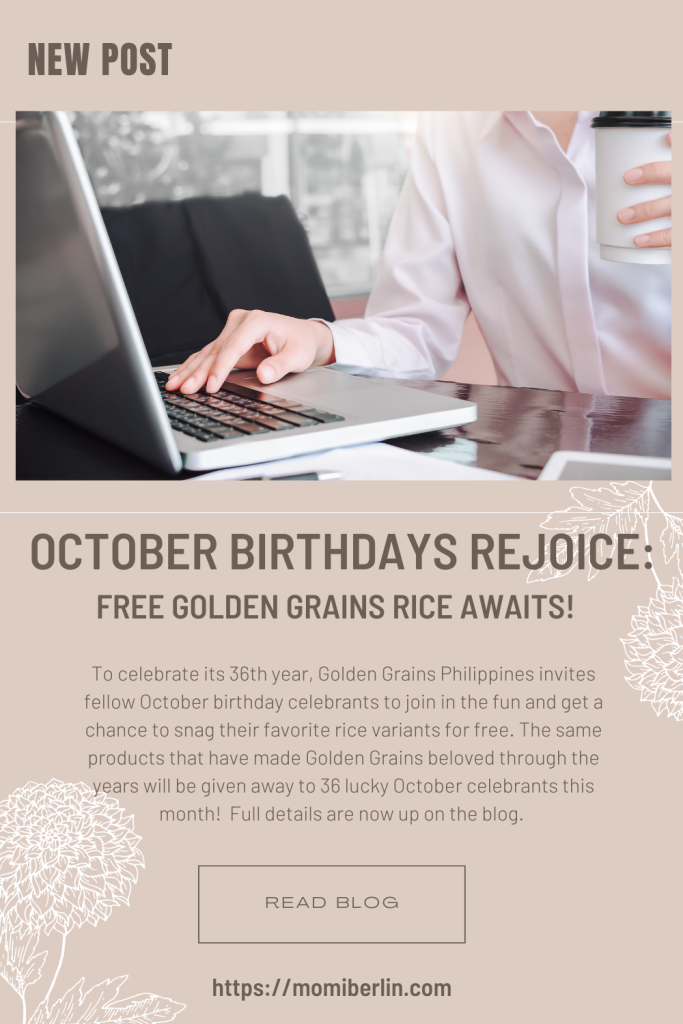 Lucky participants are set to receive their choice of Golden Grains' well-patronized rice varieties, namely, Super Angelica, Maharlika, Sinandomeng Special, Dinurado Aromatic Rice, Platinum Plus Whole Grain Rice, Thai Jasmine Rice, and Kanto Japanese Rice, as well as Golden Grains' range of Healthy Alternative rice products – Organic Brown Rice, Organic Red Rice, and Organic Black Rice.
Golden Grains is a quality brand under REJ Commercial Corporation launched in October 1987 amidst political turmoil in the Philippines. Despite challenges through the years, it has emerged as a sturdy rice brand because of its consistently high-quality, homegrown rice products sourced directly from the significant rice granaries of Mindoro, Nueva Ecija, and Isabela.
The brand is also one of the pioneers in the industry to introduce Organic Red and Organic Brown rice varieties into a market needing a healthy alternative to white rice in 2004. In less than a year, the Consumers' League of the Philippines has already awarded it as the Most Outstanding Organic Rice Brand the following year. Golden Grains' timely and consumer-driven decisions have genuinely turned into winning milestones worth celebrating in its 36th year.  
This 2023, Golden Grains has committed to making its offers more exciting through its availability plans, month-on-month promotions, and consumer-centric strategy.  
Golden Grains Availability
Golden Grains makes flexibility, freshness, and peace of mind a top priority, whichever way you prefer – bringing home fresh, vacuum-sealed harvests or ordering online and receiving them right at your doorstep.
Golden Grains continuously makes its products available in renowned supermarkets like Waltermart, Robinsons, AllDay, Shopwise, South Supermarket, Metro Gaisano Supermarket, and LCC Supermarket (Bicol).
Golden Grains has also made itself fully present and available to its online consumer market via Lazada and Shopee, forging further brand growth into the 21st century. 
Month-on-Month Promotions  
Double-digit sales are among the many exciting ways Golden Grains connects with its consumers. Each month, offers of free or discounted shipping costs and unbeatable deals have become a big attraction to its online followers.
Some exciting double-day sales were the 8.8 August sale, which offered up to 80% off on shipping fees in both Golden Grains' Official Shopee & Lazmall stores, and for 9.9 September, its Platinum Plus Whole Grain rice campaigned for a 99-Peso discount.
Last October 10.10, it offered a flash sale exclusive to the e-commerce platforms and will be giving away gifts of rice packs to lucky October Birthday Celebrators. Catch the announcement on Golden Grains' Facebook and Instagram after today's final day to enlist!
November and December are equally prize-packed as 11.11 gives away 36 premium rice dispensers, and 12.12 starts early to complete the 12 Days of Giveaways with Golden Grains.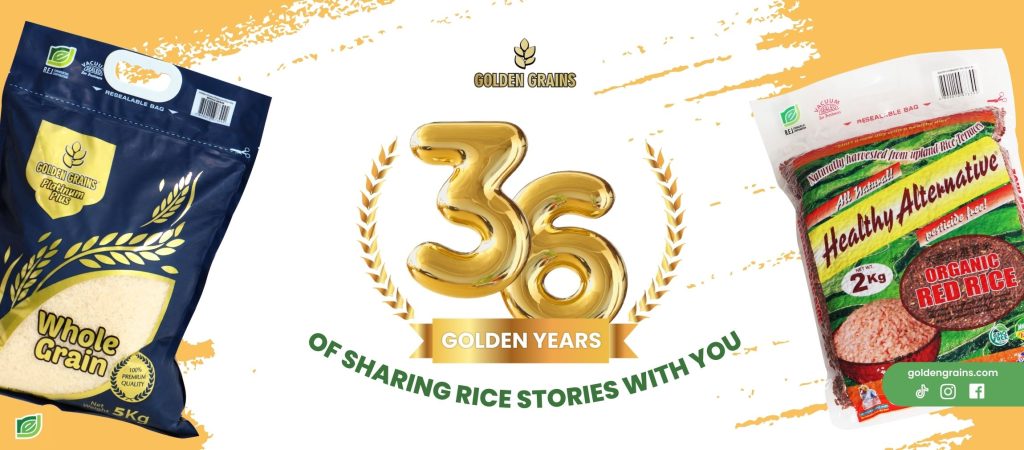 Consumer-centric Campaigns  
Cooking rice and recipes best paired with rice has become a vital communication bridge where Golden Grains and its consumers delightfully engage with each other. With countless recipes dished out, lots of tasty food fares prepared, and many rice stories shared, Golden Grains has captured the hearts of its consumers with ideas, tips, hacks, or simply able to trigger some delicious cravings.
While different rice recipes require different types of rice, Golden Grains knows that other people also like different varieties. This is why the brand's efforts have been more consumer-centric by letting participants, winners, and stakeholders choose their preferred variant at every opportunity possible.
Each of us brings a different story on how we consume rice — there are the white rice loyalistas, the healthy rice advocates, and the controlled-rice consumers —But no matter your story, Golden Grains has the rice for you.