BDO declares Cash & Stock Dividends
The Board of Directors of BDO Unibank, Inc. (BDO) approves the declaration of regular cash dividends on common shares in the amount of P0.30 per share for the fourth quarter of 2022. The giving out of dividends is payable on December 29, 2022 to all stockholders on record as of December 20, 2022. This news is confirmed during a meeting BDO Unibank had recently.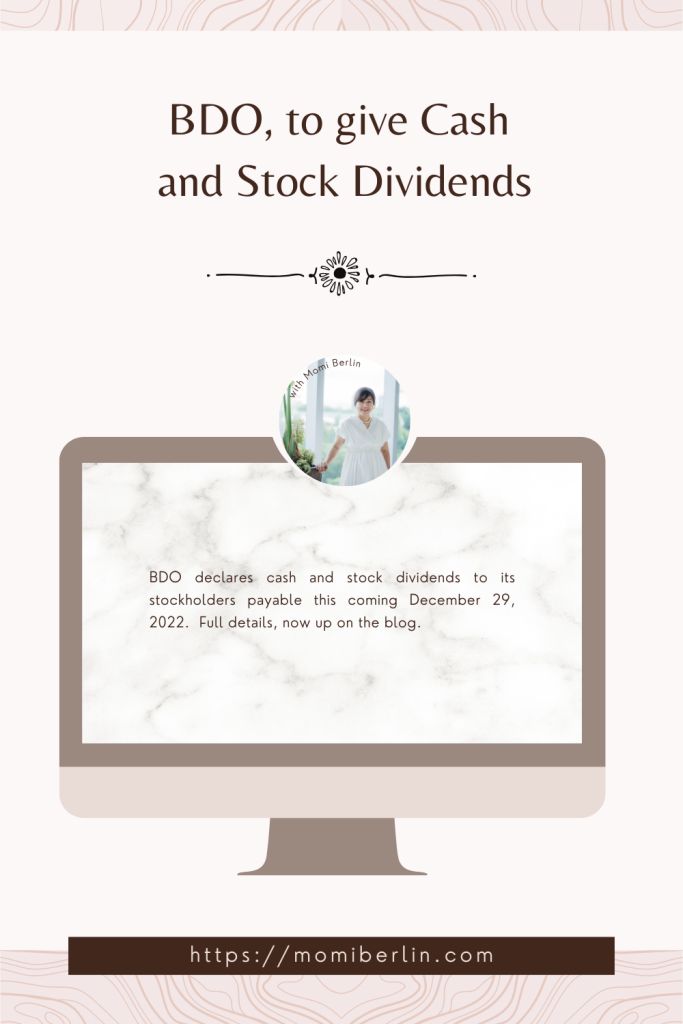 SEC approves
The Securities & Exchange Commission (SEC) also approves the bank for its stocks dividends equivalent to 20% of current outstanding. To recall, BDO's Board of Directors approved last first quarter of 2022 the declaration of 20% stock dividends, an increase in its authorized capital stock (common shares) from 5.5 billion to 8.5 billion shares. Also approved is the amendment to the Bank's Articles of Incorporation to reflect the increase. The changes subsequently received approval from the stockholders at the Bank's Annual Shareholders' Meeting held last second quarter of 2022. and by the Bangko Sentral ng Pilipinas (BSP) last third quarter of 2022. The record date for the stock dividends has been set for December 15, 2022, with a payment date set for December 29, 2022.
The P0.30 cash dividend will also apply to the additional shares arising from the 20% stock dividend declaration.
Commitment to providing consistent and steady returns
The cash and stock dividend declarations reflect BDO's commitment to providing consistent, steady returns and value to its shareholders while at the same time, continuing to invest in its business. The hike in authorized capital stock provides flexibility to increase capital if needed during periods of rapid growth or should attractive opportunities arise. This will allow BDO to continue to expand its business, strengthen its franchise, and deliver quality earnings for long-term sustainable growth. Note that BDO's ability to expand its business is dependent on business conditions and its financial position.