Value for money appliance you may need
The pandemic made us realize functional products offer excellent value for money in the long run. And everyone's favorite go-to appliance makes sure to go above and beyond our expectations. Sharp strives to make its products fulfill their intended function and, at the same time, provide customers with an outstanding experience. Such experience oozes dependability, durable goods, and quality.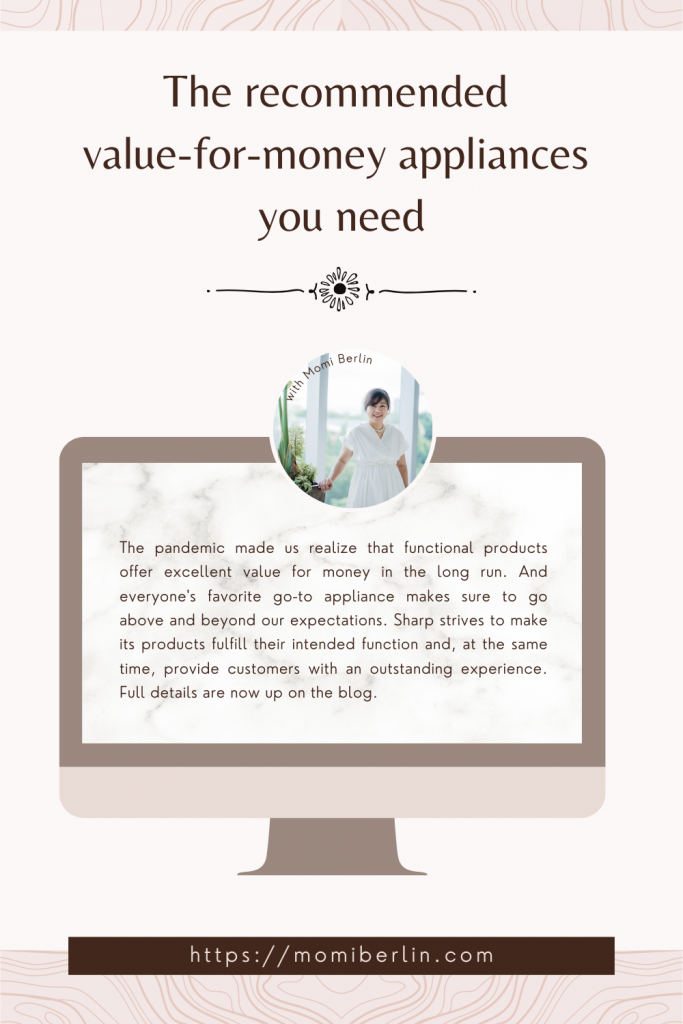 Sharp is widely identified for producing high-quality products that meet and exceed expectations. Its cutting-edge small appliances, for instance, offer more than just numerous functions but ensure to maximize the customer's time and value for money.
We have enumerated products worthy of our attention here, especially in the new normal. Each offers value for money because of its multifunctional use. Also, these Sharp products are guaranteed to suit all lifestyles. 
Apple Rice Cooker – KS-P8MF-WH/GR (SRP P1,998)
Such a distinctive rice cooker in the shape of an apple, this handy appliance gives the best cooked warm rice. It also has a cute design that will look great in anyone's fashionable home. Available in white and green, this rice cooker has a 0.7-liter capacity to cook up to 4 cups of rice. Also, it has a 1.5 mm Inner Pot with a nonstick coating that does both cooking and cleaning uncomplicated.
This one-push pot keeps food warm for up to 12 hours, thus reducing food spoilage. It also offers a variety of cooking options, such as steaming vegetables and cooking rice. We can also use this to create the best homemade soups and veggie dishes.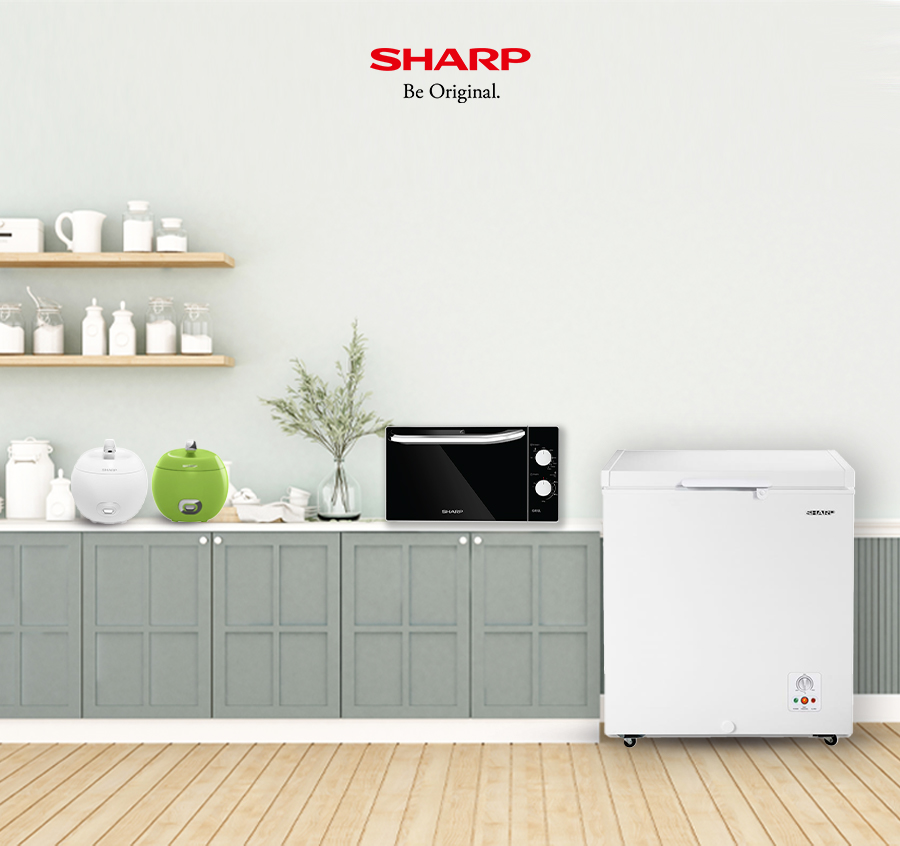 Microwave Oven with Grill – R-61E(S) 20 L Capacity (SRP P4,198)
Considered an essential in every home, a microwave does more than just reheat food. This innovative Sharp product can also be used for quick cooking and grilling. In addition, owning a unit makes you not invest in numerous appliances.
Its stylish top swing handle makes its door opening simpler. The two-way defrost feature gives us an option to defrost either by weight or time. To add, it has a child lock safety feature for unattended use by kids at home.
Minibar (Personal Refrigerator) – SJ-PL05AS-GY 1.7 cu.ft (SRP P7,598)/ SJ-PL10AS-GY 3.5 cu.ft (SRP P9,598)
The refrigerator isn't just for storing food and drinks but may also be utilized as ideal storage for beauty products. The small size of the Sharp Personal Refrigerator is perfect for setup in bedrooms and hotel rooms. Its condenser coil is covered and shielded from dirt, thanks to its clean back design. Additionally, it uses R600a refrigerant, making it safer for the environment. Every unit also comes with adjustable feet to help level the unit on the ground. The product also offers a bigger storage capacity of 3.5 cu.ft.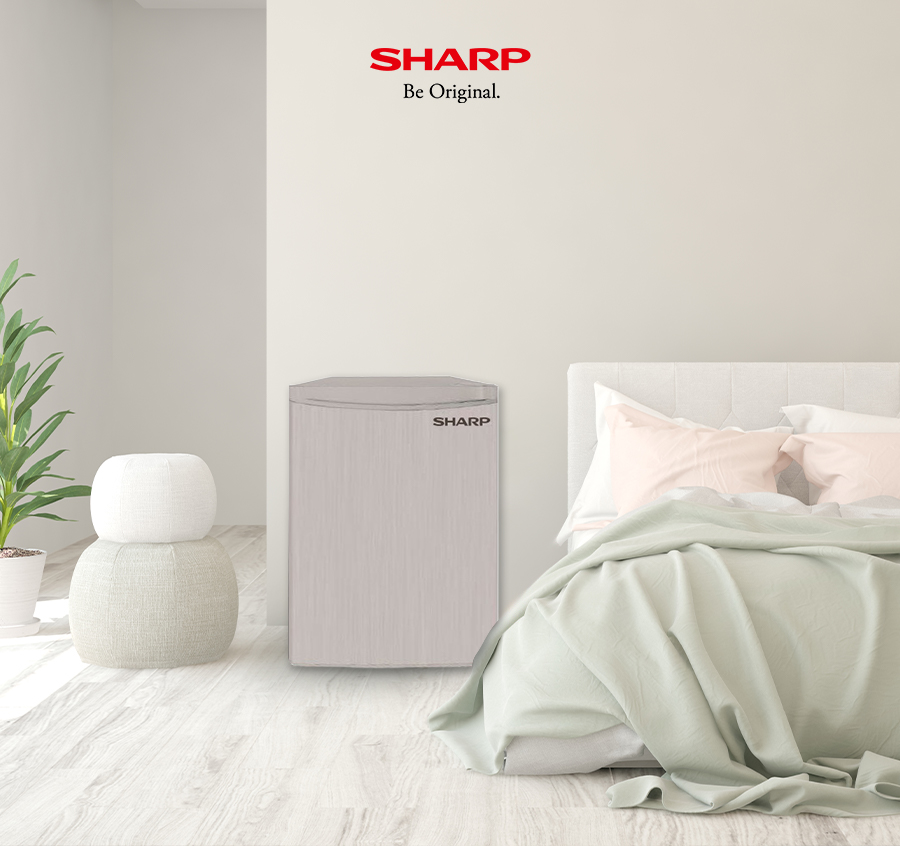 Chest Type Freezer – FRV-152 5.3 cu.ft (SRP 13,998) / FRV-212 7.5 cu.ft (SRP 15,998) / FRV-102 3.6 cu.ft (SRP 12,498)
Having this versatile chest freezer makes life easier and simpler for us. For one, it will no longer be a challenge to maintain the freshness of vast amounts of food and other products while at the same time storing them. This Sharp freezer serves two purposes: food storage and meeting the demand of a small business. Depending on our needs, the freezer features a dual function that can be changed from a chiller to a freezer. Also, quick freezing reduces the time required for freezing by maintaining the freezer's interior temperature between -24 and -28 degrees Celsius.
In addition, this Sharp freezer has a caster wheel function for improved movement and an inner liner made of aluminum for quick and even temperature distribution inside the compartment. We may opt for the 3.6 cu.ft. or 7.5 cu. ft. 
Improves the lives of Filipino families
Sharp constantly seeks to improve the lives of Filipino families with its valuable products. These well-hyped products undoubtedly make the most out of the space in our home and serve as our constant, dependable partner in creating a comfortable environment. Moreover, Sharp continues to innovate and create high-quality goods for its customers everywhere. 
The models mentioned here are now available at leading stores nationwide, including the Official Sharp Flagship Store on Shopee and Lazada.
Momi Berlin Directory
Sharp Website