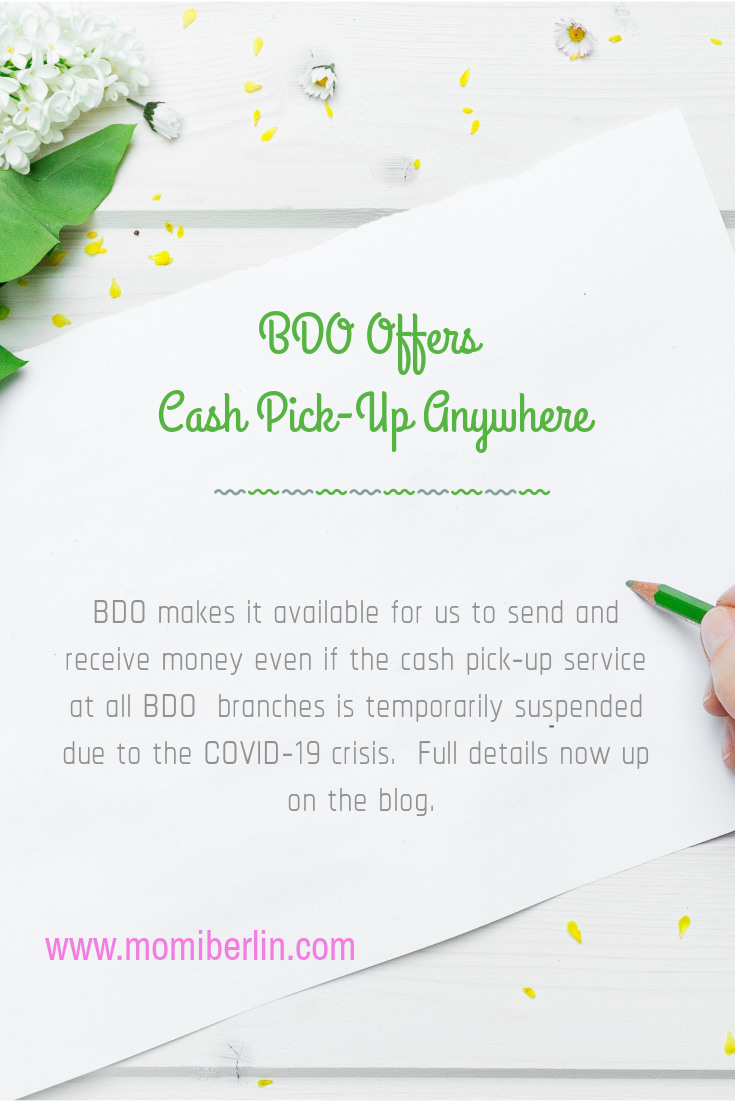 A number were caught off guard the Enhanced Community Quarantine (ECQ).  They didn't foresee the effect of the temporary closure of some important establishments like banks, schools, and supermarkets.  After all, this is the first time we experience this, thus couldn't draw from experience yet.
Our business is one of the many affected by the ECQ.   With the minimal movement, we cannot collect and deposit payment of our clients.  Our clients, too, find it hard to make payment for their insurance policy.  By the way, we are into non-life insurance wherein we cover properties, bonds, and even legal liabilities.
BDO offers Cash Pick-Up Anywhere
It truly pays to have a bank partner that cares and finds ways.  Our bank, BDO Unibank, makes it available for us to send and receive money even if the cash pick-up service at all BDO branches is temporarily suspended due to the prevailing COVID-19 crisis.  Now, with the Cash Pick-Up Anywhere feature through its online banking, both the senders and receivers have the option to transfer and get money.  The channel options are at any Cash Pick-up partners like BDO Network Bank, Ceuana Lhuillier, M.Lhuillier Kwart Padala, Palawan Pawnshop, and Villarica Pawnshop.
Send and receive Money
Allow us to share with you the easy steps to send and receive money:
1. Log on to BDO Online or Mobile Banking
2. Select Send Money> Cash Pick Up at any BDO Branch/Partner
3. Choose one:
* Pick-up Cash Anywhere (Palawan Pawnshop, RD Pawnshop, Villarica Pawnshop, BDO Network Bank)
* Pick-up Cash Cebuana
* Pick-up Cash MLKP (M. Lhuillier Kwarta Padala)
4. Share the Reference Number with your receiver.
Pick up cash
To pick up cash, on the other hand, here's the guide:
1. Go to a Cash Pick-up partner.
2. Fill out the RECEIVE MONEY FORM with your complete details:
a. Sender's Name
b. Receiver's Name
c. Reference Number
d. Amount to claim
e. Submit the accomplished form with one valid ID at the counter.
f. Sign and receive your copy of the computer-generated Receive Money Form
The sender should secure a photo of the receiver's ID and copy the name exactly as written on the ID.  This is to avoid mistakes and inconvenience.  The receiver, on the other hand, must present the complete Reference Number and one valid ID upon pick-up of the cash.  Pick up of the money is available within two to four working days.
For BDO Mobile App users, senders must get the Reference Number under "Send Money" in the bottom of the Menu > View Transaction Status > For Cash Pick Up.
We may say, this situation we are in right now may have caused great inconvenience, especially in our business.  But thanks to companies like BDO as they truly live by their slogan "We Find Ways."  Now, though we are not totally visible to our clients, still, we could transact and service them. 
Momi Berlin Directory
BDO Website