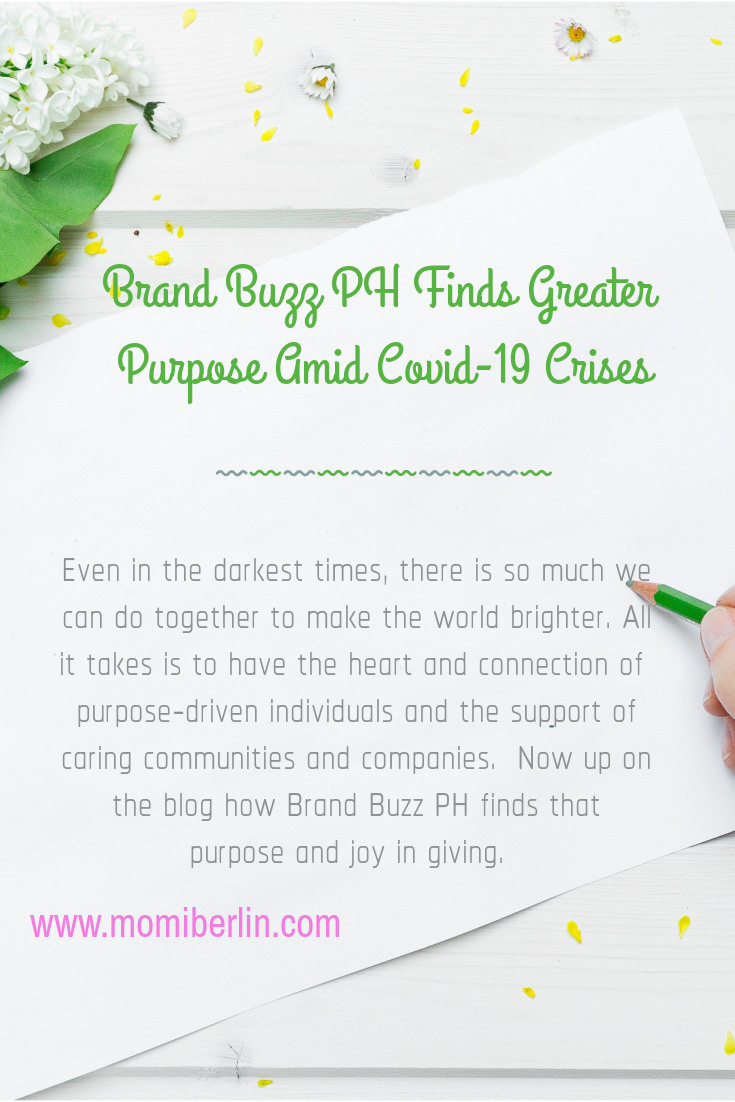 [tweetshare tweet= "Always have joy in your life by pursuing your bliss. -Steven Redhead " username="SPk3(ad*e(5d4@pEwem@tnlADFb9ZZc8:1:1″]
Purposeful living may sound too difficult to pursue. When you look at it, though, it is living your life towards a big goal aligned with your passion and values.  Finding and acknowledging that purpose leads you to a happy and contented life.  Add to that, a purposeful living surpasses obstacles and overcomes limitations.  It never quits nor afraid to take action. Making up excuses is never a habit.
What are we driving at here?
The Photo that Launched a thousand plates

It was that mother's search for a homeless, hungry lolo that turns to what is today a vast and successful feeding program.
In the first week of the Enhanced Community Quarantine (ECQ),  Clara Alegria Ramos, a PR and Influencer Management professional, saw a video of an elderly man being interviewed on a news program. The old man stressed "mauuna pa kami mamatay sa gutom bago kami mamatay sa virus."
Ramos, fondly called Gie by colleagues, always finds joy in life by pursuing her bliss.  She believes her influencer marketing and public relations group, Brand Buzz PH, can do something. Gie called out her community of mommy bloggers to help locate the old man.  Eventually, they found out that the man stayed at Roxas Boulevard for a while and moved to the Delpan Evacuation Center in Tondo.  He stays there, along with many informal settlers.
The group pulled out any amount they can share to feed the families at Delpan. "Hindi madaling maglabas ng pera ngayon, pero maraming tumulong," said Gie. With the P18,000 they initially raised, the real work began. Someone also volunteered to make her home the dispatch center.  Others handled the coordination with the suppliers, cooks, and delivery riders.
Food reached the Delpan Evacuation Center, and the photos of the grateful elderlies partaking the food deeply moved the mommy bloggers. Most of them felt the need to do more.
A Bigger Purpose
From the group, two blogger nurses suggested helping medical frontliners, too. Gie sent out another call for donations, and more volunteers responded.  Corporations also heeded the call. CDO, Ellie Cooking Oil,  Clara Ole, and San Remo partnered with Brand Buzz PH through product donation. StyroTech and Tupperware PH likewise supported the campaign. More mom bloggers and influencers cook home-style meals for the frontliners.
At first, about five volunteer cooks service different government hospitals. They cook 50 meals each day. As the project gets bigger, so are the number of Brand Buzz PH members volunteering to keep the donation drive running.  
Roadblocks and Rewards
With many restrictions under ECQ, challenges in the sourcing of ingredients and delivery surfaced. But the biggest challenge for the volunteers was physical and emotional exhaustion. Gie shared, "Pinagsasabay mo yung work from home, household chores, homeschooling, and the feeding program na full-time din. When my kids told me, you're here, but you don't talk to us, I realized I was sacrificing my time with my family. But so were the frontliners; that's why I can't stop. But things got better once we figured out a system."
From the many rewards of the feeding program, it was the photos of the doctors and nurses enjoying the food that truly touched everyone's heart.  For each mom, all sacrifices were worth everything. 
What Collaboration Can DO
The Brand Buzz PH attributes the success of the project to its supportive blogger community and corporate partners. To date, the group has raised over P1Million worth of donations. With over 50 volunteer cooks and growing, they plan to feed underprivileged families as well. "The task may be overwhelming, but with steady partners like CDO who are committed to working with us, we Can DO this," uttered Gie.
Even in the darkest times, there is so much we Can DO together to make the world brighter. All it takes is to have the heart and connection of purpose-driven individuals and the support of caring communities and companies.
See how purposeful living can do so much?  The joy to care and give love is so overpowering despite today's social distancing-mandated reality.