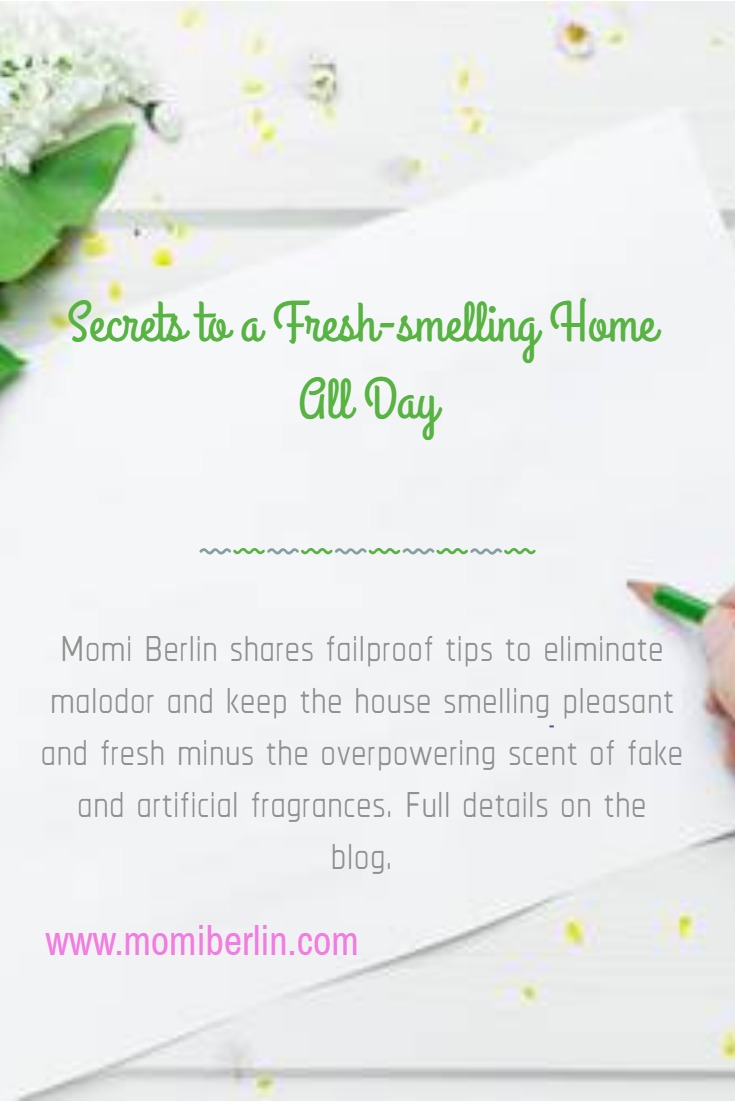 There is always something comforting about home scent. At first, you may not be aware of it, but then when you walk into a room and smell that familiar scent, you immediately hit memory lane. 
I remember when I used to stay with my grandparents in the province.  The whole kitchen smells of sweet pineapple candy. My grandmother lovingly prepares these sweets for her favourite apo.  And that smell always makes me feel loved.
Perhaps, that's the same sentiments my boys feel every time they arrive home from school. They often see me in the kitchen preparing merienda and early dinner.  And I always see and feel their enthusiasm to sample what I made for them. 
But more than the aroma of that baked rosemary chicken or sweet pineapple candy, for instance,  there are many other tricks to make the house smell irresistibly clean and homey.
But first, forget about those spray fragrances and air fresheners that temporarily mask odours. Malodors come from different sources like spoiled food, body odour (bacteria), and mold (fungus), and the secret to eliminating them is not masking the foul smell. 
Deal with moisture
Moisture is the number one cause of household odours. The likes of a wet rug, kitchen towel, and bath towel trap moisture, causing odour within the house. A way to prevent such problem is replacing kitchen sponge at least every one to two weeks.  Another way is changing the bath and kitchen towels at least once a week and properly hanging them dry.  
Display indoor plants
Many of my friends attest that more than beautifying the house, indoor plants clean the air, too. Such plants are Chrysanthemums, Devil's Ivy or pothos,  Eucalyptus, Gardenias, and Geraniums.
Properly dispose of garbage
Overflowing garbage can, not correctly closing the bin, and not separating dry waste from wet are some of the reasons for a trash's foul smell. Better to tie the trash bag before it reaches the rim and replace with a new trash bag.  Spritzing lemon-scented dish soap or tossing lemon or orange peels into the garbage bin helps remove the lingering lousy smell, too.
Use home fragrances
I've recently tried Mia Maison Odour Away, and I must say that this latest innovation gives a fresh air-feel all day long.
I'm not a big fan of merely masking malodors with another scent.  No one surely wants to smell eucalyptus-scented fried fish.  Or a mixture of tobacco and lilac would surely make one feel dizzy. With Mia Maison Odour Away, our room smells genuinely pleasant, not hurting any of our senses. The smell of the luxurious perfume oil offers a soothing scent, something you wish would stay forever.  Plus, there is no health risks or even smoke to worry about like when one uses scented candles or commercial air freshener. These two are filled with potentially harmful chemicals released into the air as the candle gives off smoke or the spray can releases a scent.
The one we have at home is the  Oyster Atomizer. It can work like a humidifier, ionizer, and aroma diffuser. It has a changing LED which makes our two boys too excited to see its varying colours.   With just a small cupful of waterbased oil added in the recommended level of water, the room smells clean and fresh.  You know the scent of a flower in the air, but there's no sight of such nearby? They say there is an angel or perhaps  God communicating with you.  That's how I feel with our Mia Maison, but not in a terrifying way.
I must say, with Mia Maison Odour Away, our house smells less like diapers but more like a spa – indeed creating an oasis in our abode.
Secrets to a Fresh-smelling Home All Day
I have realized that spoiled food, body odour, and mold are a few of the reasons a house stinks.  The use of overpowering and fake smelling fragrances are not the solution, though, to eliminate any malodor.  Prudence to change kitchen and bath towels, as well as rugs and kitchen sponge will keep the moisture away.  Bringing in plants is another way to freshen the air at home same with disposing of the garbage appropriately.  But more than doing it naturally, I have discovered and experienced the cutting edge technology in Mia Maison Odour Away.  It can break down the chemical composition of bad smells – not masking them but eliminating them.  And every time I turn on my Oyster Atomizer, everyone who comes to our house asks what our secret for that fresh air-feel is.
Momi Berlin Directory
Mia Maison Website | Facebook | Instagram