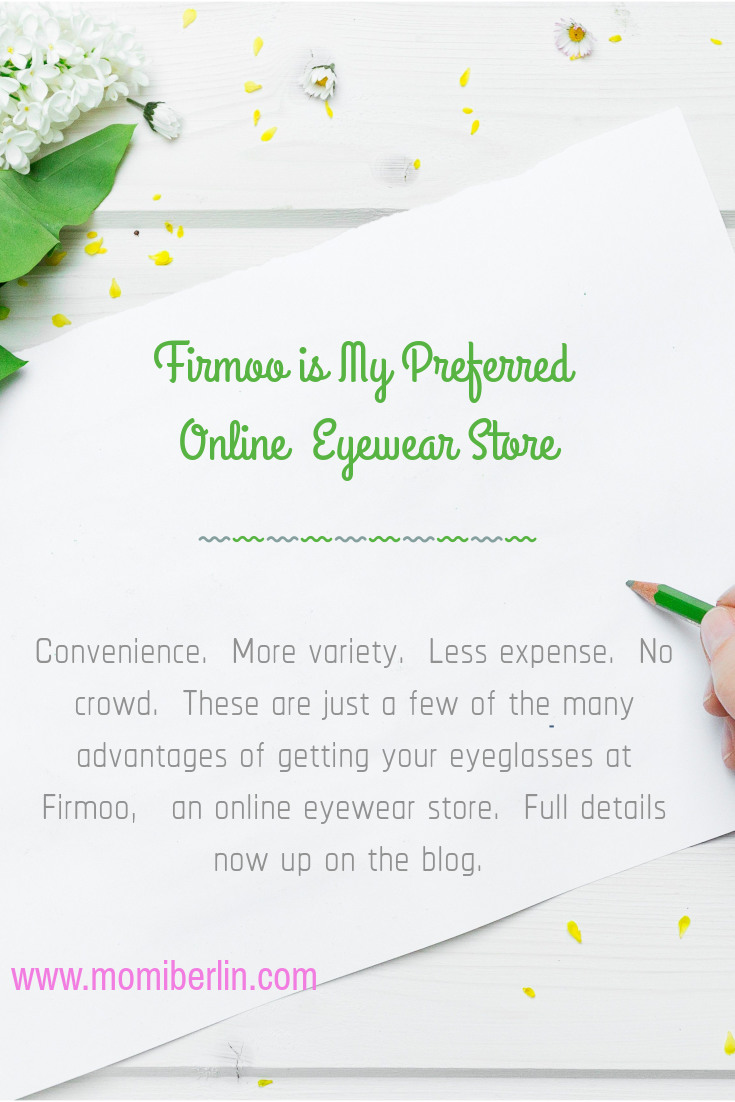 Even if I spend half of my life looking for my eyeglasses, I still prefer them than contact lenses. For one, there's no need for me to worry about removing my contacts before hitting the sack or washing my face.  
Have to admit, though, that when I was younger, I prefer contacts than specs.  I always find myself looking older than my age when wearing eyeglasses. I also do not like it when my glasses fog up.  They aren't the best choice, too, for sports activities.  
But as I age and more family responsibilities add up, I find eyeglasses convenient to use. I will just put them on and go.
Advantages of Eyeglasses vs. Contact Lenses
I can easily take my eyeglasses off or put them on any time I please. An eyewear doesn't need any particular cleaning solution either. I must say, with the lifestyle I have, eyeglasses serve me better than contact lenses. 
Another thing I love about eyeglasses is the variety of frames available to fit my style. I don't need to change the frame, too, as often as disposable contact lenses.  
I have come to see eyeglasses as a great accessory.  Just like how I wear my earrings and watch.  
Advantages of Online Shopping for Eyeglasses
Recently, two of my boys had flu.  I was down with flu as well that we hardly go out. This mother was also experiencing persistent headache, and I know the culprit. I have been without eyeglasses for weeks now.  Our little toddler played with the frame and broke it. In moments we can't go out, how can we buy a replacement? 
In this time and age when we can buy almost anything online – medicine, diaper, and groceries – I tried to look for an online shop selling eyeglasses. Lo and behold, I discovered Firmoo.com.
At first, I had hesitations making an order online.  How can I guarantee the quality of the items? More so, how would I know if the frames fit perfectly? 
Advantages of One-on-One Service at Firmoo
Curiosity led me to try Firmoo.  And I must say, the ordering process wasn't a struggle.  There was an option to upload my picture so I can see how the glasses look on my face.  For the right fit, I need to enter the distance between my pupils (the two black circles in the center of each eye).  There is a straightforward instruction on how to calculate the PD or Pupillary Distance (distance between the pupils in millimeters).  Getting the PD is very important for accurately fitting the lenses to achieve vision acuity.  For prescription glasses, on the other hand, one just needs to submit his eye grade. 
One-on-one service
The whole ordering process took about half an hour.  I spent so much time "trying" and choosing the right frame color and style for myself. And I must say, it felt more liberating checking on frames and trying them on with no one by your side.  There is no need for me to ask the eye doctor to get the frame out of the glass cabinet and choose from the several options before me. 
Detailed Specs
Choosing my specs' features was just as easy as deciding the frame and color I would like.  It was only then when I learned about the many lens types such as photochromic, blue-light blocking, polarized, and tint.  The blue-light blocking lens, for instance, is highly recommended if one is on the computer every day. There are lenses with a special coating, too, and also with designs to protect the eyes from the harmful sun's rays.  I feel at ease reading the difference between the lenses and other eyeglasses features.  If I have doubts or concerns, I could always message the customer service through live chat.
Comfort
Same with online shopping, it is way more convenient to order eyeglasses through the world wide web.  One has the liberty to "fit" all the frames on display without the curious glances of bypassers and even the ophthalmologist or eye doctor. One saves time, too, on traveling to the shop.  And the best part is, one saves money. Consumer reports say that online shopping gives about 40% savings. This is because one saves transportation expenses, human resources, store maintenance, and storage fee.  
Advantages of Firmoo Service
I love the eyeglasses I got from Firmoo.  Just by looking at it, one knows that they are made of quality material. I am also happy with the style as it perfectly fits my personality.  I just love the color, too, breaking the monotonous or too solid one tone. 
I got my new eyeglasses a week after I made my online purchase.  Added points to Firmoo for sending email messages to update me about the progress of my order.  I likewise received a confirmation email that my eyeglasses is scheduled for delivery. 
Convenience
More than the satisfaction of comfortably shopping even while in my pajamas and no lines to wait to assist me with my purchase, online shopping gives me that opportunity to buy at any time I would want to.  
More Variety
Firmoo has a lot of choices.  One gets to see even the latest international trends without spending money on airfare and being in that place. Firmoo's headquarters is in New York, New York, but I got to shop there for a few minutes.  Simply, online shopping has no geographical limitation.   
Less Expense
The eyeglasses I got is cheaper than the one I had years ago.  But I must say, the quality of my new specs is way ahead of my old one.  Plus with online shopping, there are no more eating out, gasoline expense, and other impulse buying.  At Firmoo, in particular, I've got to save up to 90%.  There is no added cost for the store maintenance, workforce, and even storage.  
No Crowd
One thing I don't enjoy about going to the mall is looking for a parking slot.  But with online shopping, there is obviously no crowd at all.  I got to enjoy Firmoo's real one-on-one service. 
But what I love the best with my Firmoo experience was the discreet purchase.  Sometimes, there are some things better done in the privacy of one's space.  I got to shop quietly without any interruption from anyone unless my toddlers are awake and would want my attention instead.   I can choose the style I want, the color I prefer and even "fit" all the eyeglasses available without the judging eyes of other people.  Best of all, I need not deal with sales staff who would often check on me and my purchases. 
Firmoo is My Preferred Online Eyewear Store
If online eyewear shopping is also your thing, Firmoo has an ongoing promo.  Buy 1 Get 1 for FREE eyewear for as low as $19. Hmmm, this gives me an idea to gift my two teenagers a new pair of specs. 
Love to check out the different eyeglasses Firmoo offers?  Click the promo text for the buy 1 get 1 for free offer.  http://bit.ly/FirmooFBbogo