[tweetshare tweet="A strong relationship requires choosing to love each other even in those moments when you struggle to like each other." username="IfZgcz8ZKo14VSCu3y8ejhrBGaCG*R!N:1:0″]
About three weeks, I turned my back to my husband. He was somehow obliging some things I could not easily deliver given the two toddlers I always look after. Not to mention, I have three school boys to take care of and a house to manage. So instead of answering back, I went out and bought pandesal. It was an opportunity for me to walk, catch some fresh air, and brush off any negative thoughts.
Husband was quite in the mood to pick a fight. He messaged me, accusing me that I was running away from any confrontation. I messaged back that "I am not running. There is no reason to argue with you. I don't want us to fight; thus I left."
After a few hours, I got a message from him again.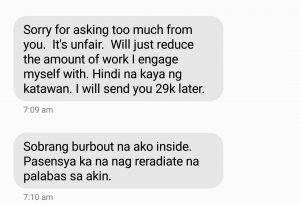 Real motherhood is messy
As husband feels the pressure of providing for his family, he must have forgotten I am also in constant pressure in taking care of our five boys, our house, and other things. I might be so good at hiding my exhaustion and frustration that he might have thought I am living an easy life. But the reality is, I believe many moms like me are constantly under pressure. I, too, sometimes expect myself to be perfect in taking care of my kids. Having been a homemaker for quite some time, I must already know how to keep everything perfectly neat and tidy.
But the reality is, [tweetshareinline tweet="real motherhood is messy." username="IfZgcz8ZKo14VSCu3y8ejhrBGaCG*R!N:1:0″] And moms should be free of this crazy standard – because just getting the mom job done is hard enough.
Tang pays tribute to real moms
There is one brand that sees and understands what moms go through.  As a brand that champions Filipino moms, Tang pays tribute to all mothers. The brand empowers us, moms, to be real and to embrace the beauty of motherhood despite its mess and imperfection. Tang believes it is more important that moms stay true to themselves and are proud of their unique way of parenting. After all, parents know what is best for their children.
[tweetshareinline tweet="As there's nothing wrong with wanting everything to be perfect, sometimes, it is what hinders and pressures moms to give their best." username="IfZgcz8ZKo14VSCu3y8ejhrBGaCG*R!N:1:0″] [tweetshareinline tweet="Those picture perfect Instagram and Facebook posts may seem too perfect, but behind those are messy realities, too." username="IfZgcz8ZKo14VSCu3y8ejhrBGaCG*R!N:1:0″]
I recently attended an event and met Tang Ambassador Saab Magalona – Bacarro. She shared one advice to moms who feel the pressure of being perfect. "There's no such thing as perfect, and you have to remember not to compare yourself to what you see online and to other moms. Some people wanna post what looks good and perfect online, but behind those are realities not captured online."
#RealMomsGetItDone
I love what Tang would want to share. Motherhood has evolved, and it's not picture-perfect. We must embrace the fact that there will be cracks along the way and that's okay.
Furthermore, Tang encourages moms to break free from the pressure of perfection – just be real and get things done.  To further stress this, the brand created a #RealMomsGetItDone photo series that highlights the contrast between the expectations and realities of motherhood. It celebrates real and unfiltered motherhood and aims to empower moms to be themselves. The gallery was mounted at Glorietta 2 Activity Center last March 27, featuring real moms. A few of these real moms are Saab Magalona-Bacarro, Delamar Arias, Rosebud Benitez, Janice Villanueva, Anne Clutz, and Nicole Hernandez-de Los Angeles.
[tweetshare tweet="Don't compare yourself to other moms.  We are all losing our shit.  Some women just hide it better than others." username="IfZgcz8ZKo14VSCu3y8ejhrBGaCG*R!N:1:0″] (read this somewhere)
I would want to end this narrative with something I learned from the event.  [tweetshareinline tweet="Allow yourself to celebrate motherhood minus the filter." username="IfZgcz8ZKo14VSCu3y8ejhrBGaCG*R!N:1:0″] Welcome the messiness and imperfections of motherhood. That despite the tough responsibilities and mess that comes with being a mother, we get the job done.  So again, it is okay to fall; just know when and how to stand up. It is fine to get tired and cry the same as forget to give the kids their vitamins or let the sink full of dirty dishes.  [tweetshareinline tweet="Remember, despite all the failure, mess, and shortcoming, real moms get it done." username="IfZgcz8ZKo14VSCu3y8ejhrBGaCG*R!N:1:0″]
Momi Berlin Directory
Tang Philippine Facebook