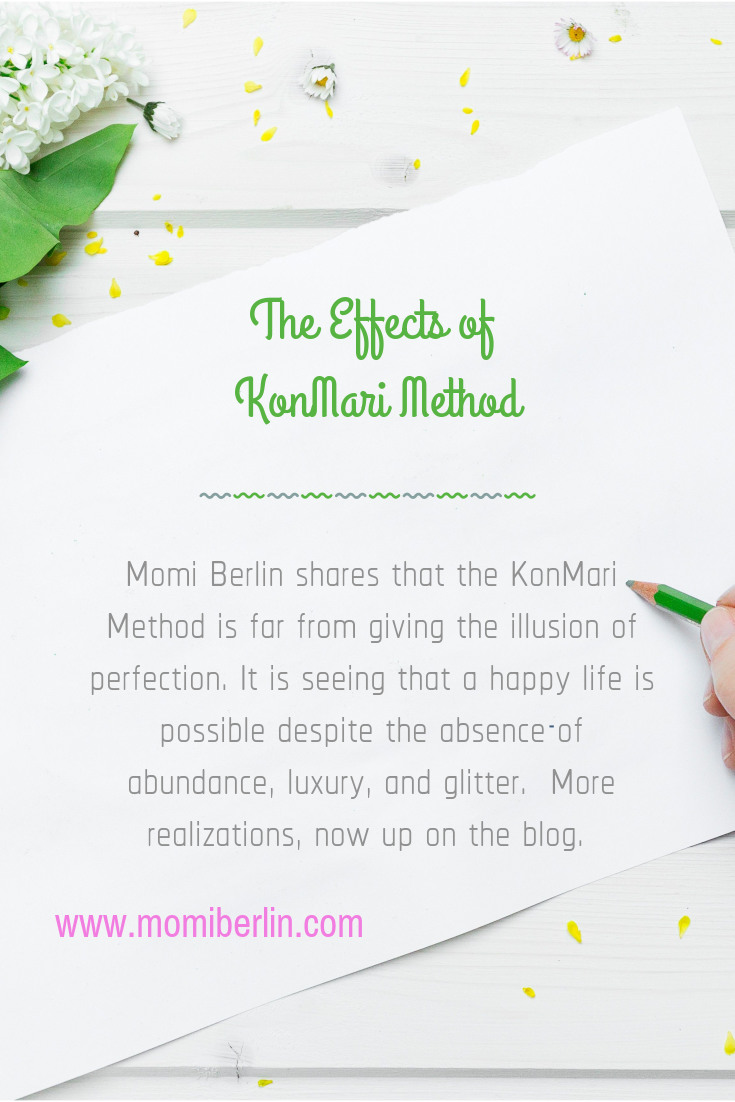 A few months ago when Marie Kondo became an instant celebrity because of her Netflix show "Tidying Up with Marie Kondo," about half of my friends were into the KonMari Method.
Out of curiosity, I Googled Marie Kondo and a few of her " that sparks joy" works. Initially, I wasn't impressed. As I told my friend, I have been tidy with my things and our house for years. What perhaps seems unique was the way this best-selling author and acclaimed tidying expert folds clothes. Rather than laying things flat in a drawer, the clothes stand upright. And the more folds there are, the less wrinkled the items will be.
I still didn't follow such a principle. This mother felt she was too occupied with her five boys and household chores to rearrange things in the dresser.
Until I saw myself attending the "Applying Konmari and Montessori at Home Workshop."
I was so confused that day I would want to divert my thoughts into something else. An invitation to attend the workshop surfaced, and so I went.
The next thing I know, I am eager to choose and welcome joy into my life the KonMari way.
KonMari your Bag
Leading the participants determine if such item sparks joy is KonMari consultant-in-training Renelyn Tan-Castillejos. She first asked us to remove everything inside our bag. She mentioned that the best way to start the KonMari Method is in our bag. The items inside our purse reveal a whole lot about our personality – from our cleaning habits to our preparedness. So we were asked to take out everything and throw items we think we no longer need and do not spark joy.
I didn't throw anything at first. For me, the pantyliner, nail cutter, and other things (I seldom use) found in my bag measure my preparedness for unforeseen circumstances. But I later grasped the idea that what I must hold on to are things that matter. That way, I will not only be able to live life lighter but also happier.
The Effects of KonMari Method
The very same effect Castillejos experienced the first time she embraced the KonMari Method. She considered it as life-changing that she wants to share it with everyone. The KonMari Method made her husband and herself "more peaceful, more loving, and kinder." She thought that "if more of us try to live with important things, then maybe, the world would become kinder and more peaceful, too.
Castillejos showed through example the difference between cleaning and tidying. She likewise stressed how tidying could change lives, starting with our own. Thus, the whole what's inside my bag activity.
As Castillejos pretty much tackled some KonMari Methods, I will focus on the effects of tidying.
See the Essentials
I agree with Castillejos that the beauty of tidying goes beyond a clean home. [tweetshareinline tweet="Once we remove the clutter, we tend to see the essentials." username="IfZgcz8ZKo14VSCu3y8ejhrBGaCG*R!N:1:0″] We are filled only with the things we genuinely cherish and value, thus making us happy. And that happiness radiates within us spreads like a virus until everyone is beaming with delight.
Strength to Transform Life
Being surrounded with everything that brings joy, you are all the more eager to embrace further challenges. This eagerness comes from your desire for greater self-discovery and fulfillment. With a joyous spirit, your aim for a vibrant home and a less dramatic relationship, until your principles and perspective are transformed positively.
Embrace your Ideal Lifestyle
With an objective to be surrounded with things that spark joy, you become accustomed to the idea of happiness. Decision-making isn't confusing anymore as you are confident to gear towards everything that brings joy. Happiness becomes your lifestyle that complicated, unruly thoughts and practices aren't welcome.
Spark Joy
As the KonMari Method becomes your state of mind and way of life, you begin to cherish things and relationships that spark joy. You are your optimistic self, always seeing the silver lining even in the most gruesome things.
Castillejos named her KonMari consultancy Yorokobi which means "joy" in Japanese. After all, the core principle of the KonMari method is to hold on to things that spark joy. And Castillejos radiates this cheerful and very calming personality in her every word spoken and action taken.
The Impact of KonMari Method to Momi Berlin
Here I am in my room, first time to do the KonMari Method. This method is far from giving me the illusion of perfection. It helps me understand and see that [tweetshareinline tweet="a happy life is possible despite the absence of abundance, luxury, and glitter" username="IfZgcz8ZKo14VSCu3y8ejhrBGaCG*R!N:1:0″].
Before I end this narrative, allow me to share with you a few inspiring phrases I learned from Castellejos.
On letting go
Konmari isn't throwing things away; it is letting go of items that don't serve life's purpose.

Do not wait for a slimmer you to wear that fab dress. Give it away if it's too small. You might not lose weight anyway. But if you do, celebrate and buy new clothes.

If they do not spark joy, declutter and let them go

[tweetshare tweet="Be courageous to let things go." username="IfZgcz8ZKo14VSCu3y8ejhrBGaCG*R!N:1:0″]
On spaces
[tweetshare tweet="It doesn't mean that if there is space, you need to fill it." username="IfZgcz8ZKo14VSCu3y8ejhrBGaCG*R!N:1:0″]

Don't make a museum out of your home.
On the now
[tweetshare tweet="Don't wait for a special occasion; use your most treasured bag or chinaware." username="IfZgcz8ZKo14VSCu3y8ejhrBGaCG*R!N:1:0″]
On your identity
Find your inner you; you need not copy other's house.
On practicality
Want to start the KonMari Method? Do not buy new containers and drawers, learn to repurpose things.
On influencing others
Do not force the KonMari Method to loved ones. Just do it for yourself. Your happiness will radiate, and others will see the glow in you. That's the time they will be interested in trying the method as well.
On you
[tweetshare tweet="The KonMari Method is not mere cleaning your house, but changing your habit." username="IfZgcz8ZKo14VSCu3y8ejhrBGaCG*R!N:1:0″]
Momi Berlin Directory
World of Yorokobi Instagram