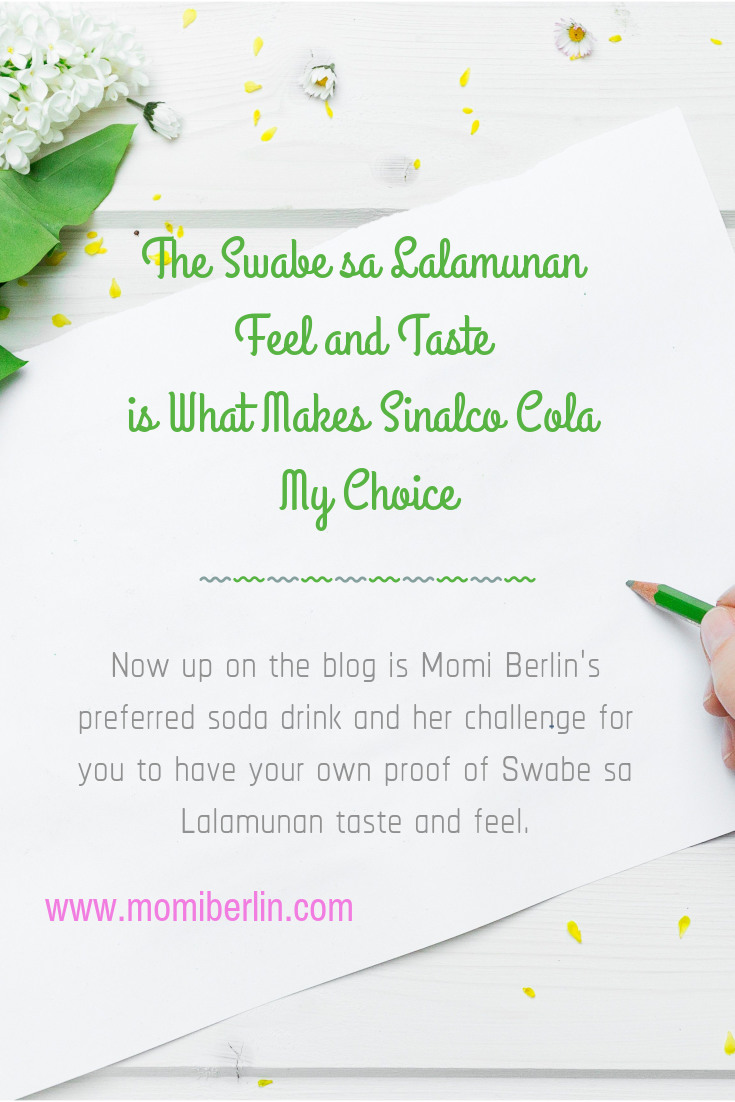 I am not a soda person; thus I discourage my children from drinking one. I love fruit shakes more than any carbonated drink. Or I would prefer iced tea next to the water. This mother always finds a cola beverage the unhealthy option.
If we have anything grilled for lunch or dinner, we, however, would have soft drinks on our dining table. And my boys would always associate having those drinks like a big feast already. Perhaps because we seldom have carbonated beverages at home.
Carbonated Drink is Rarely an Option
Not until we tasted something new.
My husband came from a reunion. He mentioned a new soda brand he happened to taste. He can't articulate how to better describe this cola than "swabe sa lalamunan."
I didn't give much notice to his kwento. Soda beverages didn't interest me.
Then he brought home a few cases of the carbonated drink he was making bida. We had pizza and pasta that day so the boys enjoyed them with the new cola drink. However, there weren't pizza and pasta anymore, and yet I have noticed I keep on refilling the ref with a stock of that soda in can. The boys must have been enjoying the drinks very much that I need to remind them of the unhealthy benefits of carbonated beverages. Before my sermon, though, I grabbed a jar of cookies and a can of Sinalco Cola. Time to give my verdict.
The Carbonated Drink with No Alcohol
The taste of Sinalco – the soda drink husband brought home for us to try – isn't too overpowering. And I couldn't agree more with husband's description that this soda drink is swabe sa lalamunan. It doesn't have the intense flavor nor leaves that tingly sensation that hurts my throat whenever I drink the more popular choice. It gives a genuinely refreshing feel especially when ice cold. Surprisingly as well, it doesn't hurt my stomach nor gives me that bloated feeling. Sinalco is way better tasting than any the carbonated drinks.
From readings, I learned that Sinalco is the oldest soft drink brand in Europe. It was first marketed in 1920 and was produced by Sinalco International Germany. Its name is from the Latin word "sine alcohole" which means "no alcohol."
The Carbonated Drink of Our Choice
In 2017, Euro Interbev Corp brought the brand to the Philippine market. In a country where its people have soft drinks almost every meal, I think Sinalco has excellent chances to establish its following. Banking on its uniquely distinct taste and the use of natural sugarcane sweetener, Sinalco will surely find its niche market.
And how I wish more people will come to know, search, and taste Sinalco Cola. It changed my outlook about the carbonated drink.  I bet, once you've tasted it as well, you will surely drop your favorite soda and favor Sinalco. This doesn't mean though that I now drink carbonated beverage every meal. I still prefer water than any soda. But if I am to choose among the sea of carbonated drinks, I would always opt for Sinalco.
In a country where drinking soft drinks have become a blue-collar tradition, it is easy to distinguish the soda that gives such excellent taste. But don't take my word for it. Grab a can now of Sinalco at the nearest 7 11 or select supermarkets like Puregold and have your own proof of swabe sa lalamunan taste and feel.