Philippine Bonsai Society and SM Supermalls Partner in Bringing Green Malling Experience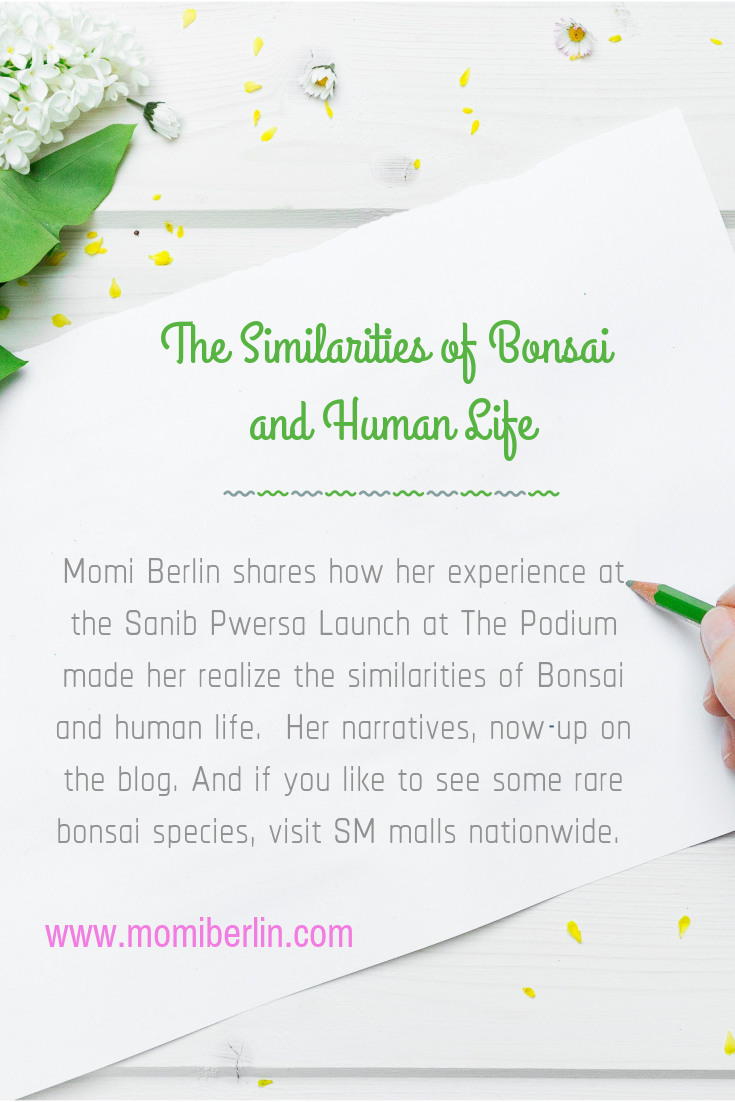 This mother believes that that best way to teach kids about life is to show how we live it. Of course, it helps as well if there are constant reminders aside from our guidance.
Just this afternoon, I visited The Podium at Mandaluyong City. There are beautiful and impressive bonsai arts on display on the ground floor and second level of the mall. As I look at each plant, I couldn't help but equate bonsai pruning to navigating life.
How is that possible? Let me go slow.
A vision for a bonsai
A bonsai is a shrub or tree grown in a pot and is prevented from reaching its standard size through regular trimming. Some bonsai collectors include creative styling in dwarfing their tree. Others perhaps apply real-life pointers to make their bonsai a work of art.
In growing a Tugas (Molave), for instance, we need to set a picture in our mind how we envision the tree to look like. That look is most likely our vision for the plant. Same with living a purposeful life, we need to set a vision. Everyday struggles may tempt us to give up, but again, to live our purpose, we need to stand up for our vision.
Trimming the Tugas needs a direction to achieve the look we envision it to have. We can't snip away aimlessly as if removing a sheep's wool in all direction. Again, there should be a vision. And to achieve that vision, we need to apply discipline and be in control.
Bringing the green malling experience
I heard and saw that discipline from the bonsai enthusiasts and experts I met at The Podium that same day. Many of them narrated that growing a bonsai isn't a walk in a park.  One must be in control of the hands holding the pruning tool and has the discipline to do it regularly. 
These enthusiasts are part of the group called Philippine Bonsai Society, Inc. (PBSI).  The group started in 1973 as an informal organization of enthusiasts until they became a non-stock, non-profit association in 1975.  Now, PBSI is internationally recognized with close to 500 active members.  Their followings are growing especially in the provincial bonsai clubs.   
PBSI members are at The Podium to witness the launch of Sanib Pwersa, the partnership between their group and SM Supermalls.  The two giant bodies join forces in promoting their environmental advocacy by bringing the green malling experience to the mallgoers.  Aside from the exhibits, there will be shows and workshops to be led by local and international bonsai experts. 
A purpose of teaching my boys about life 
As Sanib Pwersa also aims to elevate the bonsai art to a broader audience, exhibits and shows across all SM Malls in the country are scheduled in the coming months.  And this March 22 to 25, three Japanese art disciplines will be featured at the event at the SM North EDSA.  There will also be rare bonsai species on display same with a genus of over 700 species of edible fruit trees and evergreen trees and shrubs. 
Upon hearing this, I made a mental note to bring my boys at SM North EDSA on either March 23 or 24.  I would want them to see the beauty of a bonsai.  Likewise, I want to explain to them through the exhibit that life, like bonsai, is a constant learning experience.  We grow beautifully following a vision we have in mind and taking in control to live on purpose.  
Are you interested to see some of the most beautiful and rare bonsai species? SM Supermalls will start displaying them in the coming months.  You may also visit The Podium or SM The Block North EDSA to jumpstart your bonsai exhibit viewing.  Or for more information about bonsai arts and the SM Supermalls-PBSI partnership, visit www.smsupermalls.com.