Momi Berlin Discovers a Refreshing Soft Drink Option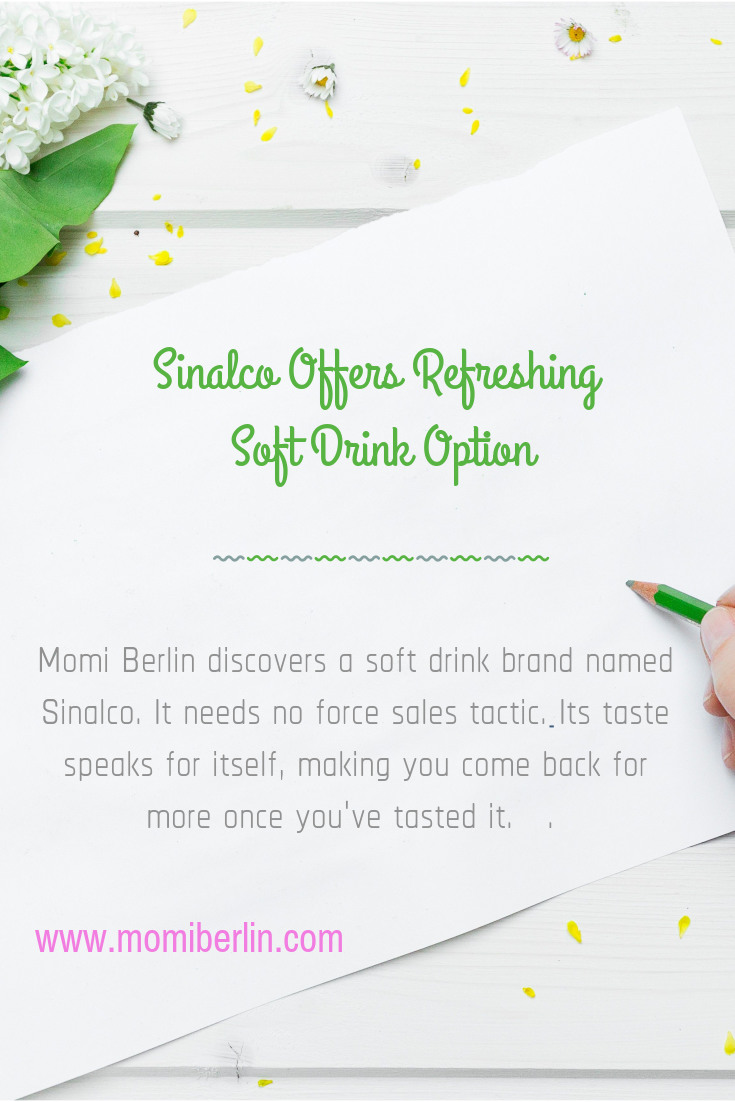 We seldom drink carbonated beverages at home and even outside. We do not want our boys to get used to their taste. For one, a soft drink isn't a healthy option. It typically contains carbonated water, lots of sweeteners, and artificial flavoring. I also do not like the idea of a carbonated drink containing caffeine, preservatives, and other strange ingredients.
One day, though, husband went home with a few cases of a new soft drink brand. The boys were excited to have a taste of it. We even grilled pork chops to go with the new cola. It has become a practice that whenever we have grilled meat or fish, the husband would ask one of the boys to buy soft drinks at the sari-sari store near us. I never like carbonated beverages but they are refreshing, and our grilled food tastes good with it.
A refreshing alternative to carbonated drinks
The new cola's name is Sinalco, and I must say, it tastes different from other soft drink brands. Its taste isn't too overpowering, not giving me that strong attack and intense flavor as it goes down my throat. It doesn't have the citrus fruit flavor and aroma nor that vanilla-raisin kind of taste. Drinking Sinalco creates a pleasant, refreshing feeling that doesn't leave a tingly sensation on the tongue. It is best served cold.
Saying having tasted Sinalco changed my mind about the carbonated drink is an understatement. But honestly, this German soft drink brand can be a real game changer. Its taste is excellent. The Sinalco Cola is from natural sugarcane sweeteners, thus its distinctively unique flavor. Drinking it as well doesn't leave one with a bloated feel.
Sinalco's smooth and light taste
Its name is derived from the Latin word sine alcohole which means "without alcohol. " It is also the oldest soft drink brand in Europe – it was first marketed in 19020 – and is produced by Sinalco International, Germany.
Sinalco first came in the Philippines on December 2017 and is solely distributed in the country by Euro Interbev Corp.  Though the brand is known internationally for its natural refreshment drink concocted from tropical and local fruits, Sinalco Cola is yet to find a place in the Philippine market. But with its smooth and light taste, no doubt it may soon find its niche and the rest, as they say, is history.
The taste that speaks for itself
Honestly, Sinalco Cola isn't hard to market. It doesn't need force sales tactic. Its taste speaks for itself, and surely, you will come back for more once you've tasted it. And with the Filipinos' mind-boggling love for soft drinks (consuming more than 1 billion liters annually), Sinalco Cola can give the more popular soft drink brands a run for their money. What it needs is brand awareness. Its presence should be consistent in convenience stores and supermarkets nationwide. But with just a year in the market, many have already experienced Sinalco and most reviews are positive. The brand's marketing team must be doing an excellent job.  And the brand itself leaves quite an impression on the consumers.
As this post reaches you, I urge you to try Sinalco products. They are readily available at 7-Eleven stores nationwide and in some leading supermarkets, such as Landmark, South Supermart, Makati Supermart, Puregold (Lifestyle), Sta. Lucia, Freshto, Hitop, and Iloilo Supermart. You deserve only but a high-quality brand with an equally rich product portfolio and history.
Momi Berlin Directory
*Momi Berlin didn't receive a monetary payment from blogging about Sinalco.  All opinions are her own.