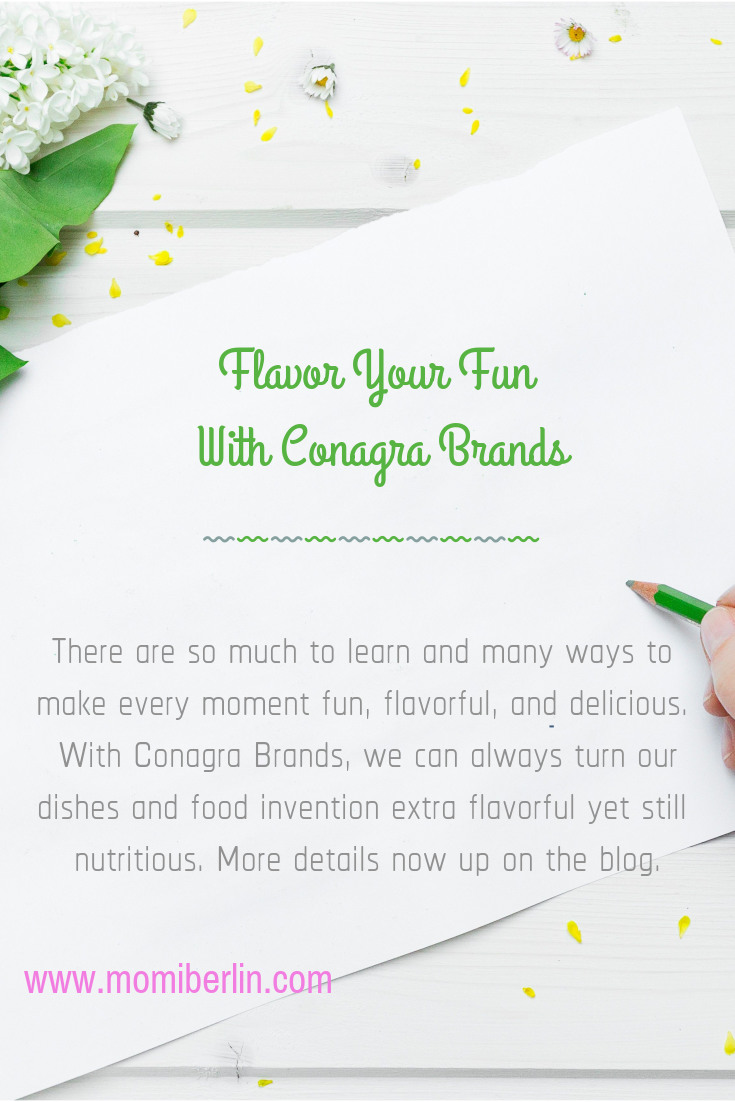 In our household, we always do grocery shopping as a family.  I mean, though the boys are all acting grown up, they still join their parents in visiting our favorite warehouse or supermarket. They have their brands, and they also know what their family loves.  Thus, on our trips to the supermarket, it is not just about crossing items off our list – it's about recognizing and respecting what the family loves.
Recently, my third and fourth boys joined their mother in the special block screening of Ralph Breaks the Internet at Bonifacio High Street Central Square Cinemas.  The delectable snack food served there were all Conagra Brands.  I am not too familiar with the name per se, but when I saw the quality products displayed within the cinema hall, some were items we usually have in our pantry.  Conagra Brands is one of North America's leading packaged food companies with beloved brands including Hunt's tomato products, Libby's Vienna sausage and corned beef, PAM cooking spray, Peter Pan peanut butter, Act II popcorn, Snack Pack pudding and gels, Reddi Wip whipped cream, and Blue Bonnet margarine.  Most are the very same items we put inside our shopping cart. Funny that we know the products by heart, but never it occurred to us to see the company behind them. Some are familiar products, too, that we never had the chance to try.
At the special block screening, we got to sample more of Conagra Brands' delicious and fun treats.  We also met Conagra Brands' team of mom ambassadors who shared their inventive twists on their family's food favorites. I love the idea of showing off what they usually serve their loved ones.  It gives me an idea of how I can take my boys' favorites even further and get them to spend time with their family in delicious ways.  
Flavor Your Fun with Cheska Garcia Kramer
Hunt's pasta sauce
Cheska Garcia Kramer graced the event and shared how they love pasta and ribs on romantic evenings. Hunt's Pasta and BBQ sauce are her go-to for quick and easy solutions in the kitchen.  And yes, I tried the pasta sauce at home, and I never thought my boys would love the not so usual spaghetti we had. We also had a few chicken chop for dinner and used Hunt's BBQ sauce.  I am telling you – my family referred to what we ate as restaurant-style dishes.  For the first time, I felt like I'm a real chef!  I am making a switch to Hunt's from now on.  
Act II popcorn
Cheska also shared that she loves serving Act II popcorn every time they watch a movie at home.  Honestly, whenever we gather by the den and watch a new flick, we share chips and burgers.  Never did it occur to me to even make popcorn.  And admittedly, munching on a bowl of popcorn is an instant, easy way to make the living room feel like a cinema.  Again, I learned something new from Cheska that day and will try the Act II popcorn trick at home.  
Flavor Your Fun with Danica Sotto Pingris
Libby's Vienna Sausage and Libby's Corned Beef
Actress and rising YouTube chef Danica also shared her sweat-free mommy ways to let her two school-age kids enjoy snacking.  She admitted finding Conagra products as a worthy addition to her kitchen arsenal. The lovely actress is familiar with the task of preparing baon for her children every day. She never runs out of Libby's Vienna Sausages and Libby's Corned Beef.  This removes my guilt of serving sausages and corned beef to my boys whenever I can't think of food to prepare.  Sometimes, too, we just eat Libby's Vienna Sausage in the middle of the night when we feel like just eating. But after the special block screening event, I learned of new ways to prepare our Libby's favorites.  I can do sausage rolls and even corned beef pandesal to break the usual just fry thing.  
Snack Pack
A new discovery was the Snack Pack which certainly makes any mealtime more exciting and fun.  Danica related that she finds herself reaching for convenient and delicious Snack Packs to make lunchboxes both fun and healthy for her two kids.  When I brought a few samples at home, my two toddlers love the Snack Pack juicy gel so much that they can have three servings in one sitting. This healthy juicy gel comes in a convenient one serving pack.  To add extra flavor, one can always add in fresh fruits, giving the kids the nutrition they need.  
Peter Pan peanut butter
Another discovery is the Peter Pan peanut butter.  Danica mentioned that when it comes to preparing snacks and desserts for the family, Peter Pan peanut butter is a favorite. She finds the spread too versatile that she can make it a dip for her homemade granola bars, spread it on pancakes or simply put it on her bananas. 
When we were watching Ralph Breaks The Internet, I find the peanut butter as an enjoyable dip to my crackers.  My toddler, on the other hand, enjoyed dipping his popcorn on a plateful of Peter Pan.  I admit, we prefer another brand of peanut butter, but after tasting Peter Pan, we will make a switch.  
Flavor Your Fun with Xandra Rocha Araneta 
PAM Cooking Spray
Model and food enthusiast Xandra relayed that when she bakes for her family, she loves how convenient it is to have products like PAM Cooking Spray handy.  With just a couple sprays of PAM on the pan, her baking sessions are hassle-free!  Add to that, she finds Conagra Brands products with the perfect balance of indulgence and nutrition.  
Blue Bonnet margarine and Reddi Wip
She also uses Blue Bonnet margarine as a great alternative to butter.  And to complete her baked cookies, she always tops them off with a generous dollop of low-calorie Reddi Wip.  Sadly, we weren't able to try these products at the event, but I made a mental note that I will include them in our grocery list.  
Flavor Your Fun with Conagra Brands
I am blessed to grace events such as the one prepared by Conagra Brands.  Moms like me get to discover new products and also learn from fellow parents especially about food preparation.  There are so much to learn and many ways to make every moment more fun, flavorful, and delicious.  And I thank Conagra Brands for bringing to us such opportunity.
Momi Berlin Directory
Conagra Brands Website