Momi shares her pawning experience at Cebuana Lhuillier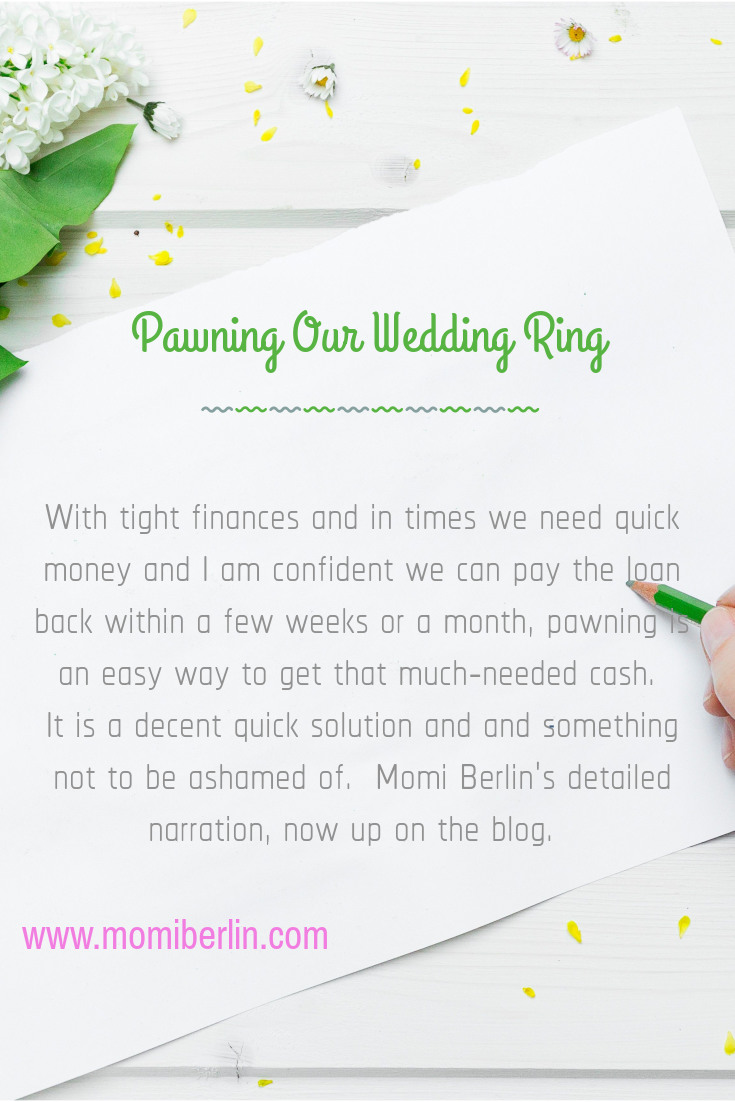 It was April 4, 2002.  I got a call from my boyfriend.  He told me to dress my best, and we will go somewhere. 
I obliged and waited for him.  He arrived at our house a little late than his promise.  My mom just left so I wasn't able to tell her I will be off somewhere with my boyfriend. 
We traveled to Marikina City Hall.  He explained to me on our way to the city hall that we are scheduled for an 11 am civil wedding.  But when we arrived at the court, the judge who will officiate our union was already out for lunch.  The assistant told us to be back by 1 pm.  She also reminded us to ready our wedding ring.
The wedding ring 
We didn't have a ring.  What we had was the childhood ring my father gave me when I graduated from elementary.  It has a letter B design which stands for my name Berlin. 
We went to the nearest pawn shop and checked on some wedding bands.  We cannot afford two rings, thus bought only one for my boyfriend.  I used my ring instead to symbolize the union.  
The challenge
Last two weeks was one of the most challenging days of my life. My husband had difficulty moving around.  He can't stand up even for a few seconds.  He walked crawling with his hands and knees.  It was a painful sight to behold.  
He relayed to me it happened to him once when we were in college.  His condition is called potassium paralysis.  It is when he experiences muscle cramps and spasms.  It occurs when the potassium level of a person is low in the blood. From my readings, I learned that when blood potassium levels are low, the brain cannot relay signals as effectively. This results in more prolonged contractions like muscle cramps.
The struggle 
Timely, too, that on those weeks that my husband had difficulty moving, our three boys are about to take their first-trimester examination.  And just like most schools, students cannot take up their examination without first settling the tuition fee balance.  
That perhaps is the struggle of a large family.  Even though the parents are too industrious, the bills payment, school obligation, and household needs are just too many.  
With a paralyzed husband, I didn't know where to get funds for the boys' monthly tuition fee. I didn't want to bother him with money concerns. He was having heart palpitations. His heart was beating hard and fast. I know that when one has some heart palpitation, it is commonly linked to anxiety.  And I don't want to bother him anymore. So I tried to solve the need to raise funds ASAP. 
The answer
I cried, clasped my hands, and prayed.  Then I saw the wedding ring we got from the pawn shop 16 years ago. 
It was my first time to pawn something.  I didn't want to ask for help from my mom or friends.  I understand that monthly obligations like school tuition fee should be given a budget.  We need to pay the school monthly, so the tuition fee isn't something that comes as a surprise.  But my husband just can't go out to collect payment from his clients.  The money he will get is what he intends to pay for the bills that month.
I went back to the pawn shop where we bought the ring 16 years ago.  I pawned the ring to them and gathered the savings I kept at home.  When I amassed the amount I needed to pay the tuition fee, I headed to the school and paid to the cashier. 
The discovery
Before heading to the familiar Cebuana Lhuillier Pawnshop, I went to two other pawn shops.  I had our ring appraised and discovered that among the three, Cebuana Lhuillier had the highest appraisal. I went back to Cebuana Lhuillier to pawn our ring. 
More than the high appraisal, I opted for Cebuana Lhuillier because I felt safe doing my transaction with them.  For one, they have a shop with a door and a security guard.  The first pawn shop I went to only has window grills.  Second, with Cebuana Lhuillier, the staff are in complete uniform, giving me the confidence that they are indeed working for the company.  Likewise, the Cebuana Lhuillier appraiser has a full set of equipment to check the jewelry.  Which points out why they have the highest appraisal.  They have a diamond detector which distinguishes a real diamond from a fashion stone only.  Given this, they include the value of the diamond or stone, unlike the two pawn shops that only can detect the value of the metal. 
The answer
My husband can now stand and walk but with support.  He still has some difficulty carrying our two little ones, but at least, he can move.  
Last Monday, he went to the construction site he is overseeing.  He relayed to me that a client also paid the balance for the building construction he designed a month ago.  Though late, we have the money to pay for the boys' October tuition fee and can even pay on time for the November billing.  That also means that I can return the savings I borrowed and even get back the wedding ring I pawned. 
The struggle 
Our life isn't a bed of roses. We had experienced energy bills built up and got disconnected because of a power cut. There were many times we weren't able to pay for school service and house rental payment on time. Many times, too, that I  feared my boys wouldn't take the examination because we haven't settled the tuition fee yet. 
The challenge
I guess those challenges will be with us for a few more years.  We have three high school boys and two toddlers.  It's only my husband who brings income to the family though somehow, I manage to bring a little from the writing and blogging gigs I was able to close. 
I am confident, though, that such test will not be forever.  By God's grace, we will surpass all these challenges.  And if there is one thing I learned from our recent struggle, it was not to be afraid to do what is right. 
The wedding ring
That day when I cried, clasped my hands and prayed, I saw the answer to my immediate need for money – pawn our wedding ring. 
From my recent experience, I know that in a perfect world set up, I wouldn't dare give up the only wedding ring we have. I don't consider a defaulted pawn loan and in the process, a lost wedding ring as well. But with tight finances and in times we need quick money and I am confident we can pay the loan back within a few weeks or a month, pawning is an easy way to get that much-needed cash.  It is a decent quick solution and something not to be ashamed of.  
Momi Berlin Directory
Cebuan Lhuillier Facebook | Instagram