Momi Berlin Says Kaya Na! with Cebuana Lhuillier Micro Savings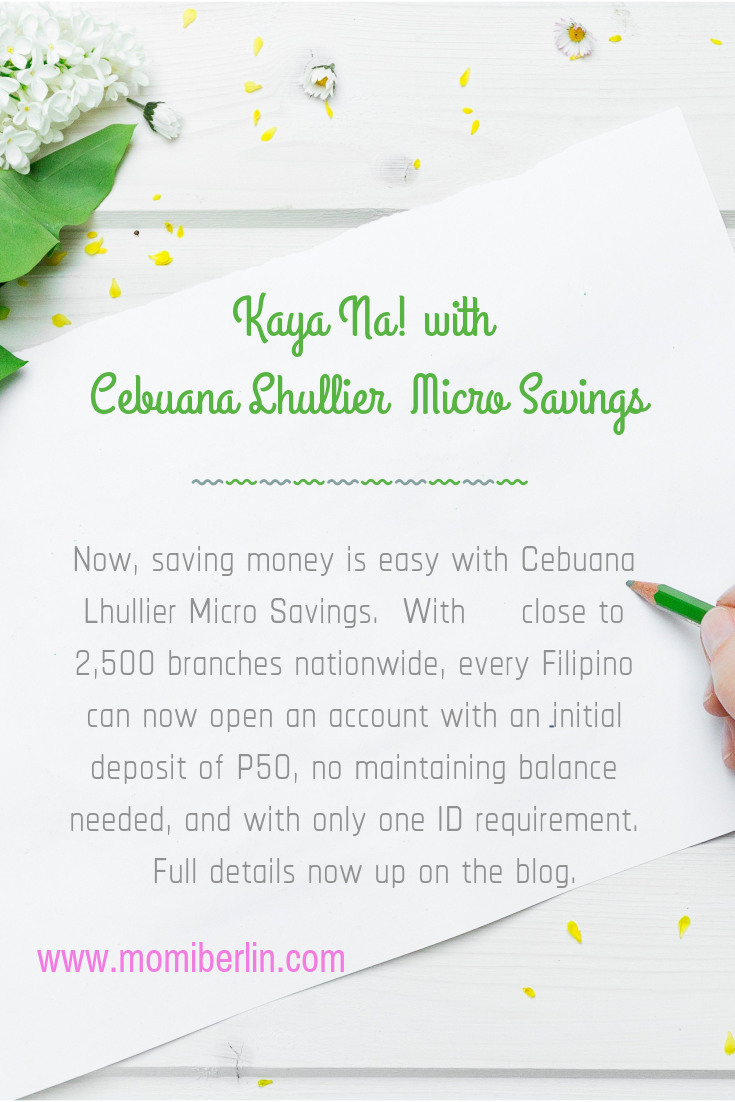 His dream is for every Filipino to have a savings account. This dream, though, maybe somehow intimidating for those who do their budget yet aren't sure how much money will be coming in. The same idea may appear non-sense for those who buy anything they fancy and do the prioritizing and saving later in life – until it was too late.
The Two Filipinos
Let us first meet these two types of individuals.
There are Filipinos who have a job and a steady income, yet find it hard to save or worse, open a savings account. They seemingly end up always staring at the bottom of the barrel, broke and crawling to payday.
Such a situation may be a choice to live life to the fullest and enjoy all the resources they got. After all, they believe that life should be appreciated and enjoyed. So they opt to eat, drink, shop, and be merry. Saving isn't yet an option until it was too late.
There are Filipinos, however, who are low wage workers, often no certainly when they will have work. They do extras in construction sites or luckily find someone who wants to have their clothes washed.
Such kind of individuals are those who try to make ends meet. They plan to save and wish to keep even a few pesos. Sadly, given their isang kahig isang tuka status, they can't. But they strive and survive.
I am neither any of these individuals. I am a homemaker who does freelance work to at least save for my boys ' future. But like them, we don't have a family savings account.
The Chance to Save
But all three of us are now given the equal opportunity to save and have access to banking services. That's the dream of Jean Henri Lhuillier, president and Chief Executive Officer of Cebuana Lhuillier.
How can this dream be a reality and eventually benefit us?
Financial services firm Cebuana Lhuillier recently launched its micro savings account. This interest-bearing savings product will give depositors more convenient and affordable ways to save money. This goal is in line with the advocacy of the Bangko Sentral ng Pilipinas (BSP) to ensure financial inclusion in the country.
Through Cebuana Lhuillier Micro Savings, Filipinos are given the opportunity to save up to PHP50,000 using the 24K Cebuana card. To open an account, one needs to show one government ID. And for an initial minimum deposit of PHP50, he can now start banking with Cebuana Lhuillier Micro Savings. There are about 2,500 branches nationwide where he can do his bank transactions.
The Convenience to Save
To allow micro savings users check their balances and send money through remittance, Cebuana Lhuillier is yet to launch its eCebuana app. Through this app, one can also check his balance and send prepaid load and pay his bills by integrating it into his Cebuana Lhuillier Micro Savings account. How convenient is that!
As a homemaker who seldom leaves the house, the Cebuana Lhuillier Micro Savings is a total game changer. I, together with Filipinos who can't find time to visit a bank are now given a chance to save. To those who opt to party hard after each paycheck, through this new program of Cebuana Lhuillier, they can allot even PHP50 per payday. That PHP50 is not at all too huge a sum of money to be deducted from their everyday gimmick. Likewise, those low wage workers can now save and tap their first Php50 until their wealth grows.
Kaya na! with Cebuana Lhuillier
What makes this Cebuana Lhuillier product an instant hit to me are:
No more high cost of initial deposit

No high maintaining balance

No high dormancy charges

No numerous documentary requirement

No distant banking
Finally, with the Cebuana Lhuillier Micro Savings, we can all say that #KayaNa. This product, by the way, is in line with the company's mission of financial inclusion, the main thrust of the company for the past 30 years.
Now, how about going to your nearest Cebuana Lhuillier and inquire about their micro savings product?  You'll thank me later when you take heed of my advice.
Momi Berlin Directory
Cebuana Lhuillier Facebook