OMEGA products offer modern solutions for everyone's modern home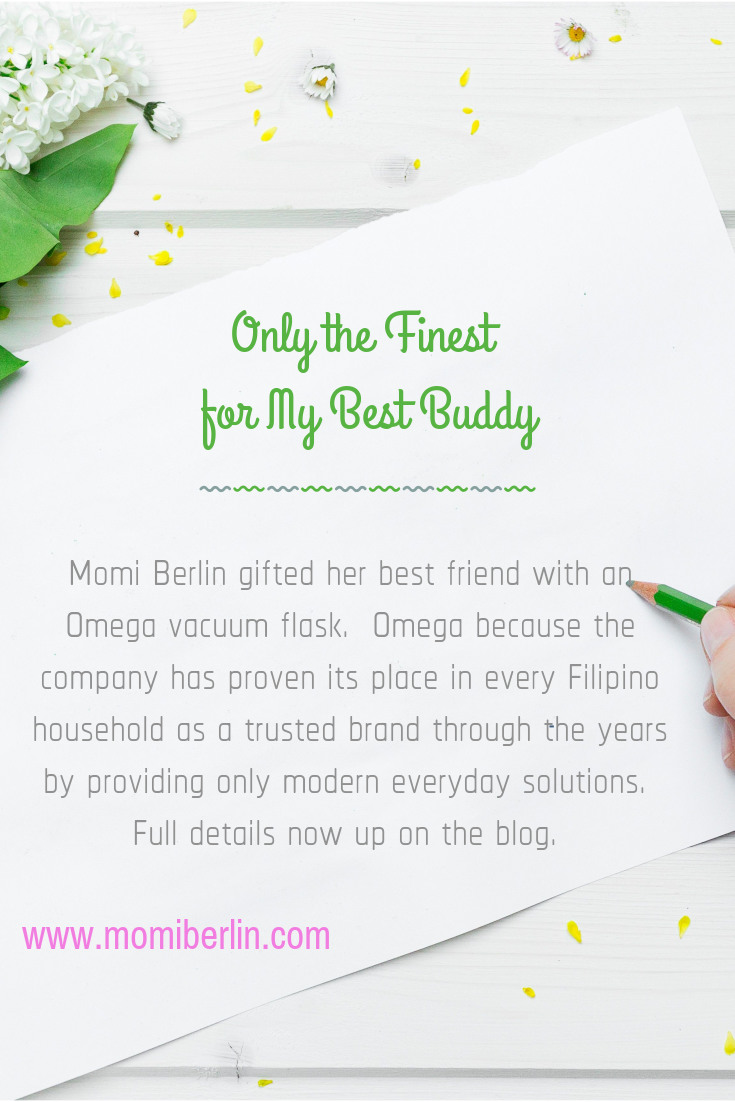 It was my best friend's birthday three months ago.  I asked her what she would love to receive from me.  She only asked for a vacuum flask.  She loves coffee, and she is the type of person who drinks coffee while driving, drafting a case resolution, and doing just anything.  So for her to enjoy her hot coffee every day, I only gifted her the brand that best describes modern everyday solutions – Omega. 
Got to learn that Omega started primarily as a company that imports vacuum flasks in Binondo in 1958.  Committed to delivering only quality products, Omega grew its line beyond vacuum flasks.  Today, the brand offers an array of quality products from drinkware to glassware, kitchenware, and tableware.  This Filipino company has also developed the best vacuum flasks products in the industry. Its name is derived from the Latin word "last" which means the finest or best.  And with the quality of its products, Omega has proven its place in every Filipino household as a trusted brand in houseware through the years. 
Modern Everyday Solutions
Omega products promise to provide Modern Everyday Solutions through their wide variety of stylish, quality, and innovative products. Available in malls, department stores, and supermarkets nationwide, it's without a doubt that the brand has found its way into everyone's home with its top-of-the-line drinkware, glassware, kitchenware, and tableware–all crafted in the finest materials:
Stainless Steel
Rust-resistant and highly durable, Omega produces a wide range of stainless steel products, from cookware, utensils, containers, and keepers. At the heart of Omega's stainless steel offerings is their temperature-retentive vacuum flask technology, seen in their signature thermal tumblers and carafes.
BPA-Free Plastic
Omega uses the perfect handy material – plastic – in its production of water bottles as this is safe for use. However, it doesn't use just ordinary plastic. Its Tritan water bottles, in particular, are BPA-free, dishwasher safe, odor resistant, shatterproof, scratch resistant, and stain resistant.
Ceramic
Omega's earthenware pieces, made of quality ceramic, offer both sleek aesthetics and functionality. Omega's Ceramic pieces come in various collections, with Earthenware, Stoneware, Porcelain, and Newbone as key materials used in serving ware and tea sets, plates, bakeware, and casseroles.
Glass
Nothing brings more elegance into each home than prized glassware. Omega's premium glassware–made with tempered glass, borosilicate glass and opal glass– are microwave-safe, oven-safe, and chic enough to bring from the oven straight to the table. Omega's cooking vessels, glass jars, French press, and food storage pieces are shock and scratch-resistant and dishwasher-safe, as well as environmentally friendly.
With their wide range of carefully crafted and selected quality and innovative pieces, Omega is everyone's go-to houseware brand perfect for the modern Filipino home.  When my best friend got her gift, she told me she is happy with her new drinking flask.  Her coffee stays hot for hours plus she can bring it with her anywhere she goes.  Which makes me decide to also buy one for my mom.  She also loves her coffee hot and in a stylish flask.
Momi Berlin Directory
Omega Houseware Facebook