Momi Shares Tips for a Stress-Free Family Vacation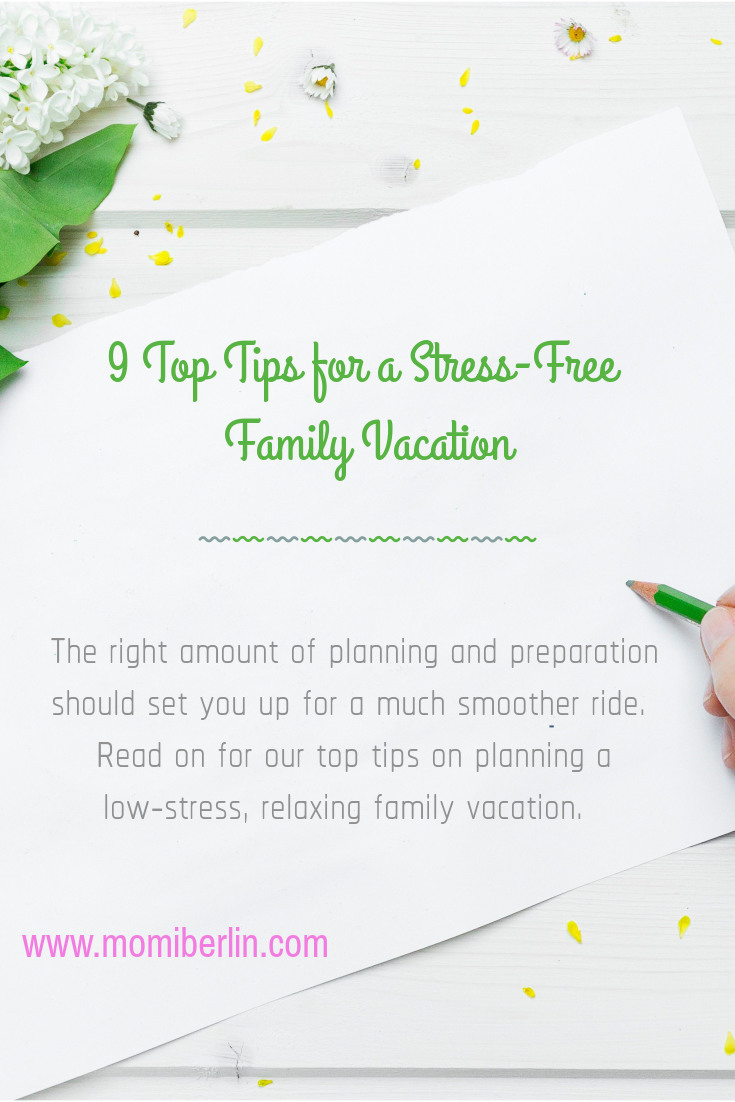 Going on a family vacation can be an experience that is both exciting and stressful all at the same time. You see relaxed, stress-free families all over the pages of the glossy travel brochures.  However, anybody who's traveled with their family, particularly with young children, will know that this isn't always the case.
The reality is, completely stress-free family vacations don't happen. The good news, though, is that there is plenty that you can do to make your family vacation as stress-free as possible. Although it might still have its moments, the right amount of planning and preparation should set you up for a much smoother ride. Read on for our top tips on planning a low-stress, relaxing family vacation.
Tip #1. Communicate
Depending on who's included in your family vacation, it's essential than ever to make sure that you're keeping the lines of communication open. Be sure that you've spoken to everybody who's coming or potentially coming along before you decide on dates, for example. The last thing that you want is for somebody's exams or a big soccer game to clash with the dates of your vacation.  Such an incident might leave certain family members unable to come. 
Tip #2. Keep Some Days Free Prior
If possible, try to take a couple of extra days off work.  You may also opt to free up as much time as you can for a day or two before you are set to depart for your family trip. This will give you some much-needed time to decompress.  You could also use the time to go over everything that you need beforehand rather than doing this right at the last minute on the day you're going to leave. Keeping the day before free means that you're able to go over packing lists, check itineraries, makes sure that bookings have been handled, drop the pets off with minders, and make arrangements with neighbors for keeping an eye on your home while you're away. This will surely make the departure day far less hectic and stressful for you.
Tip #3. Be Prepared for Flying with Kids
Even before you've gotten to your destination, getting through the airport can be a real source of stress for families.  This is particularly  true for those with small children. You can't blame young kids for acting out or getting bored in airports. Make sure that you are prepared for anything that could happen. Long delays aren't uncommon, so it's always better to be safe than sorry. If you're traveling with little ones, take some snacks and activities to keep them occupied while you wait. Most major airports will have charging ports freely available to passengers.  Make use of those ports to charge that tablet with plenty of downloaded movies.  These movies will surely entertain kiddos. Don't forget to take enough to see them through the plane journey, too!
Tip #4. Don't Over-Schedule
It's entirely reasonable for parents to want to do and see as much as they can with their children during family vacation. Not only is it exciting for mom and dad to look at the sights, it can be an excellent experience to know that your little one is also getting to share the experience with you. But, don't make the mistake of over-scheduling for your trip. Neither do try to pack way too much into your itinerary. Doing this can add unnecessary stress to your trip.  It may most likely leave you feeling like you merely rushed your way through it. Set aside some time to do some research beforehand. Have a family conversation about the sights and activities that are 'musts' for the trip. Then, try and go with the flow for anything else. Don't forget to schedule relaxing times into your itinerary too; they are just as important! If your budget allows for it, you might want to hire somebody else to plan your itinerary.  Such gesture will definitely take the weight off your shoulders. Read more here if that sounds like a great idea!
Tip #5. Skip the Lines
At most major tourist attractions around the world, you'll be able to pay a premium to skip the queues of people waiting to go inside. While this might mean that the entire cost of your vacation is more, it's worth considering doing it whenever you can. Trying to keep your tired little ones entertained in a line of people for hours in high temperatures is never a fun experience for any parent to go through, so while your wallet might not be so thankful for skip-the-line tickets, your sanity certainly will!
You can usually buy skip-the-line tickets on the day.  For the cheapest options, though, head over to the official booking website of the attraction that you would like to visit and get your tickets in advance. TripAdvisor can also help you find the lowest prices.  In certain cities, you can buy a 'pass' that's valid for a few days and gives you priority entry to the majority of main attractions. The best option for you will, of course, depend on where you're visiting and what you plan to do there.
Tip #6. Give Yourself Time
Rushing around at the last minute can be a stressful experience even for the most seasoned of solo travelers. Don't chance it and make sure that you give yourself and your family plenty of time on the day. Arrive at the airport at least a few hours in advance if you will take a plane.  Doing so will help you get past the stresses of going through security checkpoints without having to worry about long flight queues.
Don't forget that you can also take advantage of any additional facilities at the airport to make your life easier while you wait for your flight. Many airport terminals will offer a creche service or children's play area where your little ones can enjoy themselves during the waiting times.  Certain families, for example, those with a special needs child or where only one adult is present, may be eligible for additional support and help at the airport. Check with your airline beforehand, as this will usually need to be booked in advance.
Tip #7. Prepare Your Kids for the Experience
For families who are planning a vacation with children who have never been on a trip before, getting them prepared beforehand can take a lot of stress out of the experience while still maintaining a sense of adventure. In the run-up to your trip, it's a good idea to talk to your little one about what to expect at the airport; this will ensure that it's less daunting or intimidating for her. You could even make it into an 'airport' game with some of her favorite stuffed animals; your child could pose as airport security as you send the cuddly 'passengers' through a make-believe metal detector.
Bear in mind that depending on your child's age, they may not be able to effectively verbalize any concerns that they have. For example, your child might be acting out, but it's because they are worried about having to leave the family dog behind. Speak to your kids about any concerns that they have regarding the trip; this will help to keep them stress-free too.
Tip #8. Leave Work Behind
Switching off from a demanding work schedule can be a nightmare.  However, it's essential to try and resist the urge to take your work smartphone or laptop along with you on a family vacation. One of the biggest mistakes that some parents make when traveling is believing that getting some work done while they're away will help to relieve some stress when they return.   For the most part, though, nothing could be further from the truth.
Your vacation is the perfect opportunity to switch off from your job.  Enjoy some downtime, which in turn can help you be more productive when you return to work. Taking a break can help promote problem-solving skills, creativity, and much more concerning your career. So, leave your work laptop and phone at the office. Your boss will be grateful that you did once you return!
Tip #9. Have Fun
Last but not least, don't forget that the whole purpose of going on a family vacation is to have lots of fun.  Do not forget to make happy memories together that you'll all remember for the rest of your life. At the end of the day, it doesn't matter if your itinerary didn't quite go as planned.  It doesn't matter as well if you missed out on eating at a particular restaurant. As long as you had fun and made memories you'll remember forever, you did something right!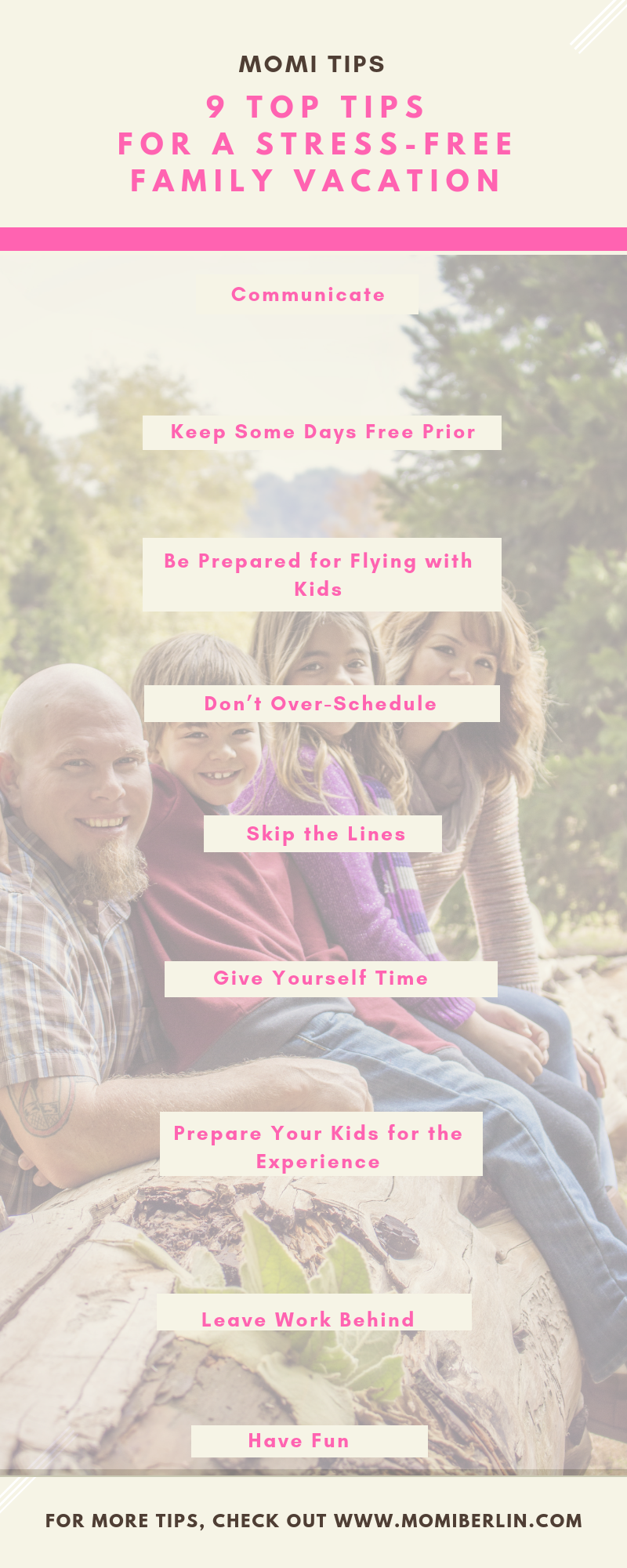 Share your family vacation tips with us in the comments!