Momi Shares tips to enjoy a stress-free living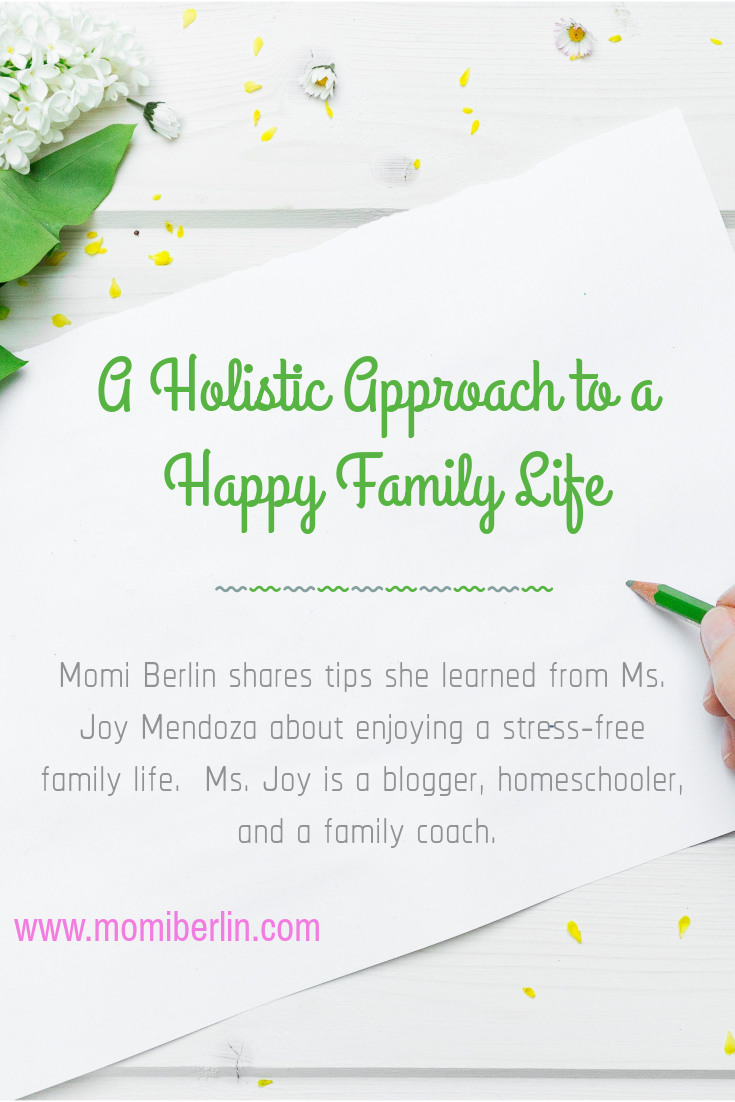 This mother is lucky to have met the beautiful Joy Mendoza.  She is a blogger, family coach, and currently in the family way (her sixth pregnancy).  She shared her tried and tested ways towards a holistic approach to stress-free living.  Though her advice was practical, sometimes we still need to be reminded of those things to thoroughly enjoy life.

Establish a routine
In everything we do from simple household chores to responsibilities and personal matters, it is better to establish a method.  This helps the youngsters to be familiar with the task until they develop them into a habit.  
A fitting example is washing the face.  The parents should introduce to the children the importance of hygiene and the benefit of cleaning the face at least twice a day.  Then help the kids make this personal hygiene exercise as a part of their routine.  In no time, the children, even at a tender age, will get used to the idea and will always include washing the face as part of their everyday. 
Once they have a routine, it wouldn't be a hassle to follow up on the youngsters and remind them of either their daily personal tasks or home chores.
Do things together
I agree with Ms. Joy.  Indeed, doing things together is an opportunity for parents to model to their kids how things are done.  In doing tasks together, there may be lots of reminders and repetitions.  In the long run, though, everything is worth it as the elders can adequately guide the children.   
A nice example Ms. Joy gave is eating together as a family.  With both the parents present at the dining table, the children are properly oriented and even monitored to eat healthily.  They likewise see what their elders eat so most likely, they will mirror their parents' eating habits and consume what their parents eat. 
Need not be perfect
I love this best from all the things Ms. Joy shared.  To lessen the stress in life, we need not be perfect.  
A good example is that we can't fight our age.  If we keep on fighting and hiding our age, we will only end up stressed.  
I have come to understand that when we are always stressed, we only compromise ourselves, even our health.  We get wrinkles, end up angry and agitated, and put our mental and physical health at risk.
An excellent example Ms. Joy shared to slow down the signs of aging is being intentional about our skin care.  It is when we put effort to wash our face, for instance, would we see the effects of the caring we do.  As we intend to take care of our skin instead of reacting only when the problem arises, we can better slow down those wrinkles, age spots, and the likes.  
A holistic approach to a stress-free life
It is the nature of the mind to be busy.  And if we allow it to make everything its concern, we will end up stressed and haggard.  
For that holistic approach to happy family life, we should establish a routine, do everything as a family, and accept that nothing is perfect.  Though it is good that we have a standard in everything we do, sometimes, aiming to be perfect is just so ambitious we may end up feeling like a failure.
Again, thank you, Ms. Joy, for this reminder.  Also, our heartfelt gratitude to the organizer and brand behind this campaign.