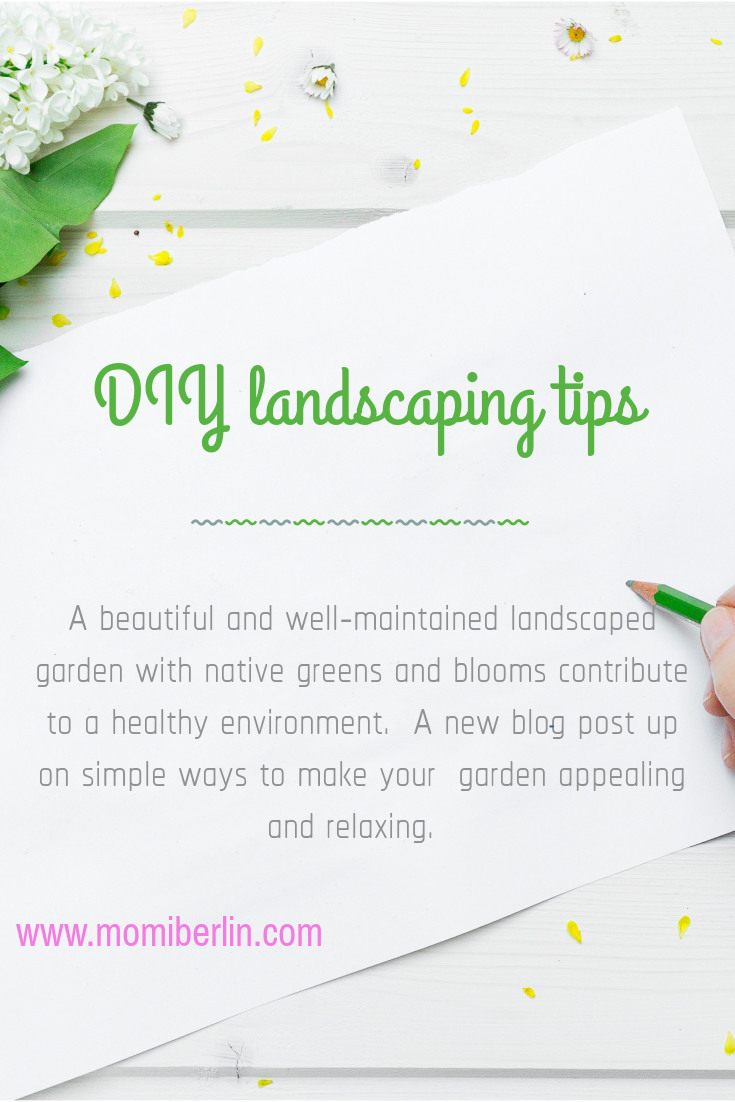 Landscaping beautifies the outdoor space to your home creating a welcoming and homely ambience for your visitors. To have a beautiful landscape, you have to do more than just plant trees and hope everything will work out.
The best approach to landscaping is to hire professionals.   You can also do it yourself, though, if you have some personal preferences or budget constraints. Good landscaping, though, requires proper planning.  This is prudent especially if you are doing it yourself. A haphazard approach could worsen the looks instead of improving it. Before you get started, you need to have clear goals which will determine how you go about your landscaping.
Here are DIY landscaping tips.
Grow suitable plants
Not all plants can grow in your garden since they require varying growing conditions to thrive. Before you plant anything, be sure to understand your soil type.  It is equally important, too, to know the weather conditions in your locality and the types of plants that are suitable for such conditions.
You reduce the time and effort you'll spend caring for your plants when you grow those that can survive in the existing conditions. For instance, you won't have to treat your sandy soil if you grow plants that require less water for their growth. Similarly, you are saved the stress of dead plants if you plant bog plants in swampy grounds.
When landscaping, plant trees and flowers that do well in your area. Native plants already accustomed to the prevailing conditions require little maintenance.
Creative landscape design
Doing the landscaping yourself gives you the liberty to pretty much do anything you want.  Use your creativity to come up with some visually appealing design.
You can reshape your garden or relocate and replant some flower plants as you please. A good landscape should hide the unsightly aspects of your home while highlighting the attractive bits.
Take into account the terrain, existing features, walkways, and the surrounding buildings when designing your landscape.
Plant wisely
Grow plants with the same needs in one location instead of distributing them across your home. This makes for easy gardening and caring for the plants.  Add to that, it gives the illusion of uniformity when the similar plants are grown together.
When growing different species together, consider their full-grown sizes so one doesn't suffocate the other. Some plants block others, taking all the nutrients and causing other plants to get little or no sun at all.  
More importantly, you should allow for sufficient spacing between plants.  This will make your work easier when tending to them.  Of course, spaces are good for the plants' own growth.
Maintenance
You have to regularly maintain your landscape to keep it beautiful. Keep your yard clean using Walk Behind Blower to gather all the dried and fallen leaves.
You also need to keep the grass in your landscape at suitable height. Overgrown grass can harbour snakes and crawling insects. Some garden plants also need to be regularly watered.
Also, prune your flower plants and trees from time to time. This controls wild growth and helps extend their blooming period.
DIY Landscaping tips
A beautiful and well-maintained landscaping with native greens and blooms  contributes to a healthy environment. It also brings a taste of the wilderness to urban settings.  With flowers and trees around, butterflies, helpful insects, and birds are easily attracted to those.  This will all the more make your backyard or garden appealing.  So if you have the space and resources, start to turn that vacant space into one impressive and relaxing landscape.