I believe in pink. I believe that laughing is the best calorie burner. I believe in kissing, kissing a lot. I believe in being strong when everything seems to be going wrong. I believe that happy girls are the prettiest girls. I believe that tomorrow is another day and I believe in miracles.

-Audrey Hepburn, British actress, model, dancer and humanitarian. Recognized as a film and fashion icon, Hepburn was active during Hollywood's Golden Age.
I love Audrey Hepburn.  There was one semester in college when we studied film, and our professor just so loves Audrey Hepburn.  Perhaps I got that "I love Audrey Hepburn" influence from him.
Anyway, aside from loving Audrey Hepburn, I also agree with her.  I, too, believe miracles do happen, may they be too shallow or otherwise.  I often regard everyday happenings as miracles.  Perhaps I am that silly, or I am just too grateful for everyday blessings that come our way.
Let me share with you one miracle I have experienced this morning.
The problem:  difficulty inside the toilet
Last weekend, my family had a quick vacation.  My mom will turn 62 years old in a week's time and so we had an early celebration.  Most of our Saturday and Sunday were spent on the road.  Dining in at restaurants was our stress reliever and so was "sound tripping" while on the road.  My regular weekdays are always draining.  By the end of the day, I am often tired of the mundane household works, so that weekend was a great treat for myself as well.
Not until we went home and this morning, I had a big problem.  I was constipated.   I was so desperate for relief and success on the toilet.  It caused great discomfort.  Aside from the hormonal changes in my body, I knew the culprit must have been my past two days of unhealthy lifestyle.
Then I tried The Toilet Helper my boys have been using for weeks now.  They claim it remarkably made a big difference in their bathroom experience.  Instantly, I was relieved.  Of course, I could not discount the fact that I drank two glasses of water that morning as well.
Analyzing the situation:  sitting vs squatting position
I was such at awe I relayed it to my husband.  He told me that sitting on a toilet places the knees at a 90-degree angle to the abdomen.  This position hinders elimination, forcing the rectum in a kinked position.  This formation creates the need to strain in order to eliminate.  And straining may pressure the anal and rectal veins which may contribute to hemorrhoids and other illnesses associated with the lower digestive tract.
Squatting, on the other hand, places the knees closer to the torso.  This position changes the spatial relationships of the intestinal organs thus relaxing and straightening the rectum. This results in a complete and healthier elimination.
The solution:  the toilet helper
I remember my Malaysia experience.  I was shocked when I entered one comfort room.  There was a hole in the ground and footprint marks to show where one needs to squat.  It was an uncomfortable experience but now understand the logic behind.  Their toilet helps relax the colon for easier bowel movements.
I do not have plans of renovating our entire bathroom and request installation of a hole in the ground, just like in some non-Western countries.  All I need is a foot stool that will allow myself and my family to get into a more natural squat position.  And that foot stool is the toilet helper.
Further readings led me to their website.  Let me share with you this graphic – perhaps sensitive yet informative – that we need to consider when inside the toilet: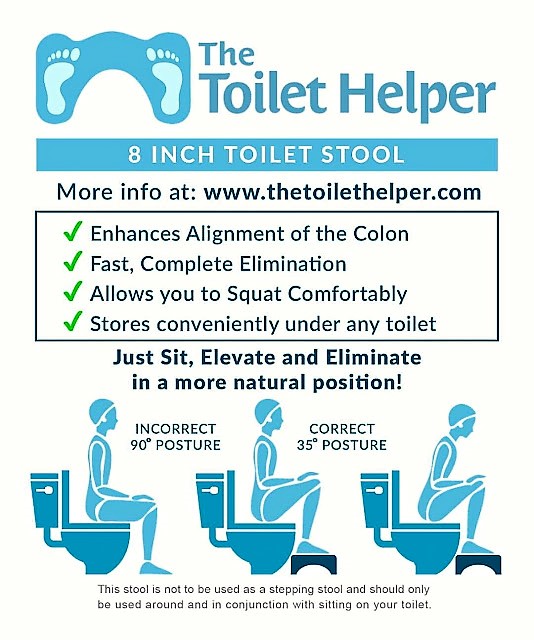 Have I told you I believe that miracles do happen? I was in stress a few hours ago.  I had difficulty inside the bathroom for minutes until I gave up.  Then I tried again, this time using what my boys told me as a real toilet helper.  And it did help me.
It only takes proper toilet posture, and it will definitely deliver a remarkable difference.  I have tried the toilet helper and I am convinced.  And it sits comfortably inside our comfort room to give instant comfort and aid any time of the day.
Momi Berlin's Directory
The Toilet Helper Website | Facebook | Instagram
* Momi Berlin received the product for free in exchange for an honest and unbiased review.