It is that time of the year again when we mommies (and even daddies, too) march to the spacious halls of SM Megamall's Megatrade Halls for the annual Baby Company Grand Baby Fair.  Now in its seventh year, the Baby Fair still thrills me. Or will forever excite me.  There are over 200 brands on display, mostly new products we moms are dying to see.  Plus, discounts are up to 70% off!  How cool can that be?  The baby fair is, by the way,  happening this January 27, 28, and 29, 2017.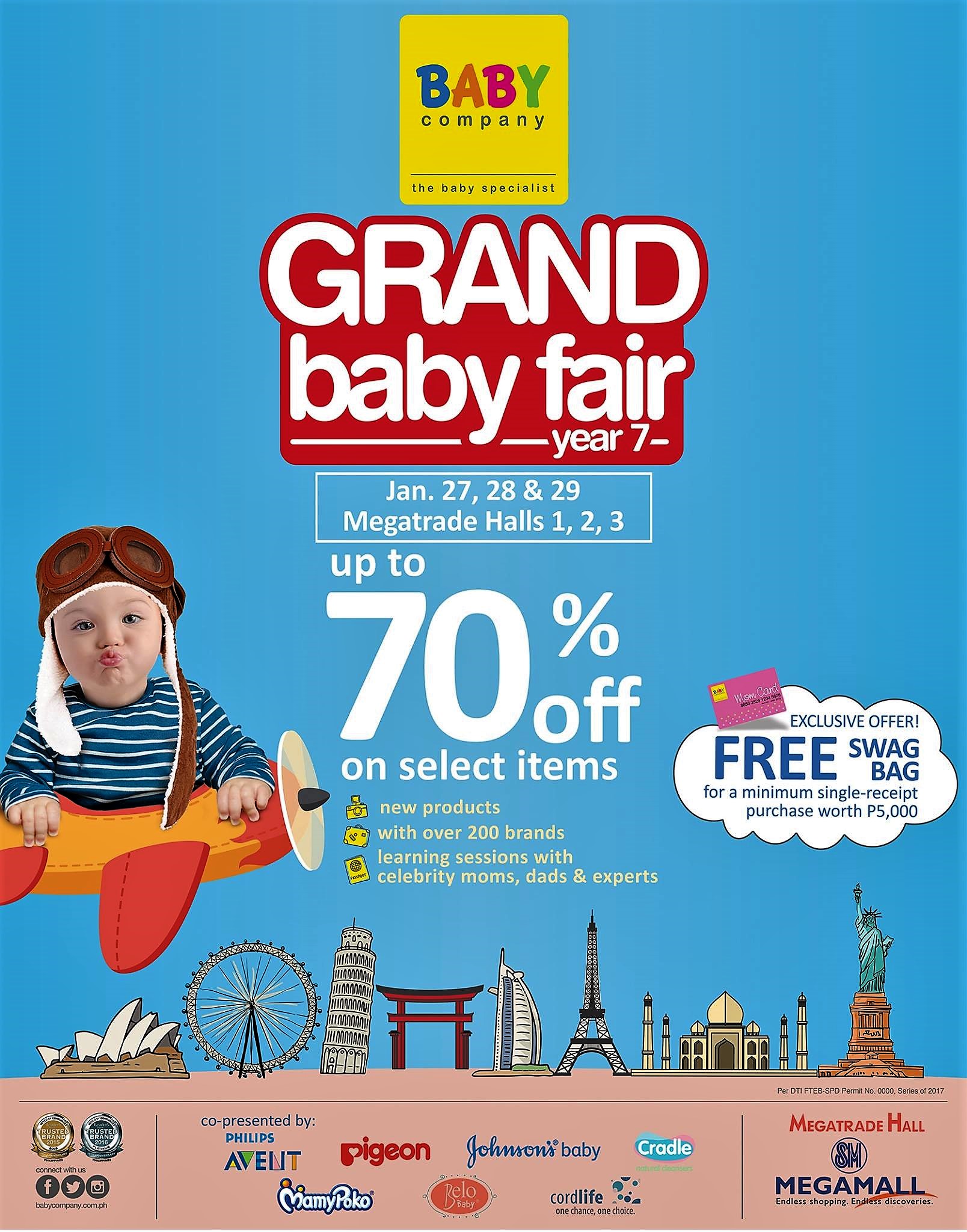 Last year's grand baby fair, I headed to the same venue with my mom and then six-month-old little man.  We bought his high chair and his weaning set.  I also got there my  Lille Baby Tokidoki baby carrier at a discounted price.  It was a tiring yet productive experience.  We went home with new things for our little bundle of joy.  We also got to try new products which up to now we are still using.
That is just one of the many reasons that excite me.  I am also looking forward to the scheduled talks from seasoned and new mommies plus experts.  I always aim to learn from others especially about child rearing.
Best tips to enjoy your shopping
Bring a companion.
From last year's experience, it is prudent that you bring along with you a shopping buddy. He can stay at the line toward the cashier as you shop for great finds.  The line of payers quickly built up that time.
Bring your Mom Card.
For this year's baby fair, every minimum single-receipt purchase worth P5000 entitles the shopper a swag bag.  But this is exclusive only for Mom Card holders.  The swag bag contains essential baby samples which are of certain value to new moms and seasoned mommies alike.  If you do not have a Mom Card, you could easily avail of it at the customer service area or cashier.
Prepare shopping list beforehand.
This will not only make your shopping fast but could help you save on impulse buys.  And once you've done your list, make sure to stick with it.  Or perhaps you could allot a few peso for new finds.
Bring shopping bags.
It would help make your shopping cart appear tidy and organized.  Plus it is an added saving on your part as though shopping bags are readily available at the cashier, but for a cost.
So mommies and daddies, again the Baby Company Grand Baby Fair is here! Choose among January 27, 28 and 29 and do not forget the tips I gave you.
Happy shopping!