manage school allowance
We only had three boys to look after for a long time. Then, after a decade, God blessed us with a baby boy, and a year after, another boy again.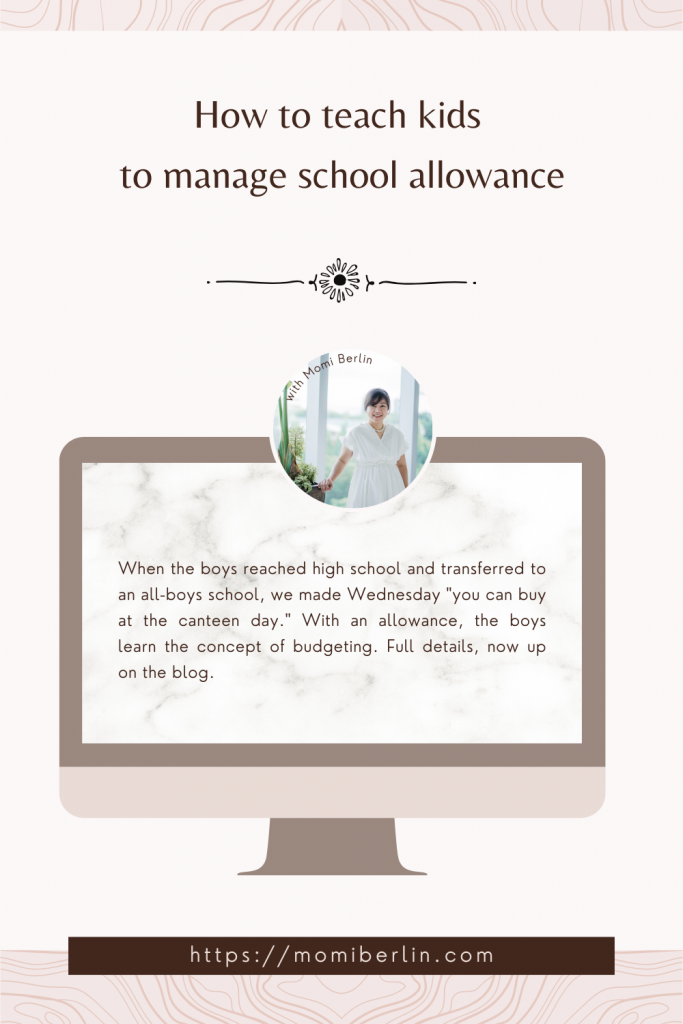 Now that the three older children are in their teens already, we could see responsible gentlemen in them. They can make sound decisions and are even competent in handling money. 
learning money management
We would like to believe that the consistent finance lessons we taught the boys before are now paying off. We even taught them the consequences if they borrow money with poor credit. The concept of budgeting and finance must have been too fascinating that two of our boys chose the strand of Accountancy, Business, and Management. 
Our firstborn is now a sophomore at the Ateneo de Manila University, majoring in the Bachelor of Science in Management Honors. Management Honors, or MH, is an entrepreneurship program that relies heavily on an experiential learning framework in its approach to education. The curriculum emphasizes project work and hands-on exposure as a necessary complement to textbook learning and academic career to create a richer, fuller, and more student-centered learning experience.
On the other hand, our second son will start school this September at De La Salle University with a double major in Bachelor of Science in Marketing Management and Bachelor of Arts in History. 
spending Wednesday money
Going back to the children's growing up years, from preschool until high school, we prepare the boys' school lunch and recess from preschool until high school. They always bring with them a lunch bag. And every time they went home, they would tell their mother how their classmates could be excited about their food. During that time, I often make bento for the boys.
When they reached high school and transferred to an all-boys school, we made Wednesday "you can buy at the canteen day."
This way, the boys decide on what food to eat at school. In short, they have an allowance. 
Managing allowance
An allowance, we believe, is a wise way to give the boys complete control over something and let them make their decisions. They can have fries and burgers or anything as long as they use their money to feed their stomachs, not their vices.
With an allowance, the boys learn the concept of budgeting. They must be careful in spending their money during recess as nothing will be left for lunch if they use everything. They will put their excess cash in a jar if they can't use everything on Wednesday. Then, they could either save money or wait until they can buy something they want other than their basic needs.
Observing our children since we've started our Wednesday allowance, the boys tend to be wiser and more responsible with their purchases. Before, when they want to buy anything at the school canteen, they ask for money from their parents the following day. Of course, they can always ask for money from their parents. 
Things become different now that they have their Wednesday allowance. The money isn't their parents anymore but theirs. As a result, they become wiser and think twice before spending. 
Learning from Wednesday money
We do not have a Wednesday allowance since the pandemic happened and turned most schools online.
With things returning to normal, our firstborn now attend face-to-face classes. We give him his allowance, and he also brings lunch food. Even our second son told us that their class would be a combination of traditional face-to-face classroom instruction and online learning. When we bought his school needs recently, he got a food container. He told his mom he prefers to have a baon just like before. 
It looks like this mother wouldn't retire cooking school baon for his boys anytime soon. I am not complaining, though, as I always love feeding my children homecooked meals seasoned with all my love.