Make Weekends More Exciting with These Eco-Friendly Family Activities!
Raising a child today comes with increased responsibility, not just for the people around us but also for the environment. So as we collectively try to make more eco-conscious choices to secure the future of our kids, we should allow them to explore nature as it is, even if it means getting dirt all over them. This also allows them to learn why protecting our surroundings is essential.
Stepping up from its commitment in previous years, Breeze continues to encourage moms and kids to say yes to these seemingly messy experiences to explore freely and get dirty for good! With the launch of its eco-friendly formula in 2021, Breeze with #EcoClean Technology offers parents an efficient and powerful cleaning solution to wash away even the toughest stains in one wash, now with ingredients that are kinder to the environment!
The trusted detergent brand calls on all families to get dirty for good and make #EcoClean choices. Here are just some of the ways you can get started on your Eco Project at home:
Bring the fun out of recycling
Growing up, we all heard about "reduce, reuse, and recycle," an easy way to remind ourselves about the basics of protecting the environment. By passing on this catchphrase to the next generation, we can teach our kids why collecting our waste and segregating them for recycling is essential. Mom Chinie Go encouraged her very own Snow at age 5 to participate in recycling by collecting trash she found at the beach and even recycling boxes and plastics at home. Echoing this, mom Renelyn Tolledo Simon turns to upcycle into a creative, art-attack activity with her daughter, turning old shoe boxes and plastic bottles into keepsake boxes and pots!
Create your own garden at home
Whatever the size of your home, plants and a greenhouse from  https://drivhussenter.no/ for your vegetable garden can bring them to life! Start small and emphasize the importance of recycling. Teach your kids about a balanced ecosystem by planting sprouts in recycled plastic containers as pots. Mom Sam Lewis and her son Lukas created their indoor edible garden with pechay, lettuce, and sili. At the same time, mommy Nicole Macasaet uses their small pots to teach her kids about photosynthesis and how plants create oxygen. 
Reminding your kids to water their plants daily also instills a sense of responsibility to actively care for green spaces around them. Mommies Cham Estrera-Magsaysay and Jam Vinculado ensure their little ones incorporate watering their plants into their routines.
Inject science into your recycling activity
For parents of curious tots, try adding a scientific and educational spin to teaching your kids about the environment! More than just recycling, you can also try making your own compost at home, further developing their mindset about taking care of their surroundings. Mommy blogger Ara Casas-Tumuran and her "eager beaver" Yanna get dirty for good by experimenting with soil, leaves, and vegetable peelings to create a fertilizer to help their garden flourish. Mommy Ara even admits, "Yanna asks an endless list of science-related questions like what we get from this, how long it takes, does it stink, and more," exhibiting a developing mind of a future environmentalist.
Start donating your plastics at The Plastic Flamingo
This year, Breeze has partnered with The Plastic Flamingo (PLAF) to fund the collection and upcycling of 16,000 kilograms of plastic to turn into eco-lumber, which can be used to build schools, houses, and shelters. Breeze and PLAF are also encouraging all families to collect plastic waste that can be found at home, including empty Breeze sachets, and drop them off at PLAF's collection point, located in the Ground Floor Concierge Booth at UP Town Center.
Join the Breeze EcoSquad today!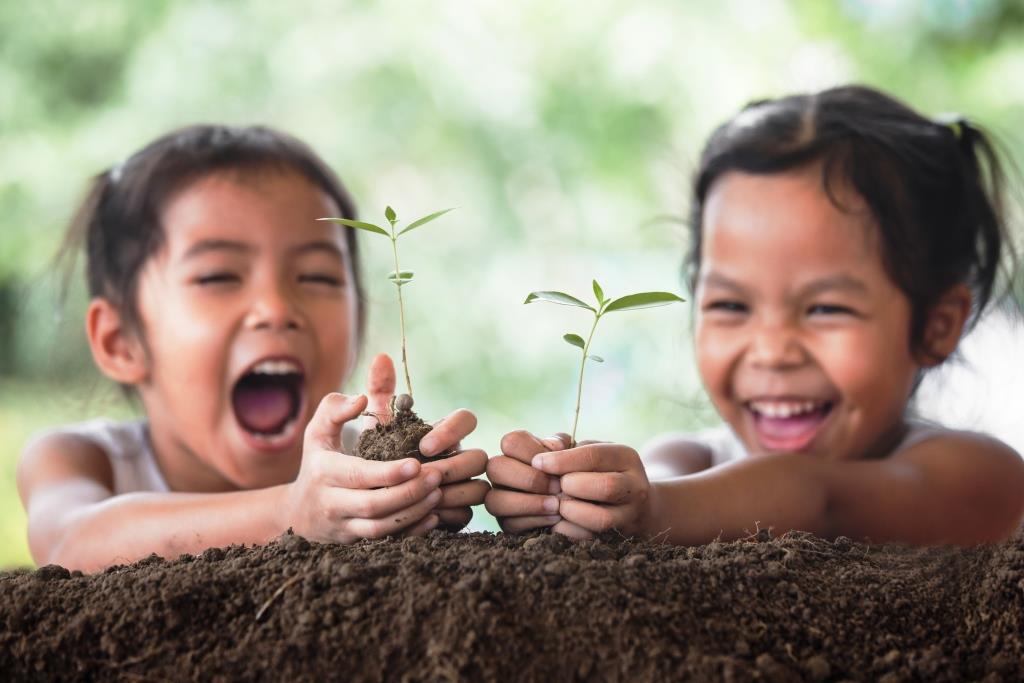 Apart from donating plastics and doing other EcoProjects, you can continuously educate and build environmental awareness for your little one by joining EcoSquad. Last year, Breeze partnered with the Knowledge Channel and launched the EcoSquad project in Marikina City to raise environmental awareness among children through an online event, a series of videos, and a program they are looking to expand further in different areas this year. Check out the Knowledge Channel's Youtube page to watch the educational videos, so you and your kids can learn more about how to protect the environment.
Though outdoor learning experiences may still be quite limited for your children these days, there are always fun activities you can do as a family, even at home, to develop a sense of consciousness and love for the environment among your kids. Get dirty with Breeze and its EcoClean Technology that is tough on stains but kind to the environment!
It is also the perfect time to stock up on your favorite Breeze products as the Big Breeze Sales are back on your favorite e-commerce platforms this August 11-13 on Lazada and August 20-23 on Shopee! Take advantage and get up to 25% OFF on the Breeze Powder Detergent with EcoClean Technology and other select Breeze products. Apart from this, you can also get freebies with your purchases with these promotional offers:
● Get a free Enfagrow A+ NuraPro with a minimum spend of Php 600 on any Breeze products
● Get a free MamyPoko Instasuot pants diapers with every purchase of any Breeze Gentle and Free Liquid Detergent bundle
Mark your calendars, and don't miss out on these promotional offers this month!