This RTYA show is streaming exclusively on Broadway On Demand from November 12-December 12
We grew up in the care of our grandparents. We spent our growing years at Cavite. When we started school, we would still visit Inay and Itay during school break. We must say, we are our grandparents' favorite apo, and they were also very dear to us.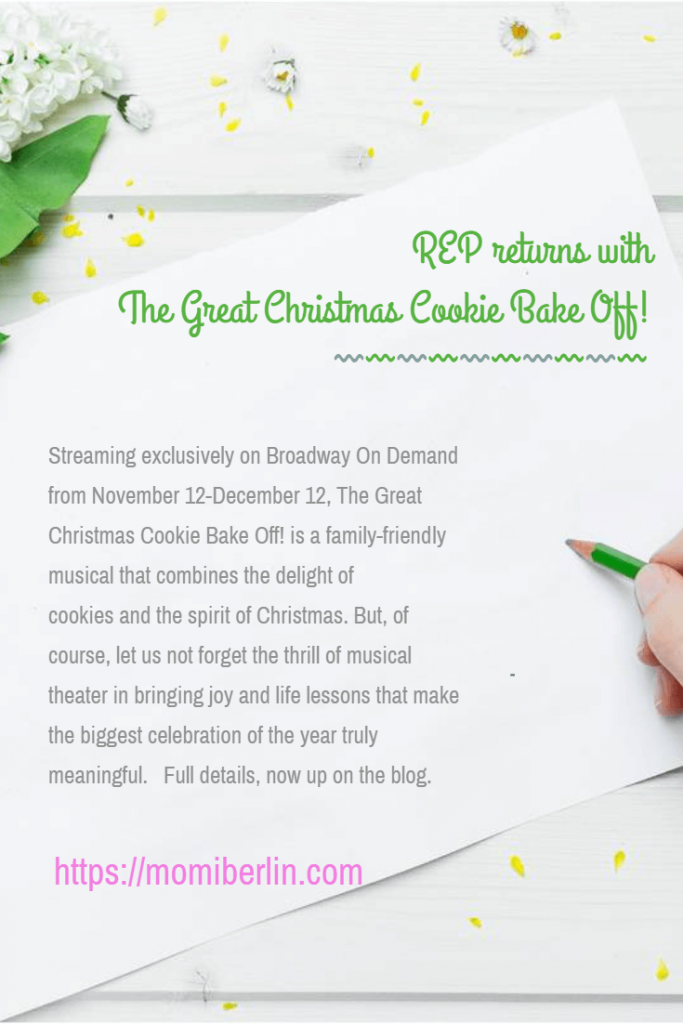 Perhaps, the most beautiful memory we had of our grandfather was when he let us ride his horse, and we would circle the pulo harvesting mango, buko, and bananas. 
We love it best, too, when grandmother would cook pineapple candy and we have the candies all by ourselves. 
Grandmother also baked the most delicious cookies ever.  
The Great Christmas Cookie Bake Off!
REP's The Great Christmas Cookie Bake Off! reminds me of our grandparents. Repertory Philippines (REP) indeed knows how to make the holiday season merrier and brighter. Its first REP Theatre for Young Audiences (RTYA) production in two years, The Great Christmas Cookie Bake Off!, truly hits home.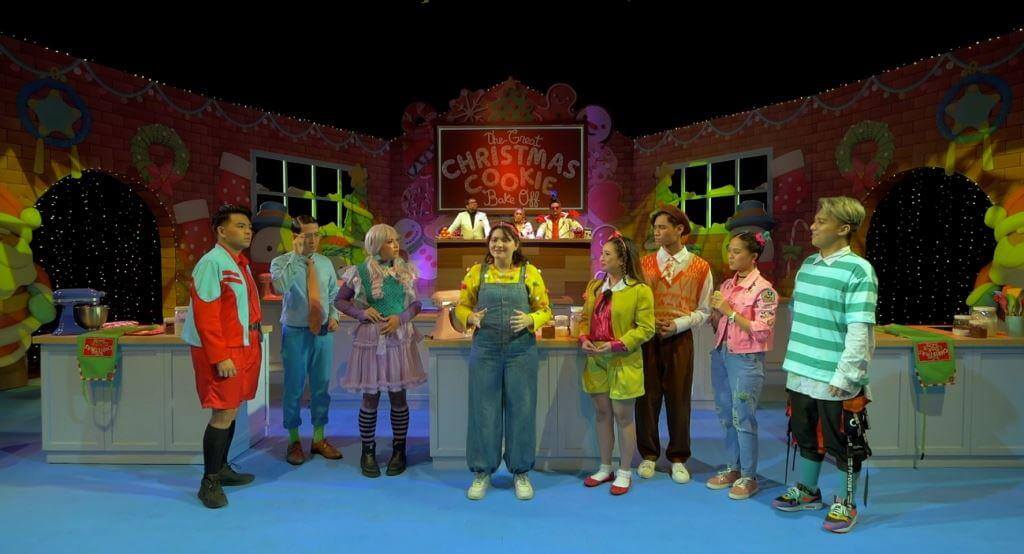 Streaming exclusively on Broadway On Demand from November 12-December 12, this family-friendly musical combines the delight of cookies and the spirit of Christmas. But, of course, let us not forget the thrill of musical theater in bringing joy and life lessons that make the biggest celebration of the year truly meaningful.  
The Great Christmas Cookie Bake Off! is about the eight young cookie chefs selected from all around the country to fight for the first prize at the Cookie Coliseum. Throughout the competition, their feelings of intense rivalry give way to the virtues of family, charity, and forgiveness. Finally, the chef contestants learn what makes for a winning Christmas recipe.  
The beautiful cast of The Great Christmas Cookie Bake Off!
The casts include Becca Coates as Patty Mañosa, a beautiful, sensitive soul who longs for her Grandma's cookies; Jep Go as Gabe Gomez, a bully who's more than happy to bend the rules; Justine Narciso is Amy Garcia, a Disney devotee who's slightly scattered in the kitchen but super adorable just the same; Luigi Quesada plays Julian Zamora, a culinary artiste with a talent for fine cuisine; Steven Hotchkiss is Josh Bernardo, a science enthusiast who knows his formulas; Tim Pavino as Javi Carreon, a video game buff who feels out of place in the kitchen but his heart is definitely in the right place; Jillian Ita-as as Anna Santos, the perfect overachiever; and Rachel Coates is Samantha Lopez, a fun and fabulous social media fanatic who loves the spotlight.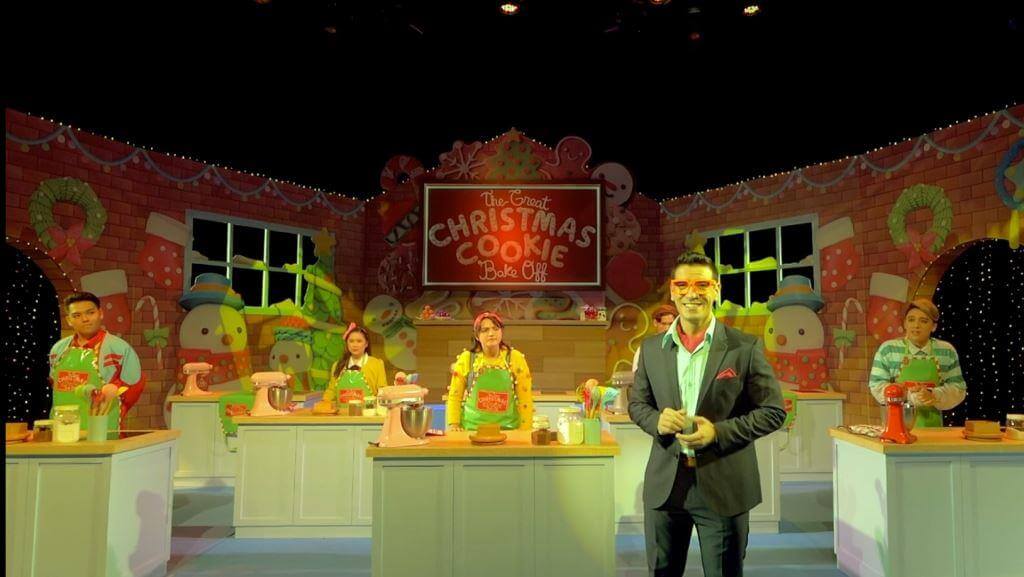 Carla Guevara-Laforteza, REP and theater veteran, joins the cast playing multiple roles for the show. First, Carla plays the stylish Isabel Guevara, a food fashionista with a high sense of aesthetic and one of the bake-off's judges. She is also Anna's Mom, your quintessential helicopter parent who watches every detail. Finally, as Patty's quirky-loving Grandma. 
Part of the show, too, is Arnel Carrion playing a double role as Michael Holmes and as Gabe's Dad. As Michael, Arnel is the meanest guy in the food industry and in the Cookie Coliseum. As Gabe's Dad, on the other hand, Arnel is a big wig TV executive who pushes his son to win at all costs. Jaime Wilson is also part of the cast as pop singer and celebrity guest judge Del Ray who has never baked but can definitely lay down some tasty grooves! To complete the cast, Hans Eckstein plays Larry, the faithful host and announcer of the competition.  
The brilliant minds behind The Great Christmas Cookie Bake Off!
Broadway musical director Rick Hip-Flores creates The Great Christmas Cookie Bake Off! He wrote the musical to provide some relief and entertainment amidst the challenging time.
Flores shares that "I wrote the show just about a year ago when I felt we needed a little joy in our lives. I thought that the combination of Christmas, cookies, baking competitions, and musical play would be the beautiful recipe for an absolutely joyful theatrical experience."
RTYA Creative Director Joy Virata directs The Great Christmas Cookie Bake Off!  with the streaming audiences in mind. The production boasts an all-star creative team composed of choreographer Deana Aquino, costume designer Bonsai Cielo, lighting designer John Batalla, and set designer Ed Lacson. Multi-awarded director Treb Monteras helms the video production managed by Silver Media.  
Bringing the magic of theater and Christmas to your homes
"The Great Christmas Cookie Bake Off! is the first-ever Filipino production available on Broadway On Demand. In addition, it's the first musical in the country that is purposely filmed for an international online streaming service," Virata points out. "REP is beyond honored in bringing the magic of theater and Christmas to your homes and making this holiday merrier and brighter for everyone." 
Catch RTYA's The Great Christmas Cookie Bake Off! with your family exclusively on Broadway On Demand. Ticket prices are P700 for 24-hour access, and P1,000 for 48-hour access. You can access Broadway On Demand via computer or mobile device through a web browser (Google Chrome is recommended for optimal streaming). You can also access it via smartphone or tablet through the Broadway On Demand app on App Store and Google Play. It's also available on AppleTV and Roku.  
Book tickets through Ticket2Me, TicketWorld, Broadway On Demand, , or via the REP Box Office by calling 0966 905 4013.
Momi Berlin Directory
REP Website | Facebook | Instagram