MakatiMed's Department of Orthopaedics shares practical tips
As coronavirus cases have surged, several companies have mandated their employees to work from home. This new work structure has given several employers the flexibility to continue their business operations while prioritizing their staff's wellbeing and safety.
Working remotely can be appealing with no commute time, no in-person supervision, and no dress code. However, it can also present challenges that may cause stress and anxiety to some. 
Working from home for long hours may lead to mental fatigue
For one, those working without proper facilities or work equipment may feel a little pressured because failure to have a reliable internet connection, a good laptop, or office equipment may negatively impact their productivity.
The same goes for those who have created a makeshift workstation at a little corner of their room or living space. Working from home for long hours may lead to mental fatigue and burnout. It may also cause back pain and chronic pain in the neck and lower back.
We may not be aware that sitting longer in chairs not designed for desk jobs can cause health issues. Anne Kathleen Ganal-Antonio, MD of the Department of Orthopaedics of top hospital in the Philippines Makati Medical Center (MakatiMed), said that these health issues might get in our day-to-day tasks and affect our productivity, and even make us more prone to injury and fatigue. 
With the emergence of more dangerous coronavirus variants and COVID-19 cases still on the rise, it is most likely this kind of work from home set up is nowhere near finished.
Dr. Ganal-Antonio shares simple adjustments that may help us get the work done minus the unnecessary aches and discomforts.
Create an ergonomic workspace
To many, buying expensive office furnishings solves discomforts. But Dr. Ganal-Antonio reassures us that we can always improvise.
The computer screen must be in front of us at a comfortable viewing height, not in a place where we need to look down. Prop the laptop to eye level by stacking books or using a sturdy box. We can also invest in an external keyboard and mouse to somehow give room for our hands and arms.
Make sure, too, that the forearms and hands are at level and straight when we use the keyboard. On the other hand, our arm must be close to the side of our body when using the mouse. The more we stretch our arm to the side, the greater the chance of straining our neck and shoulder.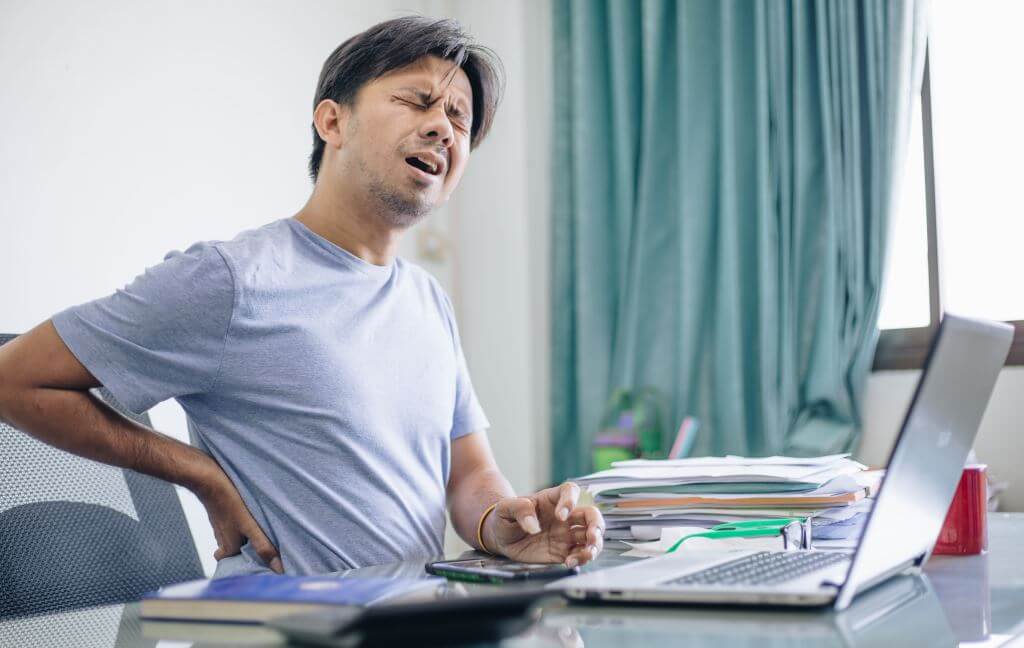 Learned, too, from Dr. Ganal-Antonio that as we sit, we must make sure that our hips and knees are level, or our hips are slightly above the knees. Slouching and leaning forward will do no help, too. Instead, sit with the upper back straight and the lower back curving to the chair's shape. It will help if we use a pillow to support our lower back. And don't forget that the feet touch the floor.
Dr. Ganal-Antonio also recommends using standing tables or a footstool. "According to the pioneering study conducted by Swedish spine researcher and orthopedic surgeon Alf Nachemson, when we flex forward, more stress is concentrated at the discs, which are the shock absorbers of the spine. It's best to be slightly reclined, about 110 degrees. You can use standing tables to lessen the stress. Adding a foot stool to alternately rest each foot can also help."
Get up
As the saying goes, sitting is the new smoking. Studies have linked longer sitting time with a higher risk of death, heart disease, cancer, and diabetes. Standing for long periods, though, has also been associated with varicose veins and back pain.
Dr. Ganal-Antonio shares that "A professor of ergonomics from the Cornell University suggests following the rule of 20-8-2. Sit for 20 minutes, get up for 8 minutes, and move around for at least 2 minutes."
When taking a health break, it is prudent to stretch, roll our shoulders, do arm circles, or touch our toes. Also, give a reason to walk farther than usual. For example, placing the printer or phone on the other side of the room is wise. Again, this gives us a reason to walk.
Work out in your workplace
It would make us feel fantastic if we started and ended our workday with simple yet effective exercises that aim to strengthen our core and target our back and shoulders muscles. For example, we may begin with 10 squats, 10 tricep dips using a stable chair, and 10 wall push-ups. We can also do jumping jacks, push-ups, and crunches to stimulate circulation.
Avoid back pain and tech neck
The effects of too much sitting may be harmful to our health. Sitting for long hours may put huge stress on our back muscles and our neck and spine. This becomes worse when all we do as we sit is slouch. It would give us huge favor to get up and move around for a minute or two every half hour. Also, we are most likely to finish that important report all happy and healthy as we take a health break from time to time than cram all day and night on our seat.  
Momi Berlin Directory
MakatiMed Website