Wool Dryer Balls: Everything You Need to Know 
If you want fresh soft clothing, wool dryer balls can help. The thing is, many individuals have heard of these balls but are clueless on how to use them. One thing for sure though is they enhance your laundry experience.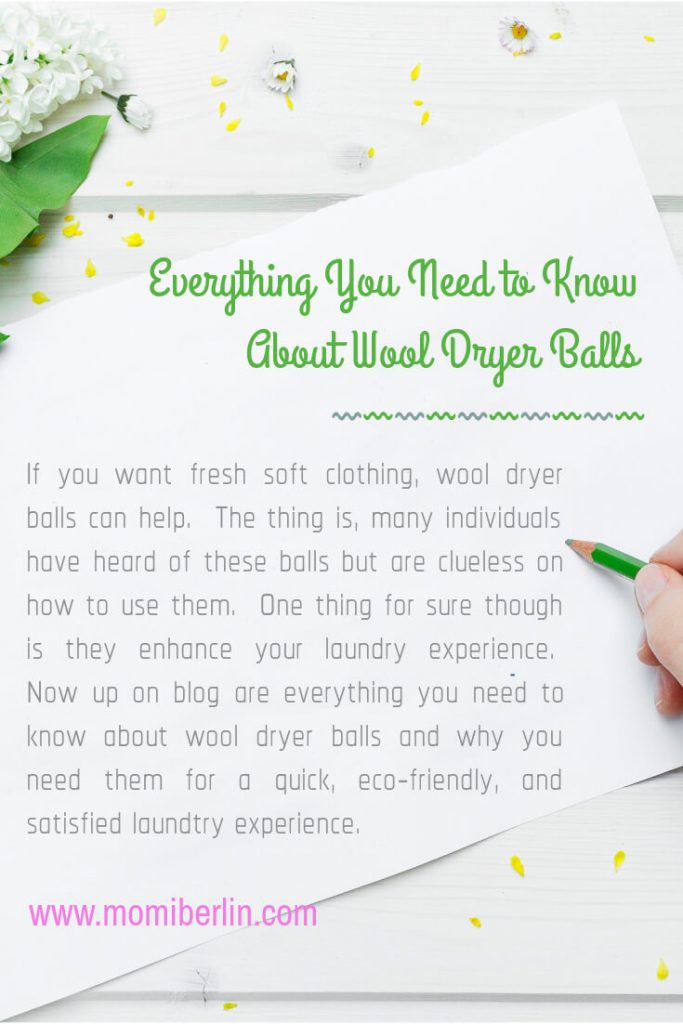 There are different kinds of dryer balls in the market, but the most popular are those made of wool. They are the best option, too, if to compare with rubber and plastic because the former are soft and have a fresh scent. 
What Are Wool Dryer Balls?
New Zealand wool dryer balls are an excellent option when looking for methods to reduce the amount of energy your clothes dryer uses, ways to soften your clothes, and how to eliminate static. These balls look like a tennis ball, only that they are designed for use in the clothes dryer. The balls are made of wool yarn, thus, are more eco-friendly, too. These balls bounce between the wet clothing that normally sticks together when inside the dryer. The clothes then dry quicker than the normal amount expected because the balls go between them. The balls also help absorb moisture, adding another layer to the drying process. The balls are inherently bouncy, leading to static-free clothing after they ride in the dryer. When the clothes are static-free, they are easier to fold.
How Do I Use Wool Dryer Balls?
Using these dryer balls is as easy as placing them on top of the wet clothes inside the dryer.
Once the dryer is running, wait for the cycle to end. Because the balls reduce dry time, you may want to adjust your normal drying time, too. Overdried clothes tend to wear out quicker than expected.  
Do I Replace Wool Dryer Balls?
Nothing lasts forever, but these balls do last for a while. It is time to change, though, if you noticed the dryer balls begin to look disheveled. The wool may begin to break, too, another signal that it is time to change dryer balls. You may also notice fibers from the wool on your clothing- pretty much like pet hair – signaling you should replace the old ones with new stocks. 
What are the benefits of Wool Dryer Balls ?
When you've realized the help of these balls, you will wonder why you didn't start using them sooner. These wool balls are more cost-effective than dryer sheets and even save energy by helping speed the drying process by twenty to thirty percent. The balls are made of materials that are not toxic and are all-natural. They can be used multiple times. You can combine essential oils with the balls to add fragrance while still keeping the all-natural component in check. You can use them for up to one thousand loads of laundry. These balls also reduce the static to your clothes during the drying process. Once you have to replace them, the old ones can be composted. These balls are often stored in cotton bags that can be reused.  
Are these Wool Dryer Balls cost-effective?
Yes, they are cost-efficient. First, you don't need to buy several balls just like dryer sheets. Second, you can reuse the balls for up to one thousand loads of laundry. The cost for four balls is usually less than ten dollars.   
Using wool balls also lessens drying time by twenty to thirty times faster. This translates to money saved because of lesser electricity expenses. 
Are Wool Dryer Balls eco-friendly?
You can save energy by switching to these balls. Saving energy not only saves you money; it helps preserve the planet as well.
Dryer sheets and plastic dryer balls are disposable. They also make up a lot of the waste found in the world's oceans. These wool balls, on the other hand, are compostable. You can easily compost them at home in your garden. The water retention capabilities that wool has will do wonders for your plant. These balls, too, help you contribute to a healthier planet.  
What are the health benefits of Wool Dryer Balls?
These balls are more sustainable than dryer sheets. They don't have any harsh chemicals that may come in close contact with your body. 
Many dryer sheets have harmful chemicals on them, like benzyl acetate. Dryer sheets may smell good, however, the fragrances used are synthetic. And we all know how chemicals and artificial fragrances may be bad for our health. To add, as the substances on dryer sheets are absorbed into the clothes as they dry, this means that we get close contact with these substances.  
Now that you have learned everything you need to know about wool dryer balls, we encourage you to try them and see for yourself. You might begin to wonder why only now?