Two of our boys have allergic rhinitis. Having asthma and eczema perhaps increase their risk of allergic rhinitis. Most likely, they developed it, too, because their mother has a history of allergies. We've been dealing with it so patiently, forever careful in everything we smell, touch, and even eat.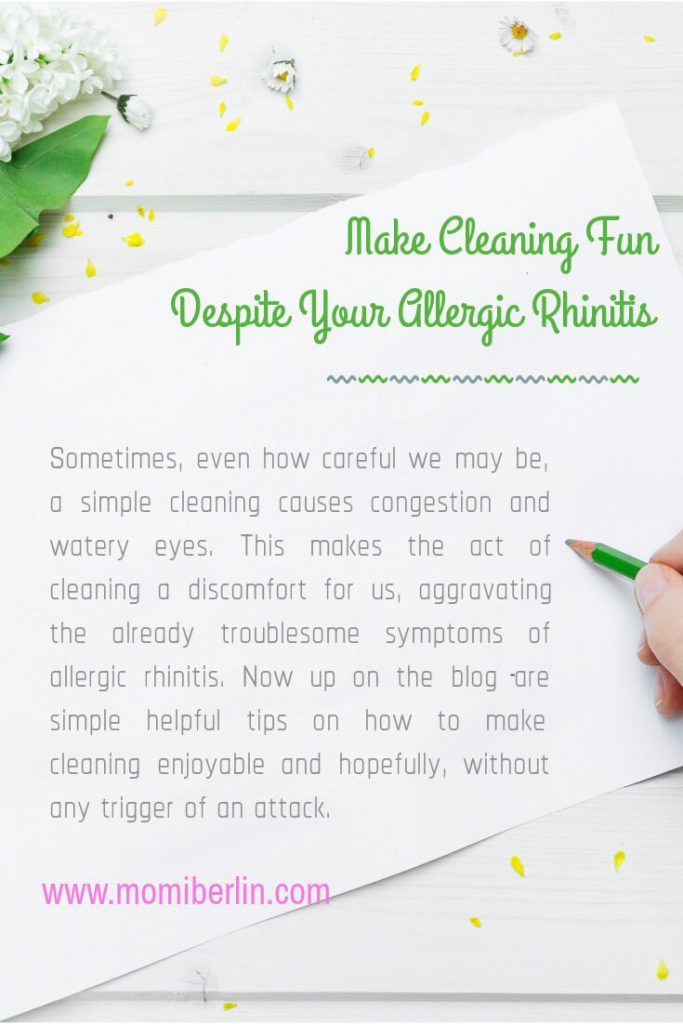 It is for this reason that we always try to keep the house clean. We also dismissed the thought of owning a pet as we know pet dander may trigger an attack.
Sometimes, though, even how careful we may be, a simple cleaning causes congestion and watery eyes. This makes the act of cleaning a discomfort for us, aggravating the already troublesome symptoms of allergic rhinitis.  
We would like to share with you some helpful tips on how to make cleaning enjoyable and hopefully, without any trigger of an attack.
Gear up
Our body reacts to certain allergens like pollen or mold when we get in close contact with them. Thus, the best way to shield ourselves from these possible trigger factors is to wear protective gear while cleaning. Gloves or face masks help us lessen our contact with allergens. Covering our arms with an extra layer of clothes also prevents any allergens from landing on exposed skin and in a way, irritate us.
Nevermind feeling silly with all the gear. They are all worth putting on than sneezing all day or scratching yourself from too much itch.
Use damp cloth
Use a damp cloth instead of a feather duster when cleaning surfaces. The latter only push dust around and do not swipe them out completely. Likewise, it is advisable to vacuum regularly as it prevents specks of dust from building up around the home. It helps, too, if the vacuum has a humidification function. Adding moisture to the air with a humidifier can counteract allergies and the likes.
Avoid air fresheners
The strong scent or chemicals used in air freshener may often trigger allergic rhinitis. If possible, just keep the house clean rather than spraying air fresheners. The same goes for cars, too.
A clean smelling home is easily achieved with frequent change of beddings, towels, curtains, and throw pillowcases.
Wash fabrics regularly
Dust mites, pollen, and other common allergens usually gather around in fabrics like rugs, cushions, and carpet. Thus, it is advisable to change rugs, curtains, and throw pillow cases quite frequently. In the case of carpet, vacuum it often or better if you don't use any at all. Curtains, on the other hand, maybe replaced with blinds or if not possible, just change them regularly.
The same with your beddings, they provide the ideal environment for dust mites to thrive as they are warm and moist. Best to change pillowcases, duvets, and blankets weekly. It helps, too, if you use a protective cover on your bed to allergy-proof it.  
Wash up
After all the cleaning and tidying, it is ideal to take a bath to wash away dust and dirt. But more than preventing those allergens from causing any problem, a warm bath relaxes our body and prepares us for better sleep. 
Use Nasal Spray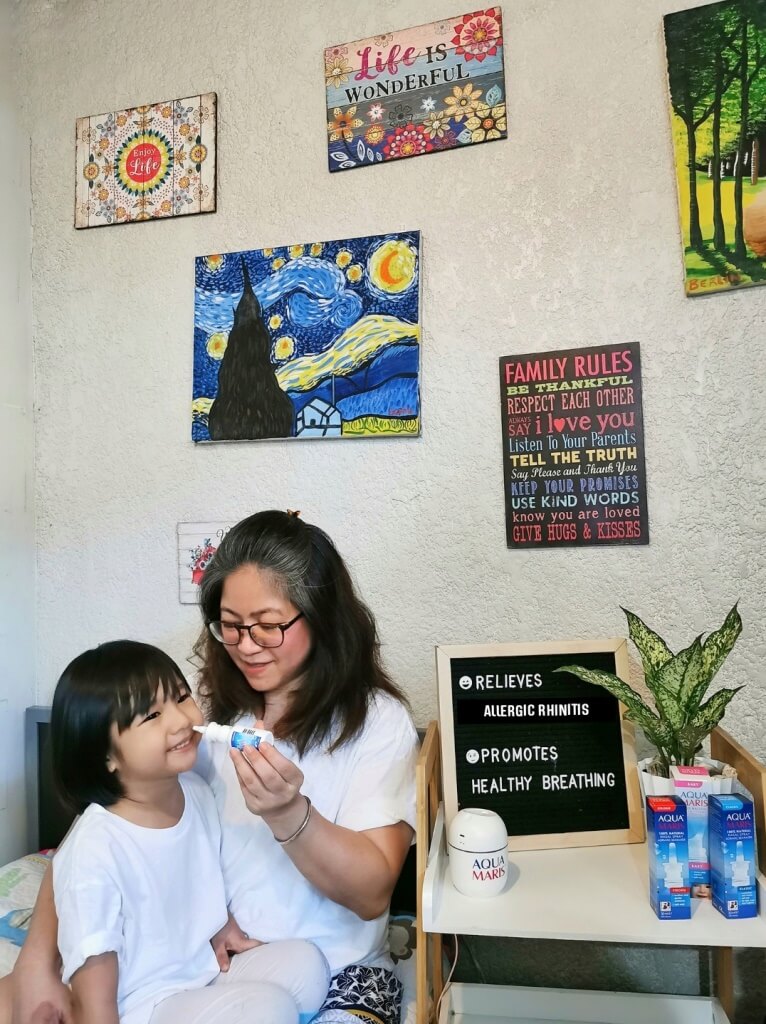 We always have a stock of nasal spray at home as it helps us cope up with colds, allergies, and flu. And among the brands we've tried, we love best the АQUA MARIS® NASAL SPRAY. Its composition is seawater from the Adriatic Sea which is rich in salts and oligo-elements that help normalize mucous production. It provides natural decongestant, instantly relieving us of any discomfort. Plus of course, it helps make breathing easier. Another thing we love about Aqua Maris® is that it is safe for babies, toddlers, elderly, pregnant, and breastfeeding moms like me because it has no preservatives or any additives. It comes in three variants: Baby, Classic, and Strong, and is readily available in Mercury Drug, Med Express, and Watsons.
Two of our boys and this mother have allergic rhinitis. Our symptoms usually consist of a runny nose, frequent sneezing, itchy nose, and congestion. Though we make sure our house is clean, sometimes, we still have an attack especially if we come across sudden dust, mold, or pet dander. As there are plenty of antihistamines to help us feel a little comfortable, we also use nasal decongestants to help control the symptoms of allergic rhinitis. And the best we have tried so far is АQUA MARIS® NASAL SPRAY.  
Momi Berlin Directory
Aqua Maris Website