BDO Focuses on Fundamentals and Finds Ways
Personally, the sudden impact of the pandemic threw us off.  The husband is in the construction business, and he had some projects put on hold. Our insurance business was also affected as many clients preferred not to renew their car insurance anymore. Despite that, though, it isn't the time to sit back and wonder "if;" it is the time to figure out "how." Many families rely on us to bring food to their table, and we have children as well we need to feed.  So we have to think, adapt, and reinvent if required.  After all, we are in a bad situation, and we shouldn't let such crisis put our efforts to waste.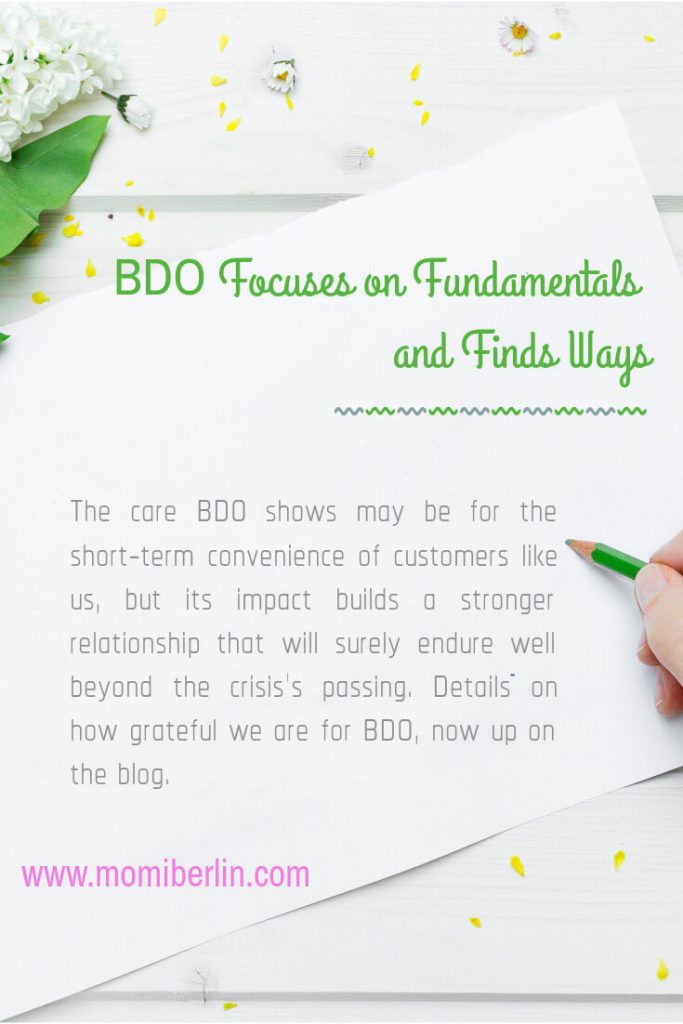 Seeing opportunity in crisis
Since the husband is into the construction business and has a brokerage firm under his wing, he ventures into the buy and sell approach to real estate investing. He purchased a below current market value property and made improvements on it. We all know most people buy a lifestyle, thus from the progress he made on the property, he shows potential buyers the attractive side of their lifestyle while in that place. He foresees to sell the improved structure in six months maximum, giving him a potential earning of at least 30% of his investment.
It helps, too, that despite the pandemic, our ever-reliable bank, BDO, is always there to help us with our funding.    The BDO branch, where we frequent, is still open and even has longer banking hours to accommodate its customers from 3:00 pm to now until 4:00 pm.
Aside from the continuous support we receive from our branch, it is good to note that BDO quickly addresses the needs of its people and customers. Today, all BDO Unibank, Inc. and BDO Network Bank branches are open across the archipelago.
With longer banking hours of course comes safety that is why BDO also ensures front liners undergo regular health checks and observe the strictest safety protocols, from wearing facemasks and face shields, applying sanitizers regularly and following social distancing guidelines, to keep you and your loved ones protected at every visit.
Focusing on fundamentals
Now more than ever, we need all the information and guidance to navigate and do bank transactions as smoothly as possible. And BDO never fails to send us notification and updates via its social media accounts and even email messages.
We may say then that we are just lucky to be with the bank that genuinely cares and lives by its commitment – we find ways. Our bank steps up to play its role for its customers, employees, and even the broader community. And that is likely to leave lasting memories in our minds.
Finding ways
We love the fact that BDO reaches out to its customers, again, gaining our admiration. We just log in to our mobile banking app to pay a purchase through mobile banking, check our account balance, and send money to relatives. More than the time saved, we can do our banking needs without requiring us to go anywhere. But aside from mobile banking, BDO also has BDO ATM on Wheels. Many customers can perform various transactions like balance inquiry, cash withdrawal, cash advance, BDO cash card reload, prepaid mobile reload, fund transfer, and even donation. The concept of the ATM on Wheels serves its purpose to help people where BDO branches are closed or in areas where there are no nearby ATMs.
Again, such sincere care BDO shows may be for the short-term convenience of customers like us, but its impact builds a stronger relationship that will surely endure well beyond the crisis's passing. And to that, we are grateful to be with BDO.